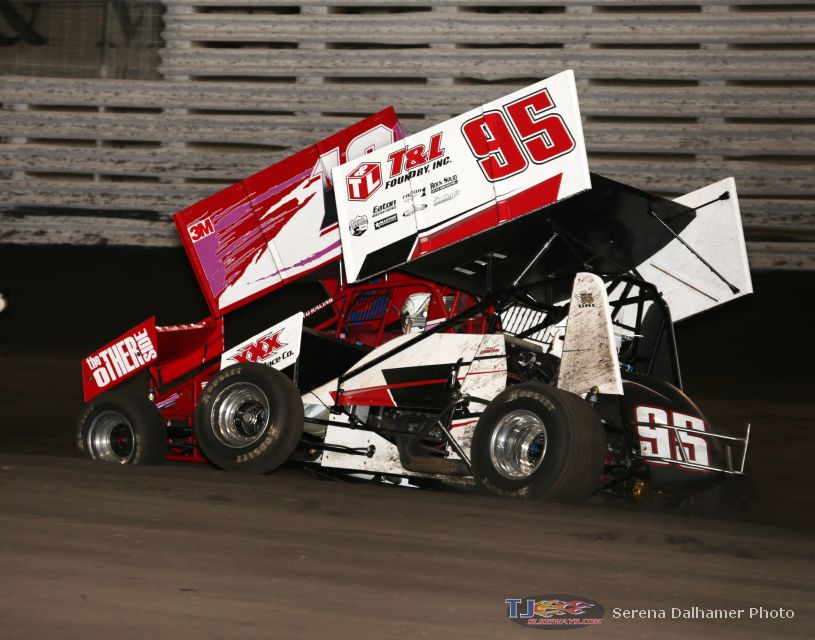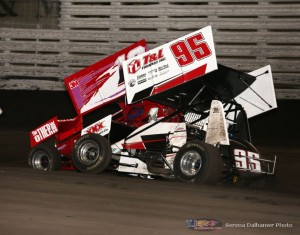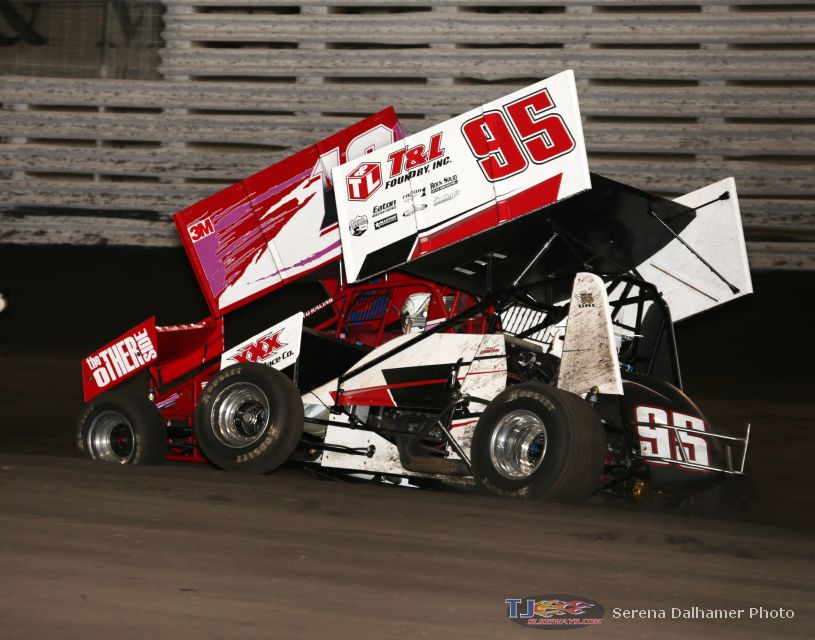 From Bryan Hulbert
Jackson, MN — (August 30, 2014) — The Jackson Sprint Car Nationals added a new champion to its list of historic drivers as Matt Covington pocketed $5,000 in his first visit to the half-mile oval with the Lucas Oil American Sprint Car Series presented by MAVTV American Real.
The 36th running of the Jackson Nationals presented by the State Bank of Fairmont, Covington led start-to-finish for his third career Lucas Oil ASCS National Tour score.
"Jackson, Minn. – this place is awesome. I haven't been here before, but it's definitely in my top-five places to be ever. I can't wait to come back," said an excited Matt Covington who became the fourteenth different winner on the season. "The track was super heavy and fast and you really had to cowboy up. It was really fun battling with the lapped cars, but I'd really like to come back when this place is slicked up."
Drawing the outside-pole, Covington out dashed Kaley Gharst into the first two turn on two attempts after the first start was called back due to the stopped No. 15h of Sam Hafertepe, Jr. who suffered engine failure.
Underway after a caution on Lap 3 for Mark Dobmeier who went off the top of turn two, Covington found slower traffic by Lap 8. Keeping Gharst at a healthy distance, the green lights stayed on until Lap 19 when fifth running Paige Polyak went into the wall with a flat Right Rear tire in turn four. She was allowed to return due to a red on the restart for D.J. Brink who flipped in turn-three. Brink was okay.
Taking off for the final stretch, the caution displayed again on Lap 27 as Ian Madsen came to a stop exiting the second turn; erasing Covington's 2.631 second lead. Green for the final three laps, Covington went uncontested, winning by 2.465 seconds. Kaley Gharst held off several charges by Terry McCarl to claim the second spot.
"He was beating us on the starts," said Gharst. "Our motor was stumbling pretty good but he was fast. There were a few times in traffic I was able to get up there but every time he would clear a lapped car, he'd just pull away while we got stuck behind another one. Lapped traffic was definitely tricky tonight. I was hard to pass them because they really weren't going a whole lot slower than we were but it definitely made it interesting."
Terry McCarl took the show position.
"The car was working really well there. We kept running up on Kaley there and get a yellow and I had a really good restart there on that last one but got up in his bad air and got really tight," commented McCarl. "We were a little off on our fuel. The bottom end was really rich but I'm just glad to get a podium out of this deal for Jeremy and all our sponsors."
Tony Bruce, Jr. ran to a fourth place finish with Iowa's Mark Toews completing the top five in his first Lucas Oil ASCS National Tour A-Feature start.
Seth Bergman from twelfth crossed sixth with Johnny Herrera in tow from eleventh to seventh. Dusty Zomer eighth, Brian Brown from sixteenth, with Brooke Tatnell completing the top-ten.
After rains ended Friday's prelim hopes, the 36th Jackson Nationals saw 39 drivers drawing in. Producing five Heat Races, wins went to Tony Bruce, Jr., D.J. Brink, Mark Dobmeier, Terry McCarl, and Mark Toews. A pair of B-Features went to Jason Johnson who ran to twelfth and Brad Loyet who ended up thirteenth.
A special Memorial Dash was held for local racing legend Dick Valentine. The $400 bonus went to Austin Johnson. Points based Provisionals were utilized by Jeff Swindell and Blake Hahn. Each was worth full points for the drivers. Promoter's Provisionals were given to Skylar Prochaska and Derrik Lusk.
The Lucas Oil ASCS presented by MAVTV American Real travels next to the Texas Motor Speedway Dirt Track on Friday, September 12 and Saturday, September 13 for the Port-a-Cool U.S. Dirt Track Nationals. For more information, log onto http://www.texasmotorspeedway.com.
For continued updates, news, and information on the American Sprint Car Series, log onto http://www.ascsracing.com.
Lucas Oil American Sprint Car Series presented by MAVTV American Real
Speedway Motors ASCS Midwest Region
36th annual Jackson Sprint Car Nationals
Jackson Speedway – Jackson, Minn.
Saturday, August 30, 2014
Car Count: 39
SpeedMart Heat Races (8 laps): Winners plus the next 11 highest in Passing Points transfer to the A-Feature.
Heat 1 (8 Laps): 1. 18-Tony Bruce Jr[2]; 2. 18M-Ian Madsen[1]; 3. 14T-Brooke Tatnell[3]; 4. 11X-Gregg Bakker[5]; 5. 7TAZ-Tasker Phillips[4]; 6. 81-Austin Johnson[7]; 7. 20G-Chris Graf[6]; 8. (DNF) 35-Skylar Prochaska[8]
Heat 2 (8 Laps): 1. 75-D.J. Brink[1]; 2. 19-Paige Polyak[6]; 3. 7-Kaley Gharst[8]; 4. 32-Brandon Halverson[4]; 5. 612-Isaac Schreurs[3]; 6. 2D-Dusty Ballenger[7]; 7. (DNF) 94-Jeff Swindell[2]; DNS 29-Nick Lusk
Heat 3 (8 Laps): 1. 13-Mark Dobmeier[1]; 2. 82-Dusty Zomer[3]; 3. 41-Jason Johnson[4]; 4. 14-Jody Rosenboom[6]; 5. 75C-Casey Heser[8]; 6. 17-Blake Hahn[5]; 7. 07-Derek Anderson[7]; DNS 2CK-Kenny Long
Heat 4 (8 Laps): 1. 6-Terry McCarl[2]; 2. 45X-Johnny Herrera[1]; 3. 23-Seth Bergman[4]; 4. 18X-Nate Laugen[5]; 5. 09-Matt Juhl[8]; 6. 10-Justin Jacobsma[6]; 7. 64-Bruce Anderson[7]; 8. (DNF) 4W-Matt Wasmund[3]
Heat 5 (8 Laps): 1. 5T-Mark Toews[2]; 2. 95-Matt Covington[4]; 3. 21-Brian Brown[3]; 4. 15H-Sam Hafertepe Jr[6]; 5. 05-Brad Loyet[7]; 6. 93-Derrik Lusk[5]; 7. 5M-Troy Manteufel[1]
Smiley's Racing Products B-Features (12 laps): Top 3 from each advance to the A-Feature.
B Feature 1 (12 Laps): 1. 41-Jason Johnson[1]; 2. 18X-Nate Laugen[2]; 3. 32-Brandon Halverson[3]; 4. 81-Austin Johnson[5]; 5. 75C-Casey Heser[4]; 6. 20G-Chris Graf[9]; 7. 10-Justin Jacobsma[6]; 8. 17-Blake Hahn[7]; DNS 07-Derek Anderson; DNS 94-Jeff Swindell; DNS 4W-Matt Wasmund; DNS 29-Nick Lusk
B Feature 2 (12 Laps): 1. 05-Brad Loyet[2]; 2. 11X-Gregg Bakker[1]; 3. 7TAZ-Tasker Phillips[4]; 4. 14-Jody Rosenboom[3]; 5. 2D-Dusty Ballenger[6]; 6. 93-Derrik Lusk[7]; 7. 64-Bruce Anderson[8]; 8. 35-Skylar Prochaska[9]; 9. 612-Isaac Schreurs[5]; DNS 2CK-Kenny Long; DNS 5M-Troy Manteufel
Dick Valentine Memorial Dash (10 laps):
Valentine Memorial Dash (10 Laps): 1. 81-Austin Johnson[1]; 2. 20G-Chris Graf[5]; 3. 14-Jody Rosenboom[2]; 4. 75C-Casey Heser[3]; 5. 10-Justin Jacobsma[7]; 6. 612-Isaac Schreurs[8]; 7. (DNF) 2D-Dusty Ballenger[4]; 8. (DNF) 64-Bruce Anderson[6]
Protect the Harvest A-Feature (25 laps):
A Feature 1 (30 Laps): 1. 95-Matt Covington[2]; 2. 7-Kaley Gharst[1]; 3. 6-Terry McCarl[3]; 4. 18-Tony Bruce Jr[6]; 5. 5T-Mark Toews[8]; 6. 23-Seth Bergman[12]; 7. 45X-Johnny Herrera[11]; 8. 82-Dusty Zomer[9]; 9. 21-Brian Brown[16]; 10. 14T-Brooke Tatnell[15]; 11. 09-Matt Juhl[14]; 12. 41-Jason Johnson[17]; 13. 05-Brad Loyet[18]; 14. 11X-Gregg Bakker[20]; 15. 19-Paige Polyak[7]; 16. 18M-Ian Madsen[10]; 17. 35-Skylar Prochaska[26]; 18. 32-Brandon Halverson[21]; 19. (DNF) 75-D.J. Brink[4]; 20. (DNF) 7TAZ-Tasker Phillips[22]; 21. (DNF) 17-Blake Hahn[24]; 22. (DNF) 93-Derrik Lusk[25]; 23. (DNF) 13-Mark Dobmeier[5]; 24. (DNF) 18X-Nate Laugen[19]; 25. (DNF) 15H-Sam Hafertepe Jr[13]; 26. (DNF) 94-Jeff Swindell[23]
Lap Leader(s): Matt Covington 1-30
KSE Hard Charger: Skylar Prochaska +9
FSR High Point: Paige Polyak
Hawk Performance Fastest Lap: Matt Covington 16.969 seconds
CSI Rebound: D.J. Brink
Provisional(s): Blake Hahn (P1), Jeff Swindell (BP1), Skylar Prochaska (PP), Derrik Lusk (PP)