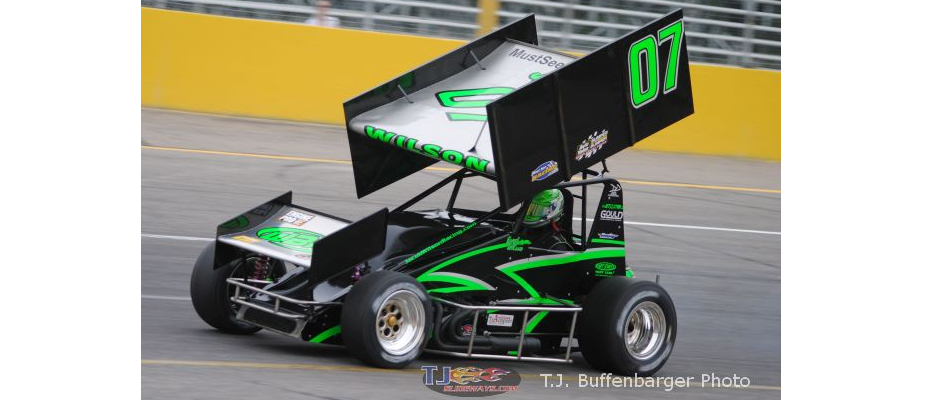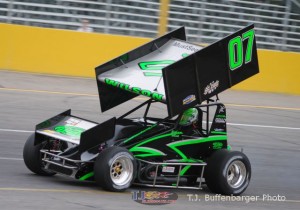 From David Sink
Madera, CA — (November 20, 2014) – Nearly thirty cars were on hand for the open practice session Thursday night at LOANMART Madera Speedway in Madera, CA. The open practice was hosted in an effort to give race teams an opportunity to get acclimated to the opening event of the "King of the Wing Sprint Car Shoot Out" West Coast Swing's opening event Friday night at the track.
The practice session was cut short due to rain and postponed for 11 am Friday morning. Despite limited track time for the teams, excitement was evident in the pits at the potential success of this weekend's three events. The West Coast swing has brought cars to the state of California from virtually every corner of the country.
The "King of the Wing Sprint Car Shoot Out" will conclude its inaugural season with three events in California scheduled this weekend. Davey Hamilton, the popular driver who competes in his "King of the Wing Sprint Car Shoot Out" has successfully promoted winged pavement sprint cars through the use of engine restrictor plates allowing cars with 360-cubic-inch engines to compete with 410s. This weekend's three races will use this highly successful formula.
A handful of drivers who normally don't run wings on the pavement, will be taking part in this weekend's racing action, including Anthony Simone, from nearby Fresno. "I think this winged asphalt sprint car thing out here is gonna be a big deal and I like it" explained Simone. "When USAC quit running the pavement in California we haven't had anywhere to race until today. I really like the pavement and think this King of the Wing is gonna be a great thing. We got some great guys to run with and the Hamilton's are good people and run a good show. It should be a lot of fun this weekend" concluded Simone.
Two-time and defending Little 500 champion Jacob Wilson made the long tow from Indiana to compete this weekend. "Racing this late in the year is always fun" explains Wilson. "As long as you can race this late in the season against this level of completion, it makes it worth doing. The only time I've been to California was for a wedding. I've never saw any of these tracks before. There seems to be a lot of nice people out here. We're having fun so far".
"King of the Wing Sprint Car Shoot Out" organizer Davey Hamilton was ecstatic at the car count on hand Thursday evening. "I'm really excited. But, it's really about coming up with an idea to make a national pavement sprint car tour. I can only organize it. If these guys don't show up, it's nothing. I'm thankful they all believed in it and showed up" concluded Hamilton.
After Friday's event at LOANMART Madera Speedway, The series heads to Irwindale Speedway Saturday night before heading to Kern County Raceway Park Sunday evening.
Must See Racing will be televising all three events on a tape delayed basis for MAVTV that can be seen on the "Dirty 30" weekly program available through DISH Network, DirecTV and Verizon on Thursday December 18th, 25th and on January 1st.
For more info please log onto www.kingofthewing.net