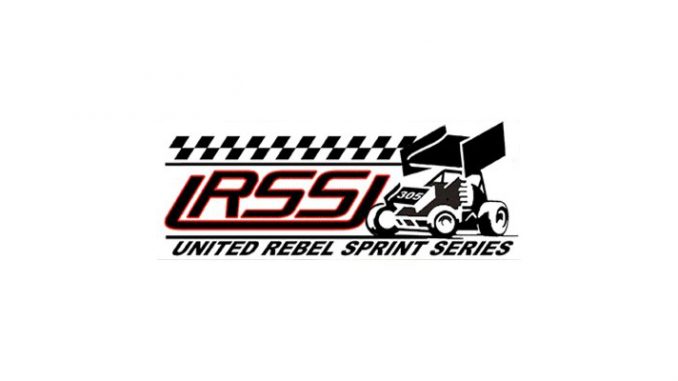 From URSS
The United Rebel Sprint Series will be taking a week off from the 2015 Myers Engine URSS National points Series and will resume the Kansas Points Series this weekend with two nights of action packed racing. The Kansas Points race is tight with only eight points separating leader Zach Blurton and second place Luke Cranston after 12 races. Third place Jed Werner holds a 66 point lead over 4th place Jeremy Huish as he only leads Brian Herbert by two rounding out the top 5. So this weekend's races will figure heavily in the 2015 Kansas Region Championship.
Friday night the Rebels will once again return to the high banks of Dodge City Raceway Park for their third appearance of the 2015 Season. In the two previous races at DCRP, Luke Cranston and CJ Johnson have graced Victory Lane. The racing action at DCRP has always been fast and furious and the 3/8's oval has been a favorite of the URSS drivers. Races are scheduled to start at 7:30pm and will be the Driver's Appreciation and First Responders Night at DCRP.
Saturday night the URSS Rebels will make the trek to Dirtona Raceway in Hugoton, Kansas. The 3/8's mile semi-banked oval has hosted the URSS Series four times in the ten year history of the URSS with Jon Johnson, Brian Herbert, Ty Williams and Jake Bubak visiting the Winner's Circle. Racing action will start at (0:00pm) and promises to keep fans on the edge of their seats as the drivers battle for points this weekend.
If you cannot make it to either of the races this weekend you can tune into www.racinboys.com and join Kyler Fetters with all of the racing action. If you have questions about the United Rebel Sprint Series you can visit www.unitedrebelsprintseries.com for information, updated points, driver bios, race results and much more 24/7.
Remember you are invited to visit the pits after the races to visit with the drivers and team. Many of the Drivers have t-shirts and autograph cards and they are always happy to answer any questions you may have about the series or to take pictures with the kids. Visit the URSS merchandise trailer for your URSS 10th Anniversary T-shirt, coloring book and various driver shirts as well.