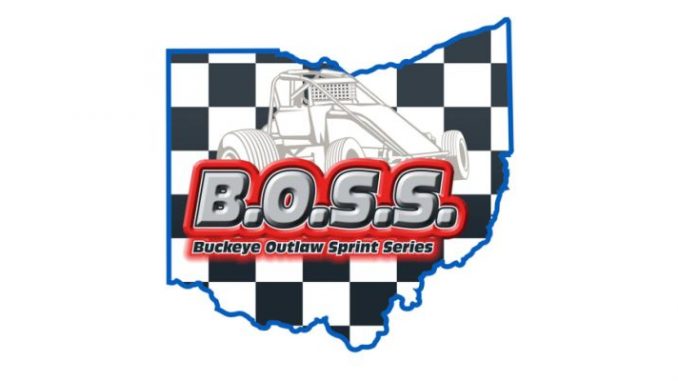 Chillicothe, OH — (July 31, 2015) — If you missed Last night's Atomic Speedway night number one of the Open Wheel Championship, then you missed the most exciting race in Mo Vaughn Transport /BOSS history and according to many track old timers, the most exciting feature in Atomic Speedway's modern history. A three car battle that saw cars swapping positions in every corner with all 3 leading at some point over the last 2 laps. With the fans on their feet, the trio of racers hit the line in a photo finish that found Todd Kane picking up the win, with Landon Simon second and Dallas Hewitt coming home third while executing a vicious series of flips down the front stretch, destroying the Chip Pearson #69 car.
Landon Simon and Todd Kane paced the 20 car A-Main to the starter's green flag with Kane jumping out to a quick early lead in the Lewie Christian owned #8. Slicing and dicing was going on all over the pack with cars running from the inside wall to the outside wall. The race's only hiccup was a lone red flag when Kent Wolters rolled the #21K in turn 3 with Steve Little also involved. Both drivers were eliminated.
With Kane still leading and Simon in tow, it was 8th starting Dallas Hewitt who was running up on the wall and reeling in the lead pair. In the closing laps, the lead battle that brought fans to their feet was not the only great race taking place. The battle for 4th was equally exciting as Aaron Middaugh, Dustin Smith, Kirk Jeffries and Michael Fischesser all left everything they had on the Atomic clay.
For Kane, the win was his first career BOSS feature victory with Simon and the flipping Hewitt running second and third. Aaron Middaugh and Kirk Jeffries rounded out a hard fought top five with the balance of the top 10 being Michael Fischesser, Dustin Smith, Brandon Whited, Cooper Clouse, and Mike Miller.
Preliminary heat races were won by Hewitt, Bob McMillin, Kane and Dustin Smith. Local veteran Randy Fink scored an impressive win in the B-Main. Overall 28 cars were on hand.
Tonight's action moves on the Lawrenceburg Speedway in Indiana. Sunday the traveling BOSS racers move on to Millstream Speedway in Findlay, Ohio.
Feature: 1. 8 – Todd Kane, 2. 24 – Landon Simon , 3. 69 – Dallas Hewitt, 4. 91 – Aaron Middaugh, 5. 59 – Kirk Jefferies, 6. 4 – MichaelFischesser, 7. 77 – Dustin Smith, 8. 15 – Brandon Whited, 9. 14C – Cooper Clouse, 10. 82 – Mike Miller, 11. 89 – Shawn Westerfield, 12. 5 – Bob McMillin, 13. 79 – Jarrett Andretti, 13. 14 – Chad Wilson, 15. 41 – Randy Fink, 16. 46 – Cody Gardner, 17. 31 – Chuck Wilson, 18. 57B – Brandon Spithaler.