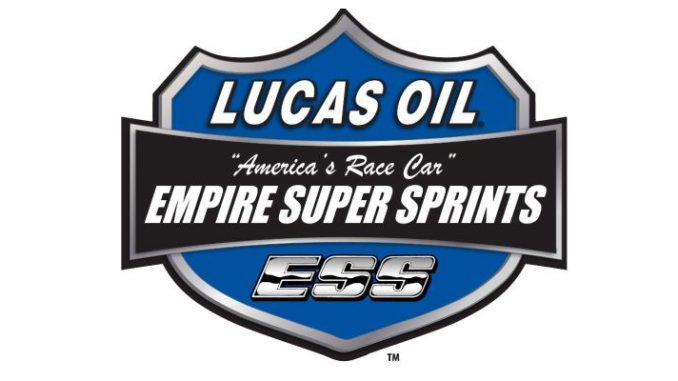 By Dean Reynolds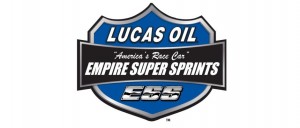 WEEDSPORT, NY – Every now and then you hear the cliché, always a bridesmaid and never the bride.  Brewerton, NY's Jason Barney was starting to think that saying was fact… that was until Sunday night at the Weedsport Speedway during the Lucas Oil Empire Super Sprints Night of Legends.
Taking the lead in turns one and two on the very last lap from good friend Sammy Reakes, Barney brought home his PitStop Convenience Stores, X-1 chassis sprint to his first win of 2015 and ninth overall.  The win came in front of many supporters and sponsors which made this victory extra special.
"We finally put it all together, I was tired of finishing second and felt we had a good car to win but just couldn't get there." said a relieved but happy winner. "When Sam got me on that restart I was going to do anything to get the lead back, I wanted to win this race!"
When Dave Farney waived the white flag it was Reakes a few car lengths in front but Barney did a go-for-broke slide job in turns one and two and the car stuck.  He took the lead and the checkered flag that was worth $2,100 and also valuable points towards the NAPA Auto Parts US Tour as well.
"I really don't know!" Jason exclaimed on how he did his winning move.  "Sam got a little light in the front end coming off four and he opened up the bottom just enough.  It was definitely a win it or wall it move.  I made sure I wasn't going to take him out but wasn't not going to try it."
The Weedsport oval came up tacky all night with a ample and tricky cushion to use.  Barney relied on that cushion to take home this win.  "Yea., can you believe it, I ran the top but that's what the track gave us and that's where you need to run." Noted the Barney.
For Reakes, it was a last lap pass and a runner-up finish but he was all smiles afterwards.  "I guess if you have to finish second it might as well be to Jay." Said the Fulton, NY driver.  "I thought we were going to get this one but with my front wing messed up I had to run a little different line to come off the corners and he took advantage of it."
Barney led from his outside front row starting and during the numerous cautions and red flags, he always came out ahead on the double file restarts until the one on lap 22.
"I'm not sure if he stumbled or I just got the perfect shot off the cushion to get him but I had a real good start." Reakes continued.  "I thought I just might get this one after that but he beat me, it's ok.  But, it's good to get back with ESS and get a good run.  We will finish out the year here and hopefully we will get one here before the end."
Steve Poirier came back from a blown engine in hot laps to unload the back up car, win the B-Main and collect hard charger honors by placing a hard earned third.  Bryan Howland and Cory Sparks rounded out the top five.
The next five was made up of Tommy Wickham, Dave Axton, pole sitting Chris Steele, Paul Kinney and Darryl Ruggles.
The race was slowed by several cautions and three red flags but all drivers were ok and damage to each car was not severe.
ESS/Weedsport Notes –  A large field of 34 sprints filled the pits in front of large crowd and the CNY track that has seen vast improvements, it was ESS' first event since 2011…Nick Cooper made his first ever ESS start aboard the Ray Preston owned #22…Earlier in the day, Kenny Townsand was inducted into the ESS Hall of Fame in front of a large gathering that gave one of ESS pioneers a standing ovation…For the legends night more that 20 ESS stars from the past took part including a large autograph session…Next up for ESS is the annual Mach 1 Chassis Earl Halaquist Memorial paying $2,500 to win.
Lucas Oil ESS Night of Legends A-Main – Jason Barney ($2,100), Sam Reakes IV ($1,000), Steve Poirier ($900), Bryan Howland ($630), Cory Sparks ($590), Tommy Wickham ($660), Dave Axton ($480), Chris Steele ($420), Paul Kinney ($450), Darryl Ruggles ($400), Rob Dietrick ($385), Paulie Colagiovanni ($145), Shawn Donath ($300), Chuck Hebing ($590), Joe Trenca ($335), Dylan Swiernik ($355), Justin Barger ($275), Doug Emery ($295), Tim Axton ($265), Keith Granholm ($360), Mike Stelter ($280), Matt Tanner ($250), Parker Evans ($75), Derrick Juliano ($250)
Did Not Qualfy – Pete Richardson, Gordy Button, Dave Wickham, Nick Cooper, Jeff Cook, Alysha Ruggles, Will Glover, Denny Peebles, Chad Miller, Paul Habeck
Lap Leaders – Barney 1-22, Reakes 23-24, Barney 25
Car Mate Trailers $25 to win Heats – Barney, Sparks, Emery
Lacaillade Masonry $50 to win B-Main – Poirier
Wakt's Hobby Town – Cobra Coaches Dash – Hebing $100
Bonuses:
Insinger Fuels Hard Charger – Poirier (13 pos.) $50
Engler Machine and Tool Halfway – Barney $50
Ohsweken Speedway 20th Anniversary – Granholm $50
SUNY Canton Smart Move – D.  Axton $50
Beard Sewer and Drain Determination Award – Granholm $50
Fondations 55 Pick 5 – Sparks $35
Bitner Automotive Blistering Fast Time – Barney $25
9/11 Restoration – Kinney and Dietrick $25
Hoosier Tire – Hebing $200
Vahlco Wheels – Wickham $190