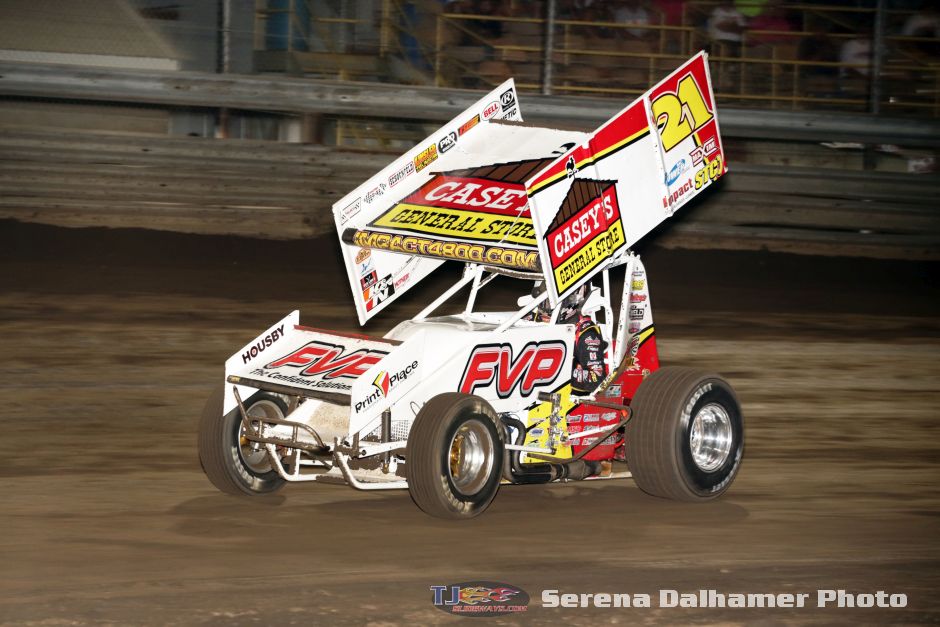 From Bryan Hulbert
Wheatland, MO — (September 25, 2015) — For the second time since 2006, Missouri's Brian Brown parked the Casey's General Store / Impact Signs No. 21 in Victory Lane at the Lucas Oil Speedway with the Lucas Oil American Sprint Car Series presented by the MAVTV Motorsports Network.
Brown's 15th Lucas Oil ASCS triumph, the No. 21 led non-stop in Friday's 25 lap preliminary A-Feature event after adjusting his line on the opening lap to keep Josh Baughman at bay.
"Anytime you start near the front, you always have to be aware of what's going on. We don't get to race near home very often and I can hear a few of you guys booing, but it feels good to win in Missouri, especially at a race of this magnitude," said Brown when asked about his run. "It's not just a race, it's an event, and anytime I can win a race with the name Jesse Hockett and Daniel McMillin in it means a lot. We weren't always the best of friends, and we race each other hard, but one thing we always had was respect."
Finding slower traffic on Lap 9, Brown was stalked around the back markers by the EE Systems No. 17 of Josh Baughman. Seeing a few small windows of opportunity, none opened wide enough for the Odessa, Texas shoe as the pair ran away from the field. Chasing in third, Evan Martin held the position until Lap 16, losing the spot to ninth starting Derek Hagar with Kyle Bellm in tow.
Green until Lap 20 for a caution for Wayne Johnson, who saw his night end, the restart saw a shake up in the top four transfer drivers as 11th starting Ian Madsen worked to fourth with Sam Hafertepe, Jr. cracking the top five.
Caution again on Lap 23 for an incident involving Aaron Reutzel and Matt Covington, with the No. 95 not be able to continue, the final two laps saw Brown unchallenged; however, the race for the final three lock-in spots for Saturday were anyone's guess as Derek Hagar put Baughman to third with a slide job.
Commenting on his night, Hagar said, "We were in late Heat Race, and had good passing points, just those earlier Heats put us out of the redraw by one spot, but the guys at Lucas Oil Speedway do a heck of a job working this race track, and I enjoy racing here," said Derek Hagar. "We were able to race our way up through there, and that last restart really helped us where I could just stay on Baughman's rear bumper, and he kind of spun his tires and I was able to get the slide job."
Hagar went on to win the night's A-Feature with the Impact Signs W.A.R. Non-Wing Sprint Cars.
Baughman's third podium in four outings with the Lucas Oil ASCS, Josh was ultimately not happy with a third place finish after chasing Brown for the lead most of the race, but was still pleased to be locked into Saturday's A-Feature.
"We're locked in, just not where we wanted to finish. Hats off to Brian, he did a great job. On that start, he got us going into on there and it was on the top and kind of follow the leader and I thought I was going to get him in lapped traffic, but we didn't get in much for very long and the last two cautions got us."
While the podium was set Brad Loyet, Ian Madsen, and Sam Hafertepe, Jr. fought tooth and nail for fourth with Hafertepe going for the Hail Mary slide, sending both he and Madsen all over the cushion, leaving the low line open for Brad Loyet to go from sixth to fourth in the final turns with Ian Madsen coming back to complete the top-five.
Sam Hafertepe, Jr. was sixth with Kyle Bellm ending up seventh. Evan Martin crossed eighth with Jonathan Cornell and Johnny Herrera completing the top-ten.
A stout 51 drivers made the call with six Heat Races going to Kyle Bellm, Brad Loyet, Brian Brown, Derek Hagar, Johnny Herrera, and Ian Madsen winning. B-Features numbered three with Wayne Johnson, Seth Bergman, and Tim Crawley grabbing wins. Provisionals were used by Aaron Reutzel and Matt Covington.
The fifth annual Hockett/McMillin Memorial continues Saturday, September 26, 2015 with races getting underway at 6:30 P.M. (CT).
For continued updates on the Lucas Oil ASCS presented by the MAVTV Motorsports Network, log onto http://www.ascsracing.com.
Race Results:
Lucas Oil ASCS National Tour
Speedway Motors ASCS Warrior Region
5th annual Hockett/McMillin Memorial
Lucas Oil Speedway – Wheatland, Mo.
Friday, September 25, 2015
Car Count: 51
Heat Races (8 Laps): Winners plus the next 10 highest in passing points to the A-Feature. Top 8 in points will redraw.
Heat 1 (8 Laps): 1. 14K-Kyle Bellm[2]; 2. 38-Cody Baker[8]; 3. 17-Josh Baughman[9]; 4. 52-Blake Hahn[3]; 5. 14-Randy Martin[1]; 6. 17W-Harli White[6]; 7. 76-Jay Russell[5]; 8. 27-Danny Thoman[7]; 9. 49-Ben Brown[4]
Heat 2 (8 Laps): 1. 05-Brad Loyet[1]; 2. 81A-Chris Morgan[2]; 3. 88X-Tim Crawley[4]; 4. 10M-Morgan Turpen[7]; 5. 40-Howard Moore[8]; 6. 16-Anthony Nicholson[3]; 7. 22-Koby Barksdale[6]; 8. (DNF) 88-Scottie McDonald[9]; DNS 7M-Chance Morton
Heat 3 (8 Laps): 1. 21-Brian Brown[2]; 2. 28-Jonathan Cornell[5]; 3. 77X-Wayne Johnson[4]; 4. 15H-Sam Hafertepe Jr[7]; 5. 8M-Kade Morton[1]; 6. 34-Corey Nelson[3]; 7. 91-Steven Russell[6]; 8. 31-Justin Webb[8]; DNS 31N-Kevin Ulmer
Heat 4 (8 Laps): 1. 9JR-Derek Hagar[2]; 2. 72X-Josh Fisher[3]; 3. 4-Evan Martin[8]; 4. 33-Kris Miller[6]; 5. 3-Dustin Adams[5]; 6. 99-Andrew Turley[7]; 7. (DNF) 85-Forrest Sutherland[4]; 8. (DNF) 9M-Ricky Lee Stangl[1]
Heat 5 (8 Laps): 1. 45X-Johnny Herrera[1]; 2. 51-Mitchell Moore[4]; 3. 23-Seth Bergman[2]; 4. 18-Tony Bruce Jr[8]; 5. 84-Brandon Hanks[6]; 6. 92-Jordan Weaver[7]; 7. 1X-Brad Ryun[3]; 8. (DNF) 24-Lanny Carpenter[5]
Heat 6 (8 Laps): 1. 18M-Ian Madsen[6]; 2. 10-Terry Gray[5]; 3. 95-Matt Covington[4]; 4. 48-Dean Hathman[3]; 5. 81W-Danny Wood[1]; 6. 7S-Lee Lengel[7]; 7. (DNF) 87-Aaron Reutzel[8]; 8. (DNF) 92J-J.R. Topper[2]
B-Features (12 Laps): Top 2 in each advance to the tail of the A-Feature.
B Feature 1 (12 Laps): 1. 88X-Tim Crawley[1]; 2. 10M-Morgan Turpen[3]; 3. 92-Jordan Weaver[5]; 4. 17W-Harli White[7]; 5. 84-Brandon Hanks[4]; 6. 27-Danny Thoman[10]; 7. 8M-Kade Morton[6]; 8. 85-Forrest Sutherland[9]; 9. 33-Kris Miller[2]; 10. 49-Ben Brown[11]; 11. 7M-Chance Morton[12]; DNS 22-Koby Barksdale
B Feature 2 (12 Laps): 1. 77X-Wayne Johnson[1]; 2. 52-Blake Hahn[3]; 3. 16-Anthony Nicholson[6]; 4. 88-Scottie McDonald[9]; 5. 91-Steven Russell[7]; 6. 40-Howard Moore[2]; 7. 3-Dustin Adams[4]; 8. 92J-J.R. Topper[10]; 9. 1X-Brad Ryun[8]; 10. 7S-Lee Lengel[5]; DNS 31N-Kevin Ulmer; DNS 81W-Danny Wood
B Feature 3 (12 Laps): 1. 23-Seth Bergman[2]; 2. 34-Corey Nelson[7]; 3. 95-Matt Covington[1]; 4. 24-Lanny Carpenter[10]; 5. 76-Jay Russell[8]; 6. 99-Andrew Turley[4]; 7. 31-Justin Webb[9]; 8. 48-Dean Hathman[3]; 9. (DNF) 87-Aaron Reutzel[6]; 10. (DNF) 14-Randy Martin[5]; DNS 9M-Ricky Lee Stangl
A-Feature (25 Laps, top 4 lock into Saturday's A-Feature.):
A Feature (25 Laps): 1. 21-Brian Brown[3]; 2. 9JR-Derek Hagar[9]; 3. 17-Josh Baughman[1]; 4. 05-Brad Loyet[16]; 5. 18M-Ian Madsen[8]; 6. 15H-Sam Hafertepe Jr[13]; 7. 14K-Kyle Bellm[4]; 8. 4-Evan Martin[2]; 9. 28-Jonathan Cornell[7]; 10. 45X-Johnny Herrera[12]; 11. 18-Tony Bruce Jr[11]; 12. 88X-Tim Crawley[17]; 13. 52-Blake Hahn[21]; 14. 23-Seth Bergman[19]; 15. 87-Aaron Reutzel[23]; 16. 81A-Chris Morgan[15]; 17. (DNF) 95-Matt Covington[24]; 18. (DNF) 77X-Wayne Johnson[18]; 19. (DNF) 51-Mitchell Moore[10]; 20. (DNF) 10M-Morgan Turpen[20]; 21. (DNF) 38-Cody Baker[5]; 22. (DNF) 34-Corey Nelson[22]; 23. (DNF) 10-Terry Gray[6]; 24. (DNF) 72X-Josh Fisher[14]
Lap Leader(s): Brian Brown 25
KSE Hard Charger: Brad Loyet +12
FSR High Point: Ian Madsen
Provisional(s): Aaron Reutzel (BPP), Matt Covington (BPP)