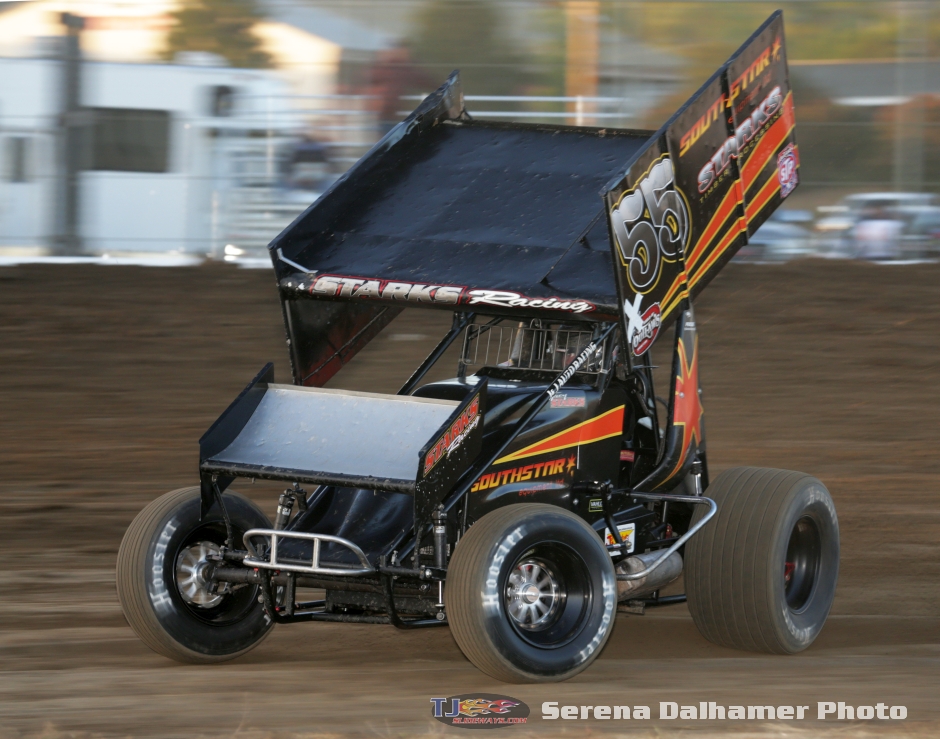 From Ben Deatherage
Yakima, WA — (September 26, 2015) — The Western Sprint Tour would wrap up the 2015 season at Central Washington State Fair Raceway on Saturday September 26th for the second and final night of the Dirt Fall Classic. Fans would be treated to some great racing by the best drivers in the Pacific Northwest on the massive 3/8-mile clay oval. Twenty-three cars from the states of Washington, Oregon, and California as well as the Canadian province of British Columbia.
Puyallup star Trey Starks would get the lead on the start in his Starks Timber Processing/Southstar Equipment Limited/MASCO Petroleum #55 J&J. Despite a number of cautions he would manage to master the restarts and pull away from the field. Lapped traffic never really would become a major factor due to all of the timing of the stoppages.
There would be a few times when Starks would be put on pressure but Trey managed to keep all challengers in check. For Starks it would be his second career victory with Western Sprint Tour and his first at Yakima. Starks also goes down in history as the first WST series champion.
The Mike Anderson owned Shaylene Raye Motorsports/Pops Entertainment/Speedmart Inc./Vic's 66 #18 A.R.T. of Jason Solwold, from Burlington, was once again second while third place went to Jared Peterson of Stanwood in the Roger Henderson owned Cascade Metal Recycling/Island Muffler & Brake/Bailey Brothers Performance Center #7N KPC. Enumclaw native Henry Van Dam managed to come home fourth in his Kovash Logging/Johanson Excavating/Big Al Kids & Motorsport Foundation/Factory Kahne Shocks #33V A.R.T. followed by the Allan Larson and Kelly Welch owned LAW Motorsports/Triple X Race Co./CHADL Investments/Mt. Baker Landscaping #33 XXX, driven by Marysville's Colton Heath, in fifth.
The Meyer Electric/Hedge Carter Gutter Service/Poverty Bay Bumper/Bekkever Logging & Trucking #3 XXX of Quilcene's J.J. Hickle was the quick time award winner. Heat race winners were Jared Ridge of Medford, Oregon in his Ridge Runner Wings/Snohomish Auto Parts/Racers For Christ/Rodgers Racing Engines #12 entry, Henry Van Dam, and the Great Western Transport/Elma Lanes/Speedmart Inc. #9R KPC of Snohomish pilot Reece Goetz. Monroe's Jake Helsel got the job done for the second straight night in the consolation feature in his DeYoung Inc./Superior Powdercoating/Outdoor Synergy Composits/Speedmart Inc. #44 Rocket and Trey Starks won the trophy dash.
Be sure and keep an eye on the website for all the upcoming news and information regarding the Western Sprint Tour at sprints.nwextremeseries.com. It seems like the new race season is a long way off but we will do our best to keep our fans up to date and informed on the site with stories and press releases leading up to the first races of 2016.
Race Summary:
Western Sprint Tour Race #13
Saturday September 26th, 2015
Central Washington State Fair Raceway
Yakima, Washington
A Feature : 1. 55-Trey Starks; 2. 18-Jason Solwold; 3. 7N-Jared Peterson; 4. 33V-Henry Vandam; 5. 33-Colton Heath; 6. 08-Steve Vague; 7. 91-Chase Goetz; 8. 11K-Michael (Buddy) Kofoid; 9. 9A-Luke Didiuk; 10. 0J-Jay Cole; 11. 12-Jared Ridge; 12. 44-Jake Helsel; 13. 22C-Trevor Cook; 14. 51T-Tristan Spiers; 15. 45-Brent McGrath; 16. 9R-Reece Goetz; 17. 3-J.J. Hickle; 18. 97R-Jason Reed; 19. 17-Cameron (Cam) Smith; 20. 9-Jayme Barnes
B Feature : 1. 44-Jake Helsel; 2. 45-Brent McGrath; 3. 9A-Luke Didiuk; 4. 51T-Tristan Spiers; 5. 15-Jeff Dunlap; 6. 15R-Jake Gilman; 7. 27W-Guy Weedman
Dash : 1. 55-Trey Starks; 2. 18-Jason Solwold; 3. 17-Cameron (Cam) Smith; 4. 33V-Henry Vandam; 5. 7N-Jared Peterson; 6. 3-J.J. Hickle
Heat 1: 1. 12-Jared Ridge; 2. 55-Trey Starks; 3. 08-Steve Vague; 4. 3-J.J. Hickle; 5. 0J-Jay Cole; 6. 45-Brent McGrath; 7. 9A-Luke Didiuk; 8. 15R-Jake Gilman
Heat 2: 1. 33V-Henry Vandam; 2. 17-Cameron (Cam) Smith; 3. 18-Jason Solwold; 4. 9-Jayme Barnes; 5. 97R-Jason Reed; 6. 44-Jake Helsel; 7. 51T-Tristan Spiers; 8. 27W-Guy Weedman
Heat 3: 1. 9R-Reece Goetz; 2. 91-Chase Goetz; 3. 7N-Jared Peterson; 4. 22C-Trevor Cook; 5. 33-Colton Heath; 6. 11K-Michael (Buddy) Kofoid; 7. 15-Jeff Dunlap
Qualifying : 1. 3-J.J. Hickle; 2. 18-Jason Solwold; 3. 7N-Jared Peterson; 4. 0J-Jay Cole; 5. 9-Jayme Barnes; 6. 33-Colton Heath; 7. 55-Trey Starks; 8. 17-Cameron (Cam) Smith; 9. 91-Chase Goetz; 10. 08-Steve Vague; 11. 33V-Henry Vandam; 12. 11K-Michael (Buddy) Kofoid; 13. 12-Jared Ridge; 14. 97R-Jason Reed; 15. 9R-Reece Goetz; 16. 45-Brent McGrath; 17. 44-Jake Helsel; 18. 22C-Trevor Cook; 19. 9A-Luke Didiuk; 20. 51T-Tristan Spiers; 21. 15R-Jake Gilman; 22. 27W-Guy Weedman; 23. 15-Jeff Dunlap
Final Western Sprint Tour Points (Top Ten):
1. 55-Trey Starks 1067; 2. 11K-Michael Kofoid 769; 3. 77-Kyle Hirst 702; 4. 11-Roger Crockett 694; 5. 22-Garen Linder 647; 6. 5D-Patrick Dills 635; 7. 94/8R-Steven Tiner 633; 8. 31C-Justyn Cox 622; 9. 96-Greg Hamilton 566; 10. 21-Colby Weisz 545