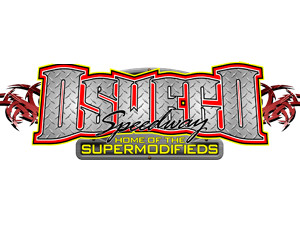 By Danny Kapuscinski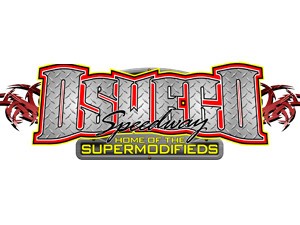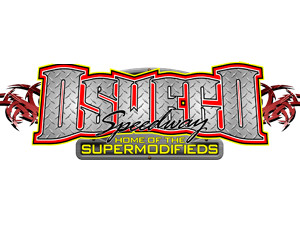 OSWEGO, NY (May 18, 2016) – While one round of Oswego Speedway's Road to the Championship is already in the books, this Saturday's $10 Fan Appreciation special at the Speedway figures to be a true homecoming for 'Steel Palace' fans as the current weather forecast shows a favorable high of 70-degrees with partly cloudy skies.
With his victory on opening night, Michael Barnes is the current Novelis Supermodified point leader with an 8-point edge on seven-time champion Otto Sitterly.
Barnes led all 50-laps of the Mitchell's Speedway Press season opening event, defeating Sitterly by just under one second for his eighth career Oswego Supermodified win.
Sitterly opted to compete with his redesigned independent front suspension chassis on Saturday, while Barnes contended in his tried and true straight axle machine. This combination figures to be the same on Saturday night as the remainder of the field looks to play catch up.
Trailing Barnes and Sitterly in the Supermodified standings are Tim Devendorf, Aric Iosue, Michael Muldoon, Pat Lavery, Dave Gruel, Jeff Abold, Dan Connors Jr., and Dave Danzer.
Mike Bond picked up where he left off on the Pathfinder Bank SBS side of the pit area, leading all 30-laps of the season opening SBS main last Saturday, to stand on top of the SBS driver point standings.
Matt Magner, Kreig Heroth, Anthony Losurdo, and Dave Cliff gave Bond fits on Saturday however, and they stand as the current top five in the series championship.
Jack Patrick, Russ Brown, Dalton Doyle, Barry Kingsley, and Camden Proud stand in the top ten positions.
WHAT:
Best Western PLUS/Quality Inn and Suites Riverfront of Oswego $10 admission Fan Appreciation Special featuring a 50-lap Novelis Supermodified main and a 30-lap Pathfinder Bank SBS feature.
WHEN:
Saturday May 21, at Oswego Speedway in Oswego, NY. Pit gates will open at 3 p.m., grandstands at 4:30 p.m., hot laps at 4:30 p.m., racing at 6:30 p.m.
WHERE:
Oswego Speedway is located at 300 East Albany St. in Oswego, NY
TICKETS:
Padded reserved seats $15, general admission $10, Pit Passes $30, VIP $75. Tickets can be purchased in advance by calling (315) 342-0646. Kids 16 and under are free with paid adult. Active military are free with proper ID.
ON THE INTERNET:
Oswego Speedway – www.oswegospeedway.com
Twitter – @OswegoSpeedway
Facebook – facebook.com/OswegoSpeedway
YouTube – OswegoSpeedwayOnline
Live Updates can be seen on Twitter, Facebook, as well as the Oswego Speedway website
ABOUT THE TRACK:
Oswego Speedway is a semi-banked 5/8 mile paved oval. The non-wing Novelis Supermodified track record is held by Joey Payne with a time of 15.802 seconds at 142.397 mph, established on August 29, 2014. The wing Supermodified track record is 14.829 seconds at 151.730 mph, set by Mike Lichty on May 23, 2015. The official SBS track record is held by Russ Brown with a lap of 18.554 seconds at 121.268 mph set on August 29, 2014.
2016 Oswego Speedway – Novelis – Hoosier Tire – SUNOCO
Supermodified Driver's Championship
POS.   ##     DRIVER        PTS.
1        68      MICHAEL BARNES* 112
2        7        OTTO SITTERLY      104
3        5        TIM DEVENDORF    97
4        11      ARIC IOSUE  97
5        15      MICHAEL MULDOON         93
6        12      PAT LAVERY 92
7        50      DAVE GRUEL 91
8        O5      JEFF ABOLD  86
9        O1      DAN CONNORS JR. 85
10      52      DAVE DANZER        83
11      24      JERRY CURRAN      83
12      56      HAL LATULIP          78
13      O2      BRANDON BELLINGER       76
14      21      KODY GRAHAM       74
15      OO     JOE GOSEK   70
16      83      LOU LEVEA JR.       68
17      51      JOE MORIARTY       66
18      14      KREIG HEROTH ®   64
19      90      RAY GRAHAM         48
Novelis Supermodified Rookie of the Year