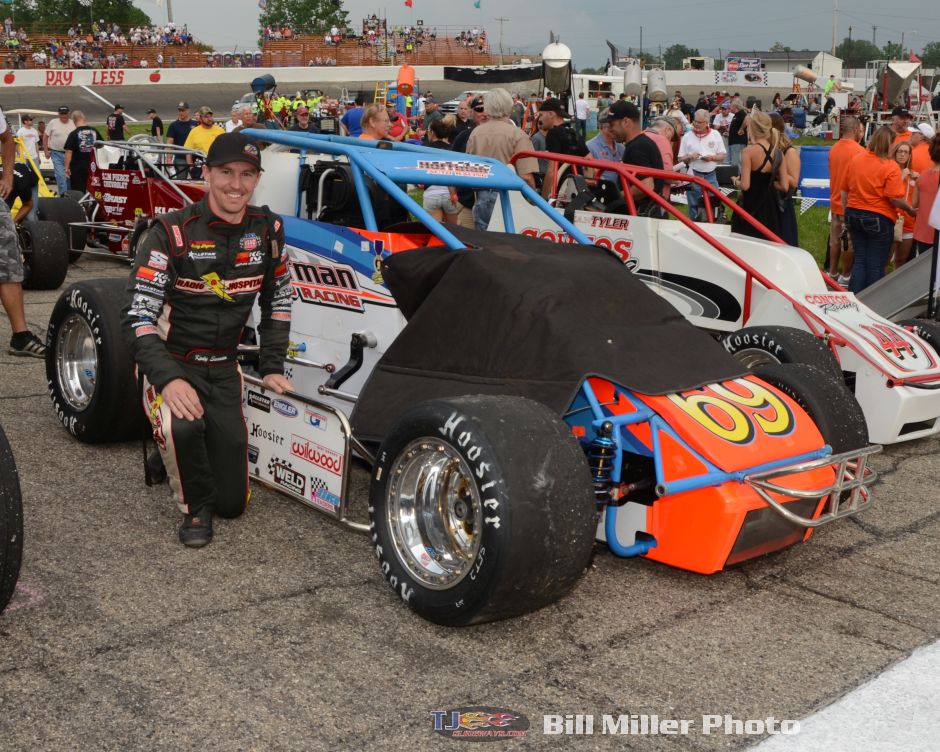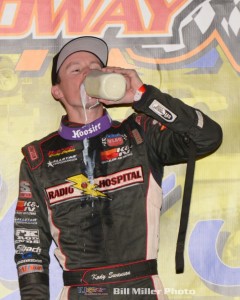 By T.J. Buffenbarger
Kody Swanson's road to becoming the first California driver to win the event did not come easy. Swanson ended up having a very eventful evening involving lapped traffic, spinning out, front end damage, and holding off one of the most decorated sprint car drivers in route to the victory.
According to Hoffman Auto Racing crew chief Rob Hoffman Swanson was starting to run out of fuel while trying to keep pace with the leaders around lap 387 out of 500. Just as they were figuring out what to do Swanson made contact with another car, spun in turn four, and kept going under power without losing a single spot. Swanson then brought the car in for service and eventually setup a final 100 laps for the ages.
After that caution Armstrong, Swanson, and Steele drove the hardest I've seen over the final 100 laps in all of my visits to the Little 500. The race between Armstrong and Swanson got particular intense with contact off turn four that eventually ended Armstrong's race.
""I hate that he fell out of it, we made a little contact," said Swanson. "Caleb was so good and trying so hard on that last stint and I got lucky we caught lapped traffic. I kind of had an opening and got alongside him, and he tried to crowd me. I was on the apron and we touched right rear to left (front) and I came out with the lead. Some parts or racing is just getting a little bit of luck and catching the right break."
Swanson then had to deal with one of the greatest pavement sprint car drivers of all time, David Steele, perusing him restlessly over the final 50 laps. Swanson's crew made sure that he knew Steele was behind him.
"You better believe it," Swanson said after being asked if he knew Steele was behind him. "They said 'Give me all you've got' and we got lucky it was enough and timed the lapped cars at the end that end that we held on for it."
All of this was done through the later stages of the race after Swanson suffered front end damage during a restart.
"There were a couple of times I thought we were going to wreck it. On one of those cautions there I got stacked up when the leaders did a big brake check on the restart I was stuck in the pack and I bent up the front end and had to hold the steering wheel 90 degrees different," said Swanson. "The car was that good that I could screw it up and still win the Little 500. Can't believe it."
One thing that helps propel Swanson to victory was great pit work from the Hoffman Auto Racing team. Both required pit stops were lightning fast only losing one lap on both stops moving Swanson up in the order after each pit stop cycle."
"When you make two pit stops and gain positions every time, these guys have been great. The two previous races, I drive for a great team in the Silver Crown series and Hoffman guys are second to none here at the Little 500. I'm just thankful I get to drive for them."
When asked where the win ranked in Swanson's career he was able to keep a big picture perspective.
"I've never been able to measure one night against the next. You always want to win the next one and you don't want your last win to be your last, so tonight I'm thankful to win the Little 500."
Notes:
The victory capped off a great week for the Swanson family as Kody won the Hoosier 100 on Thursday while brother Tanner won the USAC Silver Crown event at Lucas Oil Raceway at Indianapolis on Friday. Both Kody and Tanner were in action on Saturday with Tanner driving for former driver Brad Armstrong. While Kody found his name at the top of the order Tanner found himself finishing last, making the Swanson brothers bookend the final results from Anderson.

Tanner Swanson (#69) passing Caleb Armstrong (#69) during the Pay Less Little 500. (Bill Miller Photo)

Armstrong actually missed the UNOH All Star Circuit of Champions event at Wayne County Speedway in an attempt to win the Pay Less Little 500 for the first time in his career. After qualifying on the pole Thursday at Anderson Armstrong and his team went back to their shop in New Castle, Indiana to unload the pavement equipment at their shop and swap it out with the winged sprint car gear to race at Attica Raceway Park on Friday. After finishing 18th at Attica Armstrong's team drove back all night to New Castle, arriving at 4:00 a.m., and swapped equipment again before getting a little rest prior to Anderson on Saturday.

Dave Steele came close to victory again at the Little 500, but came up just short. In defeat Steele was quick to credit Swanson."Swanson and those guys were fast, they're no slouch. They had their act together," said Steele. "We were about the same speed at the end, even if we were a little faster. Catching him and passing him though are two different things. He was able to get through traffic and there was a caution there with about 50 to go there. We had some lapped cars between us, I got through those pretty good, but he was fast enough to hold on. "
Third place finisher Jerry Coons, Jr. was the first of the leaders to make his final pit stop with Gene Nolen's V6 powered car. Coons though ended up with a tire issue following his final stop that took him out of contention."We were so good early. We gained over an inch of stagger during that last pit stop," said Coons. That freed the car up so much I was peddling it down the straightaways where before I could just mat the thing off the corner. I was having to peddle down the straightaway that last 100. Just unfortunate because Gene (Nolen) and these guys gave me a great race car, it was solid. I think if we would have had the same tires, same stagger as before we were every bit as fast as (Steele and Swanson) at that point. We had a solid race car before, unfortunately that's what happens when you are changing tires. We had them all sized we thought, I'm not sure why it changed so much, but sometimes that just happens."
At one point it appeared Bobby Santos, III and Billy Wease would be the prime contenders for the victory by pitting late during the first half of the event. Both Santos and Wease wanted until just before halfway to make their required first pit stop, pitting after pushing off following a red flag for an accident clean up to pit while the lap counter was not running. At one point Santos and Wease were shown one lap ahead of the field until Wease ended up getting caught up in and incident in turns one and two and Santos was passed by Armstrong to get his lap back. Santos then waited until late in the second segment to make his final pit stop, which ended up being his undoing putting him two laps down and out of contention.
Wease returned this year with car owner Randy Burrow with a car originally built by Chet Phillip just for the Little 500. Wease was running up front until the crew struggled a bit getting the unusual creation jacked up to change tires during pit stops before Wease was caught up in the above mentioned incident.
One anxious moment just after warm ups took place when Kyle Hamilton's engine died in the middle of the practice session just hours before the race. Bob East informed us the team changed a few things with the engine, but were unable to fire it until the start of the race. Luckily for the team the engine ran for the race as Hamilton drove to a fourth place finish.
Mark Hall was able to take advantage of being the second alternate after Joe Swanson was unable to start the Little 500 due to engine problems. First alternate Jim Sheets was not available to run, so Hall was able to start the Little 500 in the 33rd position.
Defending champion Chris Windom's night at the Little 500 ended just after the team's first pit stop when he ended up in the turn one wall with the left front wheel bouncing through the second corner.
One emotional part of the pre-race ceremonies was when Anderson Speedway owner Rick Dawson presented his widow Cindy Elliott with an honorary winner's trophy. Elliott was a big part of the Little 500 during his career and Dawson mentioned he had hoped someday to present Elliott with the actual winner's trophy.
While not official attendance figures were released by my trained eyes over the past 20 years the crowd at Anderson was one of the largest, if not the largest, I had seen for the Pay Less Little 500 with only a few bottom row seats empty, but people standing all around the high banked ¼-mile oval. Dawson indicated fans had purchased tickets from Canada, Australia, New Zealand, England, and South Africa.