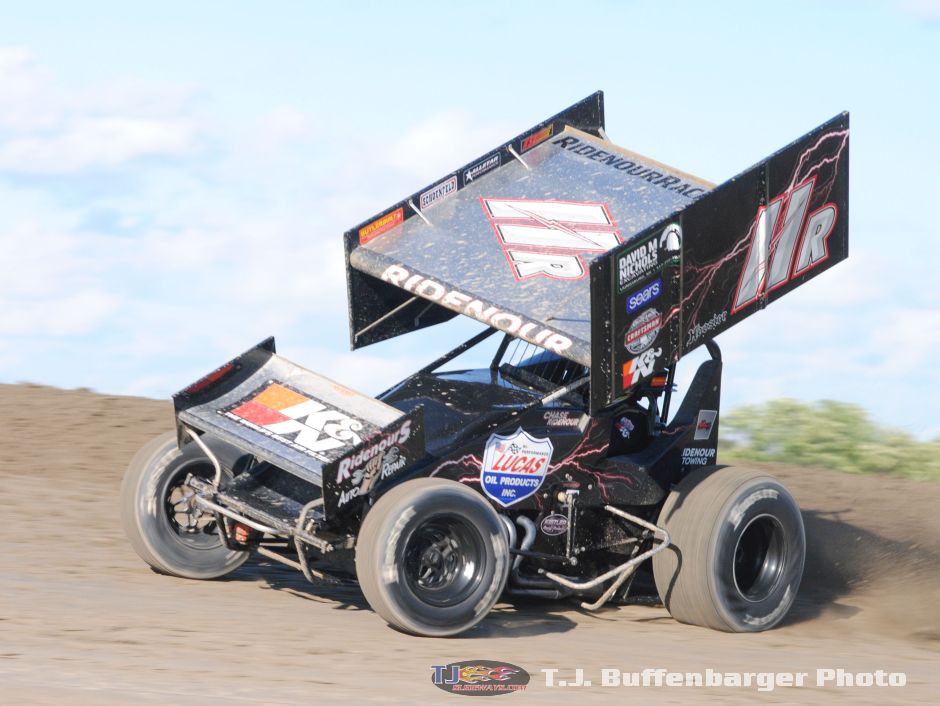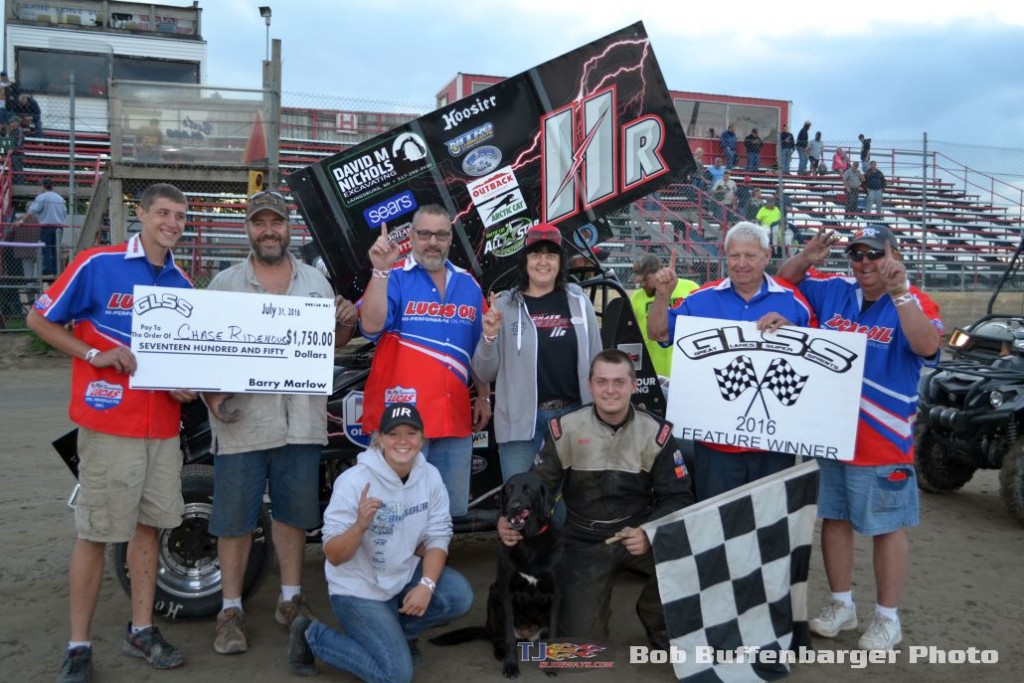 By T.J. Buffenbarger
During one of the busiest weekend of the year for sprint car racing in Michigan the races that did not rain out did not disappoint. While the World of Outlaws, Sprints on Dirt, and Auto Value / Bumper to Bumper Super Sprints were interrupted by rain one AVSS show along with a trio of Great Lakes Super Sprint programs were contested.
In the midst of the races and rain the breakout start of the weekend was Chase Ridenour. Four years into his sprint car racing career and still a high school student Ridenour has won a handful of races, but were waiting to see him take the next step to being a consistent threat to win every single night. This weekend may have been that step after winning at three very different race tracks in Tri-City Motor Speedway, Merritt Speedway, and I-96 Speedway.
Riendour's victory on Sunday at I-96 was nothing short of spectacular catching Dustin Daggett in slower traffic with a last lap pass for the victory. Bob Buffenbarger called Ridenour's drive one of the most impressive in the state this season. After a slow start to the season Ridenour after July 11th has not finished worse than fifth driving his 360 sprint car. Combine this mid-season hot streak with Lucas Oil sponsorship being announced during the off season Riendour and his family owned team are the hottest sprint car team in the state of Michigan.
Notes
The World of Outlaws Craftsman Sprint Car Series rain out Friday at Hartford Motor Speedway seemed to be our fate while driving to the track, a slow moving front combined with a great effort from Series, Track, and SLS Promotions staff to get the show were a lot closer to pulling off a full show than I expected. Everyone involved from the teams to the staff knew the situation and were working well towards getting the program in. At one point I thought they might pull it off until the rain began to pick up just as the dash was called to staging.
Local 410 teams don't show desire to go to Hartford and often times World of Outlaws program despite the $800.00 start money. $4,800 in potential start money along with exposure for sponsors in what is one of the three largest crowds to see a sprint car race in the state of Michigan all season. While I understand team preservation with Hartford's track and walls, making a handful of laps to earn more than second or third place at more local events would be more incentive for teams to show up.
While some may have been surprised by the light car count on Friday at Hartford, the 18 cars on hand were two more than I expected while trying to gage how many teams would be on hand earlier in the week. With FAST, All Stars, MOWA IL Sprint Week, IRA, and NSL with a 20K to win show at Jackson up against the Outlaws at Hartford it was clear cars would be stretched pretty thin for everyone.  The September 21st rain date should provide a stout field of cars leading into the 4-Crown Nationals at Eldora Speedway.
What does one do while waiting out a rain delay? Learn something.https://twitter.com/tjslideways/status/759185657365274624This week it was the plastic that we have seen twice this year in the back of the Larson/Marks Racing Team's trailer at rainy events. Larson/Marks driver Shane Stewart explained the plastic stays down until the teams gets to the car wash and saves the crew hours of cleaning time. With the World of Outlaws tour time management is everything and the plastic is just one way Larson/Marks helps their crew guys.

MTS returns to Hartford Motor Speedway on Friday. (T.J. Buffenbarger Photo)

Look for a couple of Indiana teams to make the trip up to Hartford Motor Speedway on Friday for the Lane Automotive Michigan Traditional Sprints event. Hartford's close proximity seems to draw a handful of visitors for their non-wing races. Landon Simon won the MTS event at Hartford earlier in the season.

Jeff Bloom's crash at Spartan Speedway on Friday was one of the worst that Bob Buffenbarger had ever witnessed in person. Bloom's throttle stuck going through turns one and two, plowed into Derek Snyder, and then made hard contact with the wall. Snyder's car was hit hard enough to do frame damage, but helped take some energy away from Bloom's car before his big hit. With a back and sternum injury Bloom will be out of action long term.The first person to Bloom's car to assist was fellow driver and feature winner Friday at Spartan, Aaron Pierce.Bloom has been relocated to a rehabilitation center closer to his Bangor, Michigan home.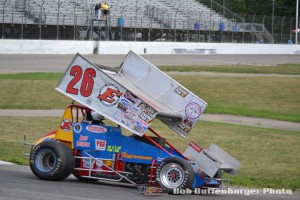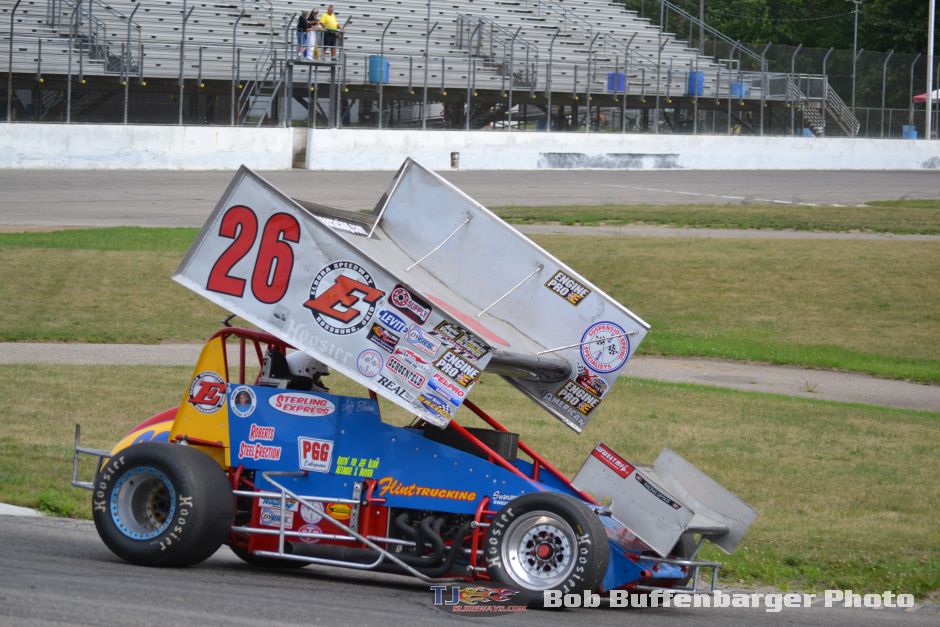 Several teams were held up arriving at Spartan when a power line went down over Interstate 69 just north of Coldwater and closed the freeway. Tom Patterson reported it took him around two hours to go 12 miles and at one point had stopped for a restroom break and only lost three positions in the line of traffic. Patterson and Pierce both arrived late at Spartan due to the traffic tie up.
The first reaction to a very successful Sunday event at I-96 Speedway by teams and race fans was to do more Sunday races. While excited by Sunday's success I also think enthusiasm should be tempered to try one again next year, once again with two divisions, before branching out into more of them and dilute how special Sunday's event was. Kudos to the great effort by Barry Marlow and his staff along with awesome track prep from Mike Mouch and his staff to make that happen.
If you have a ticket or wristband from the World of Outlaws program at Hartford you can use that to get $5.00 off admission to the upcoming Jerry Landon Klassic August 21 at Kalamazoo Speedway.