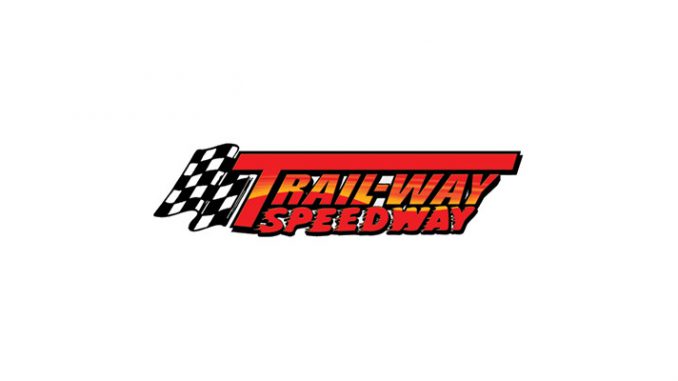 From Kalida Landis
HANOVER, Penn. (August 5, 2016) – David Holbrook took over the season-long points lead by scoring his second win of the year in the 25-lap "358" sprint car feature at Trail-Way Speedway Friday night.
"This feels really good after last week," said Holbrook upon exiting the Mike Parris-owned Turning Stone Resort & Casino/Baird Heating & Cooling/SCC Trucking #77 in victory lane.
Holbrook spun while racing with the leaders in last Friday's feature. But there was no such bad luck this week, as Holbrook started fifth and took the lead from Mike Bittinger in turns three and four of lap ten.
Holbrook was the third leader of the race. Outside front row starter Kody Hartlaub took the lead from polesitter Isaac Sneeringer at the start and led the first six laps before he got sideways and collected Sneeringer in turn two of the seventh lap. Bittinger was running third at the time and assumed the lead for the restart. He led the next two laps before Holbrook made the race-winning pass.
"I don't know what happened to Mike coming off turn two," said Holbrook. On the final lap, Bittinger hit the wall and suffered a flat tire, bringing out the checkered and caution simultaneously. He was scored 13th at the end.
"We're taking a lot of notes and getting better," said Holbrook, "These Steve Rucker motors (which have won for the third week in a row) have been working great, and I want to thank the crew."
Holbrook's win vaulted him into the points lead by ten points over Seth Kearchner and 26 points over the absent Doug Hammaker.
Second through fifth were eighth-starting Dwight Leppo, tenth-starting Jeff Halligan, 12th-starting and hard charger Steve Owings (who has two wins and a fourth in his three TW races this year), and Kearchner. Sixth through tenth were Tyler Walton, Rick Horn, Zach Euculano, Brandon Noel, and J.B. Cunningham.
Qualifiers for the 17 "358" sprinters were won by Sneeringer and Hartlaub.
For all the latest news and related information from Trail-Way Speedway, fans are reminded to visit the speedway website at www.trail-wayspeedway.com. The complete story and agate from each race night is posted shortly after the final checkered flag.
Friday August 5, 2016
Trail-Way Speedway
Hanover, PA
For Immediate Release
HOOSIER TIRE MID-ATLANTIC 358 SPRINT CARS
FEATURE (25 Laps) – 1. 77-David Holbrook; 2. 4-Dwight Leppo; 3. 41-Jeff Halligan; 4. 35-Steve Owings (Hard Charger); 5. 30-Seth Kearchner; 6. 4R-Tyler Walton; 7. 01-Rick Horn; 8. 10-Zach Euculano; 9. 10B-Brandon Noel; 10. 39-JB Cunningham, Jr.; 11. 12-Mike Bittinger (DNF); 12. ;14C-Dave Carlberg (1 lap down) 13. 77K-Steven Kisamore (1 lap down); 14. 64-Randy Whisler (DNF); 15. 10T-Brody Treaster (DNF); 16. 11D-Kody Hartlaub (DNF); 17. 19Z-Isaac Sneeringer (DNF). No time.
Lap Leaders: Kody Hartlaub (1-7); David Holbrook (8-25)