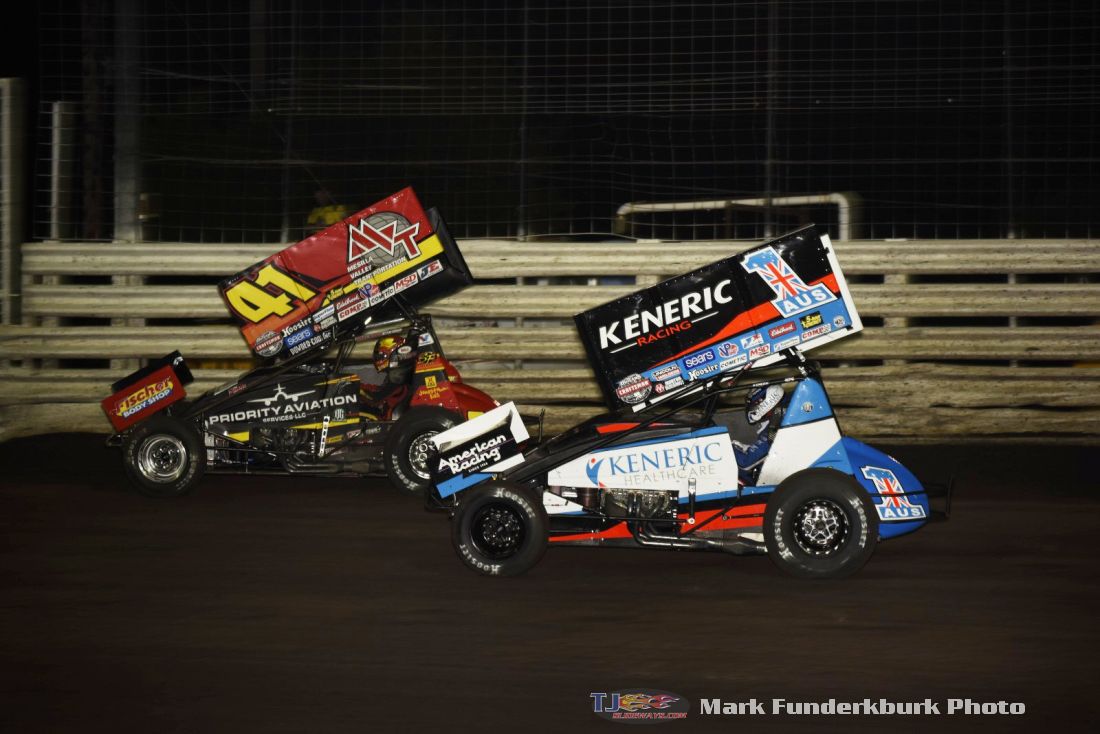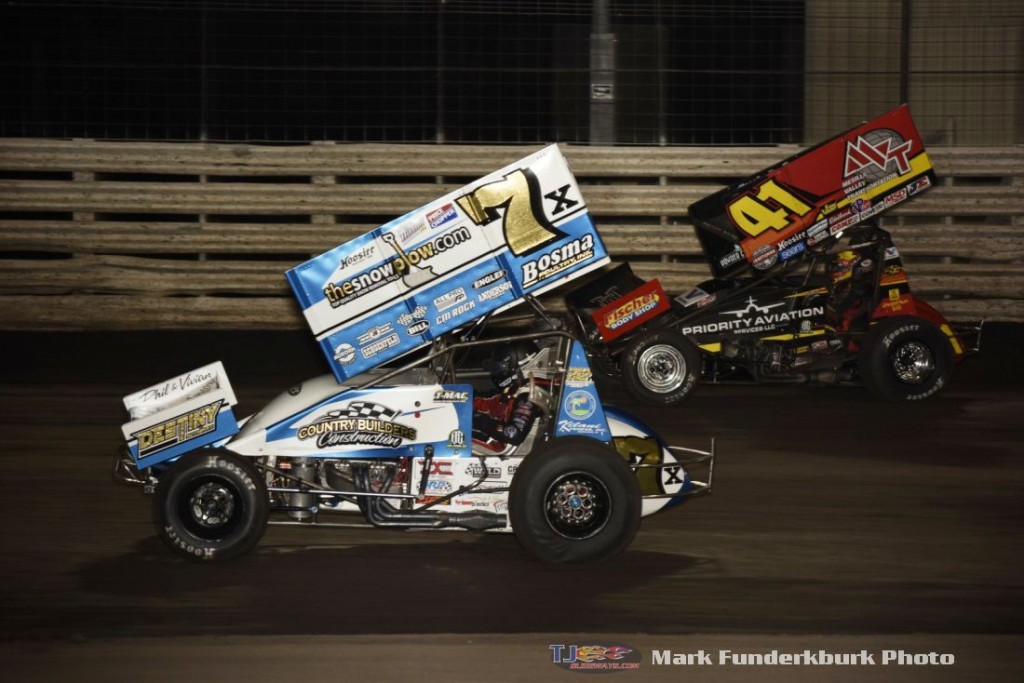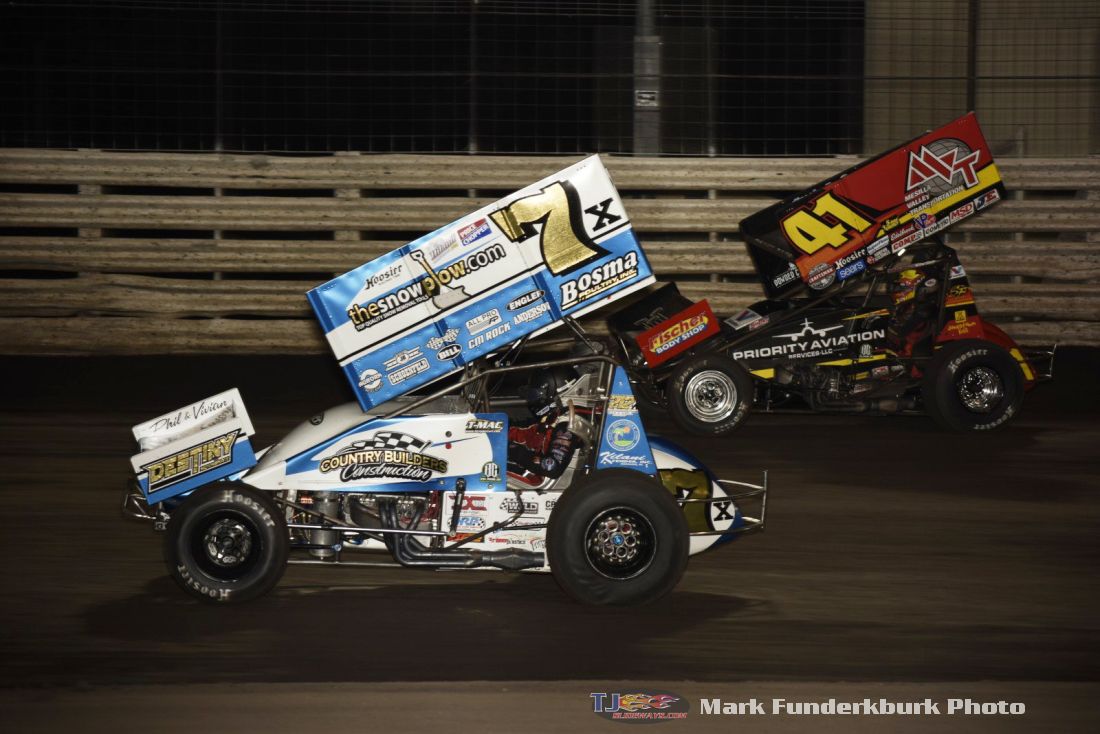 By T.J. Buffenbarger
Knoxville Raceway has worked on running a more efficient race program all season. Knoxville efficiency was in the spotlight again for all of the right reasons as race officials and teams were in a race against themselves and the weather on Thursday with a very large Thunderstorm heading towards Knoxville. The entire program from hot laps to the final checkered flag was completed before 10:00 PM.Knoxville Raceway marketing director Kendra Jacobs gave credit to her staff and John McCoy for the effort to get the program in. Fans were encouraged not go to the pit area and all of the teams were able to exit the infield before the storm hit.
With a touching program at the National Sprint Car Hall of Fame with Bryan Clauson's family along with his fiancée Lauren Stewart and friends Kirk Spridgeon, Ricky Stenhouse Jr, and Tyler Courtney. Lauren, Kirk, Ricky, and Tyler were tremendous with poise long beyond their young ages dealing with such a high profile grieving situation in a forum that actually created a bit of healing for everyone involved. The night was capped off with Stenhouse pacing the feature field in Matt Wood Racing owned winged sprint car Clauson drove and having the car in victory lane one more time.Feature winner Tim Kaeding's first thoughts were with Clauson and his family.

"I have to give this one to BC," said Kaeding. "Here is another one to 200 buddy. Grew up racing with his Dad. Great family, hell of a race car driver."

Jason Johnson sentiments echoed Kaeding's.

"There is no doubt we have heavy hearts for Bryan for sure. Condolences to the family, we are definitely thinking of them. I know it's very, very tough because I went through the same thing multiple years ago losing a sister. All in all, great night, happy to be here, thanks for all the fans coming out, good job by Knoxville getting the show in."
Kaeding's victory with Lunstra Motorports came in a season where the team had not raced at Knoxville on a regular basis. Kaeding believes that not racing at Knoxville on a regular basis makes him better at the Marion County Fairgrounds half mile."I usually qualify about 28th right about now. For me to qualify 13th at this race is a feet within itself. We've worked hard to get here, took a few steps away from racing here week in and week out. I told my car owner I need to stay away from this place as much as possible because I do better when I just show up and race. I proved that tonight"
Terry McCarl's journey to a top three finish on Thursday was eventful after an engine problem crept up during his heat race event."It was way worse than you guys even know," said McCarl. "First of all, it was with about four laps to go. I looked up at the scoreboard, with these being 10 lap heats instead of the eight lap ones we usually run. I thought we were in deep trouble. I was so excited starting sixth, we had such a good race car and drove right up to third and I thought we still might still had a shot at second. So we were sitting pretty good making through the heat qualifying where we did. (The engine) dropped a valve with about four to go so I started getting wide. I tried the bottom and it was loading the motor too much, so I just tried to keep it free right in the middle."

The situation was complicated by a lack of an available spare engine for McCarl's car.

The worst part of it is we put our spare motor up in the other car to run the World Challenge tomorrow and didn't have a spare motor, but got one sitting at the shop. I told my guys, 'you know you better go the shop today and get that other engine'. They were a little lazy so they paid the price for it. They did an amazing job," said McCarl. "We had to pull the engine out of Austin (McCarl's) car and put it in mine. It was pretty nerve racking for those guys."

McCarl let his crew go to work while he kept up with the race track for setup purposes. McCarl and his team recovered to finish third and lock into 10th position in Saturday's A-Main.
Jason Johnson turned in an impressive performance on Thursday that earned him a front row starting position for Saturday night's A-Main. Johnson overcame going out 54th for qualifying by setting the fifth fastest time. Johnson then backed it up by working his way through the heat race to finish fourth and posting a runner up finish in the feature. Johnson quickly differed credit to his crew."These Priority Aviation, Mesilla Valley Transport guys have been really working their tails off the last month. Just outstanding job by Phillip, Jacob, and Jeff, said Johnson. "Really good race team right now and we've got good momentum. It's a good run tonight good for our confidence and a lot of a great supporters here. I want to thank everyone for their support to make Jason Johnson Racing possible."

Johnson's said the new World of Outlaws format this season with no time inversion is helping prepare him for Nationals.

"It's just really racing with the Outlaws," said Johnson. "These guys push you to the limit every night. With the way World of Outlaws format is you have to be fast just like you have to be fast right here for the Nationals. You have to be able to lay two good laps down, you have to fast in your heat race to hold everyone off. Generally, in the dash you might play around a bit, but then you need to be good in the feature. It's just credit to racing with the World of Outlaws, my guys have been working their tails off, we have great support. We have good card, good motors, and everything is just clicking. Everybody is having a good time and everybody is positive right now. When you get on a swing being the driver sometimes you got to be the quarterback. Even though there are some nights you suck and you really want to hide like a turtle in his shell you have to stand up, pat your guys on the back and make them all feel good. Just keeping carrying the momentum, it looks like we're in a good position for Saturday."

When asked if he expected such good results, Johnson was even surprised by his team's result.

"No way. We had a good run here 10 years ago. 2006 we were third on the podium. I think TK and I duked it out the preliminary win," said Johnson. "A lot of this race is putting yourself in the right position. Mentally being there. When I say mentally like today I just did my normal deal like it was any other race. I didn't care about it being the Nationals or doing anything different. I let my guys do their jobs and they obviously did them well. Obviously we are in the position we can breathe a little bit tomorrow, have a couple of Bud Lights and enjoy it, and come back on Saturday and give it our best."
While Kasey Kahne Racing's Daryn Pittman caught a caution flag that moved him into a transfer spot in his heat race Brad Sweet did not have the same luck and had to run the B-Main on Friday. Sweet was involved in a race for position in the B-Main with Joey Saldana when the two made contact and nearly spun. Saldana recovered, but finished one spot out of a transfer and will have to re-qualify on Friday night.
After some overnight rain and this morning the pit area will open two hours later than normal at 4:00 P.M. So far though when I left the race track the track crew was making great progress on the infield and things look good to go racing tonight.