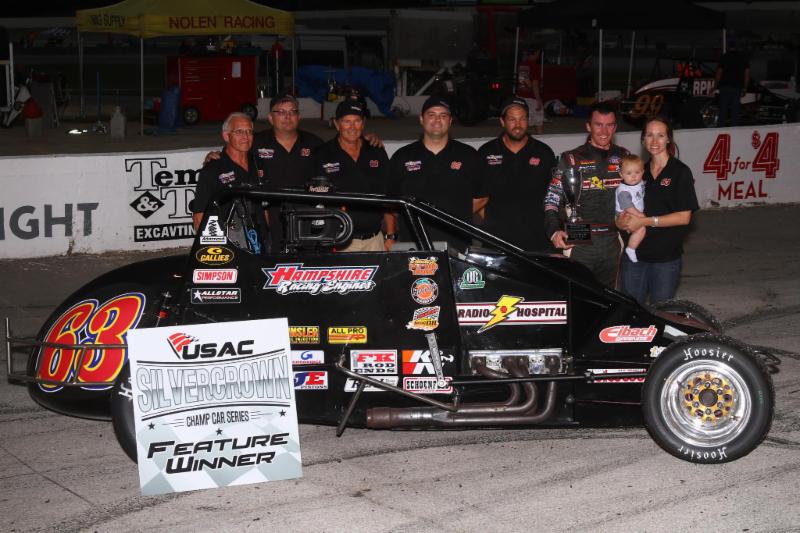 From USAC
Salem, Indiana………On a night in which every person at Salem Speedway was mindful of Bryan Clauson, how fitting it was that a car adorned with number 63 "parked it" in victory lane in Saturday night's 57th running of the "Joe James/Pat O'Connor Memorial."
Kingsburg, California's Kody Swanson took over the race lead on lap 61 after Aaron Pierce spun out of the top spot between turns three and four. Swanson went virtually unchallenged throughout the final 15 laps of the USAC Silver Crown series' first visit to the track since 1988 to take his 15th career USAC Silver Crown victory, tying him for fourth all-time with J.J. Yeley.
Earlier in the night, Swanson became the first driver ever to break into the 15-second bracket in a Silver Crown car around Salem's high banks on his way to a new track record and ProSource Fast Qualifying time, which put him on the pole position for the night's 75-lap event.
After amazingly avoiding the rain all throughout the afternoon, the skies opened up just prior to the start of the main event. The brief shower moistened the track, but, 20 minutes later, through the efforts of the track crew, the track was dry and drivers were called to their cars.
At the drop of the green, Swanson jumped out to the front with Pierce in second, back eight car lengths.
As the sparks began to fly into the dusk, Pierce began to close on Swanson for the point. However, in turn one, Austin Nemire lost control of his machine, spinning sideways on the banking as Casey Shuman came onto the scene, making contact with Nemire's left front with the nose of his Predator chassis. Shuman would restart, sans nose-piece, while Nemire would make his exit on the hook.
Pierce was able to hang with Swanson on the lap nine restart and, on lap 11, dove underneath Swanson on the bottom of turn two to take the lead.
On the 13th lap, Jacob Wilson, the only past "Joe James/Pat O'Connor Memorial" winner in the field, slowed on the back straightaway with a broken weight jacker, forcing him into the pit area for the remainder of the night.
Just a handful of laps later, Pierce and Swanson came upon the lapped car of Patrick Lawson as the pack hit the start/finish line. Pierce nearly made contact with Lawson, slowing him down a notch as Swanson dove to the inside, allowing Windom to corral second as Swanson got shuffled back to third.
Pierce was able to keep Windom at bay as the race approached the one-third point, but on a lap 29 restart, Windom drove downhill off of the turn four banking, giving him the momentum he needed to pull side-by-side to the inside of Pierce into turn one. Between turns one and two, Windom's right front tire made contact with the left rear of Pierce, sending off a puff of smoke and knocking Pierce squirrely. Nonetheless, Pierce was able to resettle to hold off the challenge and retain the lead as the two raced down the back straight away.
As ominous clouds hung over the trees in turns one and two, Pierce maintained his advantage, running mere inches from the outside wall in turns three and four, leaving little room for error.
Lap 41, Swanson turned low below Windom in the second turn. Swanson engaged in a drag-race down the back straight, beating Windom to turn three as he dirt-tracked it in sideways in front of Windom, hanging on to grab second.
With two-thirds of the race now complete, Pierce and Swanson were nose-to-tail for the lead with Windom and Jerry Coons, Jr. just behind, a half-lap ahead of fifth-running Bobby Santos.
Pierce continued to run on the razor's edge up top with just 15 laps to go as he bid for his first Silver Crown victory since a 2007 victory at Darlington (S.C.) Raceway when, suddenly, the back end of his car snapped around on its own between turns three and four. Though he managed to keep the car off the concrete, Pierce was unable to tame Salem on this day after an impressive drive in which he led 50 laps.
On the restart with just 12 laps to go, no one had an answer for Kody Swanson, who shot away from the field to take an unchallenged victory over Windom, Coons, Santos and Justin Grant.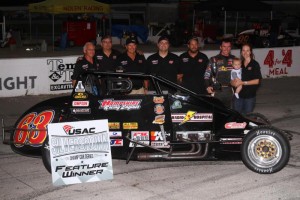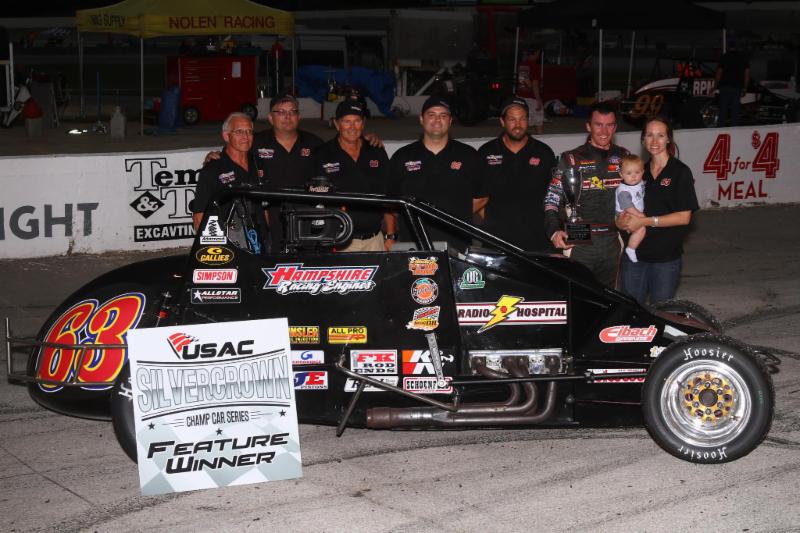 USAC SILVER CROWN CHAMPIONSHIP RACE RESULTS: August 13, 2016 – Salem, Indiana – Salem Speedway Fueled by the Hoosier Lottery – 57th Scott County Visitors Commission "Joe James-Pat O'Connor Memorial"
      PROSOURCE QUALIFYING: 1. Kody Swanson, 63, DePalma-15.972 (                                                                                                                                                                                                                                                                                                              NTR); 2. Aaron Pierce, 26, Pierce-16.311; 3. Jacob Wilson, 07, WBR-16.358; 4. Jerry Coons Jr., 20, Nolen-16.566; 5. Bobby Santos, 122, DJ Racing-16.571; 6. Chris Windom, 98, RPM/Gormly-16.621; 7. David Byrne, 40, Byrne-16.643; 8. Joe Liguori, 99, RPM/Gormly-16.762; 9. Justin Grant, 8, Carli-16.924; 10. Shane Cottle, 81, Williams-16.998; 11. Austin Nemire, 91, Hemelgarn-17.056; 12. Patrick Lawson, 2, Lawson-17.619; 13. Casey Shuman, 55, Bateman-17.830.
      FEATURE: (75 laps) 1. Kody Swanson, 2. Chris Windom, 3. Jerry Coons Jr., 4. Bobby Santos, 5. Justin Grant, 6. Aaron Pierce, 7. David Byrne, 8. Joe Liguori, 9. Patrick Lawson, 10. Casey Shuman, 11. Shane Cottle, 12. Jacob Wilson, 13. Austin Nemire. 27:59.49
——————————
FEATURE LAP LEADERS: Laps 1-10 Swanson, Laps 11-60 Pierce, Laps 61-75 Swanson.
KSE RACING PRODUCTS HARD CHARGER: Chris Windom (6th-2nd)
NEW USAC SILVER CROWN CHAMPIONSHIP POINTS: 1-K.Swanson-458, 2-Windom-445, 3-Grant-382, 4-Coons-364, 5-Byrne-326, 6-Cottle-317, 7-Shuman-305, 8-Nemire-288, 9-Liguori-235, 10-Tanner Swanson-213.
NEXT USAC SILVER CROWN CHAMPIONSHIP RACE: August 20 – Springfield, IL – Illinois State Fairgrounds  – "Bettenhausen 100"