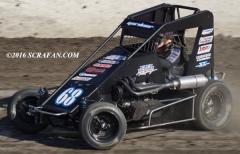 By Lance Jennings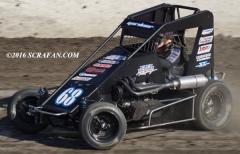 AUGUST 31, 2016… After a break in the schedule, the cars and stars of the USAC Western States Midget Series are gearing up for the highly anticipated swing in Northern California. Paying $10,000-to-win each night, the 2-day "9th Annual Louie Vermeil Classic" will open this Saturday, September 3rd. On Thursday, September 8th, the "mighty midgets" will head to Chico's Silver Dollar Speedway to battle the Bay City Racing Association (BCRA) during the "Gold Cup Race of Champions."
NOTICE TO RACERS: The USAC Western States Midget Series approved/legal mufflers are:
B&B: FRAC-0375-S  w/side outlet, Coast Fabrication: 300x625x17-2s, 350x625x17-2s, 400x625x17-2s, Extreme: 3512-3030 (with insert 2312-30), 3512-3030 SS (with insert 2312-30), 3515-3030, 4615-3035- 15″ long x 6″ diameter x 3″ inlet and 3.5 outlet w/internal cone, Flowmaster: (BCRA Approved) 13009130, 1509130, 13509135, Shoenfeld: 14272735-78, 14272535. *Failure to comply with the muffler rule will risk disqualification from the event.
CHICO RULES:
-WEIGHT RULE: The weight rule for the combined BCRA & USAC Western Midget shows is 1060 lbs.
-USAC POINTS: To earn USAC Western States Midget points at Chico, competitors must check in with USAC officials.
Looking for his record setting fourth straight title, Ronnie Gardner (Norco, California) has a 40-point lead over the competition. Michael Faccinto, Frankie Guerrini, Cory Elliott, Cody Swanson, Randi Pankratz, Tyler Dolacki, Courtney Crone, Maria Cofer, and Sean Dodenhoff round out the top-10 drivers. In the six previous races, Gardner has earned four victories with Faccinto and Alex Schutte claiming one race each.
Other drivers expected to compete are "The Hawk" Darren Hagen, Brady Bacon, Ryan Bernal, Jake Swanson, Britton Bock, Chad Boat, Spencer Bayston, Tanner Thorson, Carson Macedo, Ryan Robinson, Holly Shelton, and more.
On September 3rd and 4th, Calistoga Speedway will host the "9th Annual Louie Vermeil Classic." Promoted by HMC Promotions, the highly anticipated event honors the former NARC director and will also have a vintage car show, driver autograph session, raffle, wine tasting, silent auction, and a beer garden for fans to enjoy. Since July 2, 1993, twenty-four USAC Western States Midget races have been held at the Napa County Fairgrounds. Rico Abreu leads all drivers with five wins and set the 1-lap qualifying record of 19.808 on September 5, 2015. The Amsoil USAC/CRA Sprint Cars and Vintage Cars will share the spotlight with qualifying at 6:00pm and racing to follow. Calistoga Speedway is located at 1435 North Oak Street in Calistoga, California and for more information, visit www.calistogaspeedway.org, or call 916.773.7225.
LOUIE VERMEIL CLASSIC MIDGET WINNERS:
2008-Johnny Rodriguez, 2009-Josh Ford, 2010-Cory Kruseman, 2011-Johnathon Henry, 2012-Rico Abreu, 2013-Kyle Larson, 2014- Christopher Bell, 2015-Rico Abreu.
CALISTOGA USAC WESTERN MIDGET WINS:
5-Rico Abreu, 4- Billy Boat, 2-Johnny Rodriguez, 1-Christoper Bell, 1-Johnny Cofer, 1-Josh Ford, 1-Garrett Hansen, 1-Johnathon Henry, 1-Jim Keene, 1-Cory Kruseman, 1- Kyle Larson, 1-Evan Margeson, 1-Robby Josett, 1-Wally Pankratz, 1-Scott Pierovich, 1-Tony Stewart.
After a short break, the Northern California swing will continue on Thursday, September 8th, at Dennis Gage's Silver Dollar Speedway in Chico. Held during the "Gold Cup Race of Champions," the Silver Dollar Fairgrounds has hosted seven USAC Western States Midget shows. Ryan Bernal leads all drivers with two wins and Ronnie Gardner set the 1-lap track record of 14.047 on September 4, 2014. The Amsoil USAC/CRA Sprint Cars will share the spotlight with Racing scheduled for 7:00pm. Silver Dollar Speedway is located at 2357 Fair Street in Chico, California and for more information, visit www.silverdollarspeedway.com or call 530.350.7275.
GOLD CUP RACE OF CHAMPIONS MIDGET WINNERS:
2011-David Prickett, 2013-Ronnie Gardner, 2014-Brian Gard, 2015-Ryan Bernal.
CHICO USAC WESTERN STATES MIDGET WINS:
2-Ryan Bernal, 1-Brian Gard, 1-Ronnie Gardner, 1-Johnathon Henry, 1-David Prickett, 1-Kody Swanson.
The USAC Western States Midget Series thanks Hoosier Tire, Brown and Miller Racing Solutions, Competition Suspension Incorporated, DJ Safety, Diversified Machine Incorporated, Extreme Mufflers, Keizer Aluminum Wheels, Rod End Supply, Stand 21 Racer Goes Safer Foundation, Ultra Shield Race Products, and Woodland Auto Display for their support. If you or your company would like to become part of the series, email PR Director Lance Jennings at lwjennings@earthlink.net.
For more information on the series, visit the United States Auto Club (USAC) website at www.usacracing.com. You can also find exclusive content on the USAC Western States Midget Facebook and Twitter pages.
Loudpedal Productions has USAC Western States Midget DVDs and videos on demand available for purchase at www.loudpedal.tv and 805.407.7229.
———————————————–
USAC WESTERN STATES MIDGET CHAMPIONS:
1982*-Jeff Heywood, 1983-Sleepy Tripp, 1984-Tommy White, 1985-Sleepy Tripp, 1986-Robby Flock, 1987-Sleepy Tripp, 1988-Sleepy Tripp, 1989-Robby Flock, 1990-Sleepy Tripp, 1991-Sleepy Tripp, 1992-Sleepy Tripp, 1993-Robby Flock, 1994-Johnny Cofer, 1995-Billy Boat, 1996-Jay Drake, 1997-Ricky Shelton, 1998-Rick Hendrix, 1999-Marc DeBeaumont, 2000-Wally Pankratz, 2001-Danny Ebberts, 2002-Robby Flock, 2003-Steve Paden, 2004-Johnny Rodriguez, 2005-Jerome Rodela, 2006-Jerome Rodela, 2007-Johnny Rodriguez, 2008-Nic Faas, 2009-Garrett Hansen, 2010-Alex Schutte, 2011-Cory Kruseman, 2012-Shannon McQueen, 2013-Ronnie Gardner, 2014- Ronnie Gardner, 2015-Ronnie Gardner.
2016 USAC WESTERN STATES MIDGET WINS:
4-Ronnie Gardner, 1-Michael Faccinto, 1-Alex Schutte.
USAC WESTERN STATES MIDGET POINT STANDINGS:
Ronnie Gardner-486, 2. Michael Faccinto-446, 3. Frankie Guerrini-355, 4. Cory Elliott-326, 5. Cody Swanson-290, 6. Randi Pankratz-287, 7. Tyler Dolacki-279, .. Courtney Crone-279, 9. Maria Cofer-249, 10. Sean Dodenhoff-242, 11. Robert Dalby-231, 12. Shannon McQueen-183, 13. Darren Hagen-163, 14. Terry Nichols-158, 15. Dylan Ito-156, 16. Alex Schutte-145, 17. Robby Josett-125, 18. Troy Rutherford-113, 19. Ashley Hazelton-111, 20. Britton Bock-102.