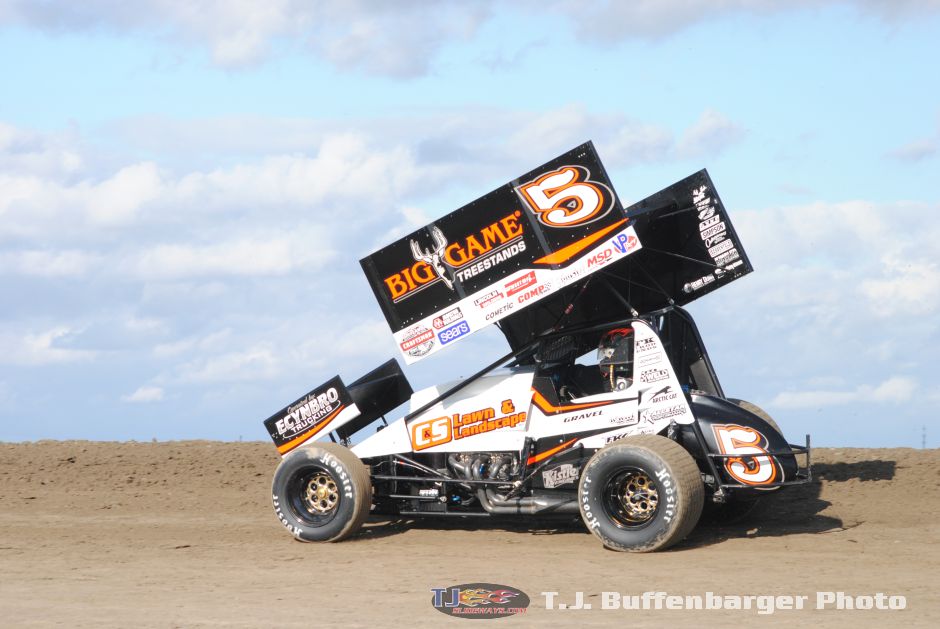 From Gary Thomas
ALGER, Wash. (September 3, 2016) — After winning on opening night at the Skagit Speedway, Watertown, Connecticut's David Gravel returned on Saturday with confidence and raced to an entertaining late-race victory for the second evening in a row with the World of Outlaws Craftsman® Sprint Car Series.
The opener of the Outlaw Energy Showdown on Friday had seen Gravel claim a final corner thriller, and on Saturday he was able to take advantage of heavy lapped traffic with just six-laps remaining, scooping up the lead that he would never relinquish. It marked the ninth triumph of the season for the CJB Motorsports/ Big Game Tree Stands No. 5 team. The 35-lap feature went green for 33-laps and showcased some outstanding racing in traffic on the well prepared Skagit oval.
"The track was awesome tonight, I don't think you can ask for anything better," Gravel commented. "It's been such a great year for us that it almost feels unreal. I want to thank the whole CJB Motorsports team for giving me the opportunity to drive the 5 car this season. Tonight I could put this thing anywhere on the track and that's a testament to Barry Jackson and my team. The cushion was the place to be, but to win these races you have to be capable of moving around. Luckily we had a break when Joey (Saldana) got caught up in traffic and were able to take advantage it."
Gravel started on the inside of the second row during the feature and settled into third on the start. He then hounded the rear bumper of Grass Valley's Brad Sweet, before making the move around him on lap 11. The duo proceeded to then tussle for the runner up spot, all the while racing closely behind leader Joey Saldana. The Brownsburg, Indiana competitor was looking for his fifth victory of the season and held the field at bay for much of the contest.
On lap 27 Gravel & Sweet exchanged the second position, which saw Gravel get the better of it. Two-laps later the complexion of the race changed when Saldana got slowed up by a lapped car on the front stretch, giving Gravel the opportunity he needed to pounce for the lead. Sweet was also able to come through for second, as Saldana regained his momentum in third.
The only stoppage of the race then occurred with 33-laps complete, when fifth running Shane Stewart got upside down in turn three. Just ahead of that, a multiple-car pileup also occurred, that saw Austen Wheatley get upside down. Paul McMahan, Trey Starks and Jacob Allen were also involved.
The green white checkered restart was all Gravel as he rocketed away to claim the victory by 1.284 seconds over Sweet, who earned another solid finish aboard the Kasey Kahne Racing/ Ollie's Bargain Outlets No. 49 machine. Both Sweet & Gravel are locked in an ultra close race for the second spot in the World of Outlaws Craftsman Sprint Car Series standings.
"The track was really good tonight and definitely a lot of fun racing through traffic," said Sweet, who earned his 38th top-five finish of the season. "David (Gravel) did a great job in traffic so I have to congratulate him on winning again. He got by me early in the race and I knew it would be hard to get back by him. We had a great car tonight and showed a lot of speed all weekend. Huge thanks to my team for all their support. We're certainly out here to win races, but it's hard to be disappointed with a second place finish. We just have to get a little better and we'll move on to Elma Monday."
After leading the first 28-laps in the feature Saldana was forced to settle for a third place finish at the helm of the Roth Motorsports/ HR Livestock No. 83 Sprinter. Like the other two drivers the veteran also commented on the well prepared surface, which saw track crews stay up till 2am the night before to help get it into shape.
"The track was awesome and we did pretty much everything right tonight, but just got a bad break in traffic. I hate it for my guys, because we were really good in the main event. These races are often won or lost in traffic and unfortunately for us it didn't go our way tonight. We'll look forward to Elma now on Monday. I want to thank Dennis & Teresa Roth for giving me the chance to drive this car. Hopefully we can give them a win real soon."
Eunice, Louisiana's Jason Johnson had a great restart on lap 33 to go from sixth to fourth, making a couple of strong moves to get around Owasso, Oklahoma's Daryn Pittman & Hanover, Pennsylvania's Logan Schuchart, who finished fifth & sixth respectively.
Fargo, North Dakota's Donny Schatz earned the KSE Hard Charger Award by carving his way from 20th to seventh. The current point leader was stuck deep in the field after getting upside down and suffering a DNF in his heat race. Mount Vernon, Washington's Jason Solwold; Puyallup, Washington's Trey Starks and Jacob Allen completed the top-10.
Joey Saldana captured the night's dash, while the three 10-lap heat races were picked off by David Gravel, Saldana and Brad Sweet. Gravel opened the night by setting his sixth fast time effort of the season by touring the Skagit Speedway in 10.967 seconds.
The World of Outlaws Craftsman Sprint Car Series will return to action on Monday night at the Grays Harbor Raceway in Elma, Washington for the Lucky Eagle Casino Grays Harbor Grudge Match presented by NAPA Auto Parts.
World of Outlaws Craftsman Sprint Car Series
Skagit Speedway
Alger, WA
Saturday September 3, 2016
A-Main – (35 Laps) – 1. 5-David Gravel [3] [$12,000]; 2. 49-Brad Sweet [2] [$5,700]; 3. 83-Joey Saldana [1] [$3,500]; 4. 41-Jason Johnson [12] [$3,000]; 5. 1S-Logan Schuchart [8] [$2,600]; 6. 9-Daryn Pittman [5] [$2,400]; 7. 15-Donny Schatz [20] [$2,300]; 8. 18-Jason Solwold [7] [$2,200]; 9. 55-Trey Starks [4] [$2,150]; 10. 1A-Jacob Allen [10] [$2,100]; 11. 7-Paul McMahan [16] [$1,600]; 12. 7S-Jason Sides [11] [$1,350]; 13. 41X-Dominic Scelzi [15] [$1,300]; 14. 33V-Henry VanDam [14] [$1,200]; 15. 39C-Travis Rilat [13] [$1,100]; 16. W20-Greg Wilson [18] [$1,000]; 17. 21-Robbie Price [19] [$900]; 18. 13-Clyde Knipp [22] [$850]; 19. 2-Shane Stewart [9] [$800]; 20. 44W-Austen Wheatley [6] [$800]; 21. 9A-Luke Didiuk [21] [$800]; 22. 22X-Trevor Cook [17] [$800] . Lap Leaders: Joey Saldana 1-29, David Gravel 30-35; KSE Hard Charger Award: 15-Donny Schatz [+13] .
Qualifying – 1. 5-David Gravel, 10.967; 2. 15-Donny Schatz, 10.986; 3. 49-Brad Sweet, 11.006; 4. 55-Trey Starks, 11.020; 5. 1S-Logan Schuchart, 11.043; 6. 9-Daryn Pittman, 11.079; 7. 18-Jason Solwold, 11.106; 8. 83-Joey Saldana, 11.119; 9. 2-Shane Stewart, 11.156; 10. 1A-Jacob Allen, 11.242; 11. 7S-Jason Sides, 11.265; 12. 41-Jason Johnson, 11.281; 13. 21-Robbie Price, 11.305; 14. 33V-Henry VanDam, 11.312; 15. 41X-Dominic Scelzi, 11.350; 16. 39C-Travis Rilat, 11.367; 17. 44W-Austen Wheatley, 11.428; 18. W20-Greg Wilson, 11.434; 19. 13-Clyde Knipp, 11.626; 20. 22X-Trevor Cook, 11.756; 21. 9A-Luke Didiuk, 12.120; 22. 7-Paul McMahan, nt
Heat 1 – (10 Laps – Top 6 finishers transfer to the A-feature) – 1. 5-David Gravel [1]; 2. 55-Trey Starks [2]; 3. 18-Jason Solwold [3]; 4. 1A-Jacob Allen [4]; 5. 39C-Travis Rilat [6]; 6. 7-Paul McMahan [8]; 7. 21-Robbie Price [5]; 8. 13-Clyde Knipp [7]
Heat 2 – (10 Laps – Top 6 finishers transfer to the A-feature) – 1. 83-Joey Saldana [3]; 2. 44W-Austen Wheatley [6]; 3. 1S-Logan Schuchart [2]; 4. 7S-Jason Sides [4]; 5. 33V-Henry VanDam [5]; 6. 22X-Trevor Cook [7]; 7. 15-Donny Schatz [1]
Heat 3 – (10 Laps – Top 6 finishers transfer to the A-feature) – 1. 49-Brad Sweet [1]; 2. 9-Daryn Pittman [2]; 3. 2-Shane Stewart [3]; 4. 41-Jason Johnson [4]; 5. 41X-Dominic Scelzi [5]; 6. W20-Greg Wilson [6]; 7. 9A-Luke Didiuk [7]
Dash – (8 Laps, finishing order determined first 6 starting positions of A-feature) – 1. 83-Joey Saldana [3]; 2. 49-Brad Sweet [2]; 3. 5-David Gravel [4]; 4. 55-Trey Starks [1]; 5. 9-Daryn Pittman [6]; 6. 44W-Austen Wheatley [5]