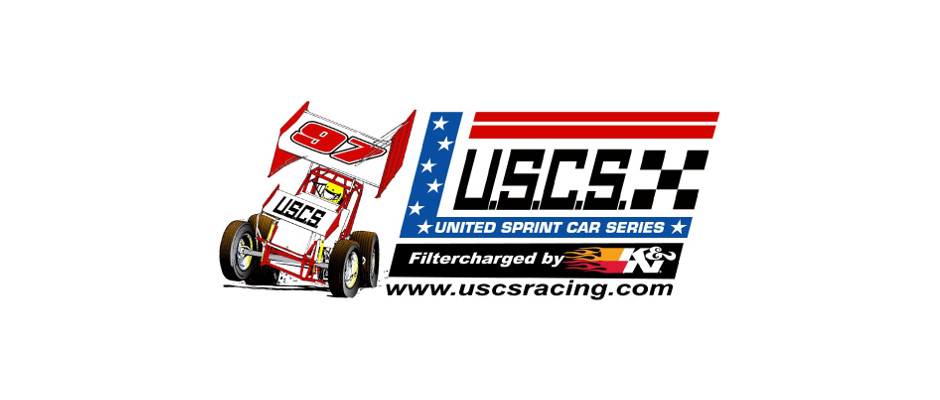 From Pete Walton
BRASSTOWN, NC (September 5, 2016) – The defending United Sprint Car Series National Champion Morgan Turpen of Cordova, TN found the track conditions of Tri-County Race Track to her liking on Monday night, as she took her fifth 20th Anniversary USCS Outlaw Thunder Tour Presented by K&N Filters win of the season.
The "Queen of the Wings" came from the fifth starting spot and used the inside groove of Tri-County Race Track to work her way through the pack. Turpen took the lead from Johnny Bridges of Cherryville, NC on lap 22 of the 30 lap main event. From that point in the race, the only time Turpen left the bottom of the track was to work around lapped traffic.
"We've had a good car all year, and slick tracks are our specialty, so I knew we would be tough to beat tonight," Turpen said. "The bottom of the track was the place to be tonight, and that's where we passed all of the cars to get to the front."
By posting her 12th career USCS victory, Turpen stays in the hunt to capture her second straight USCS National Championship. Turpen is battling with her teammate for the championship, 11-time USCS National Champion Terry Gray of Barlett, TN. After spinning early in the race, Gray came back to win an exciting duel with Bridges on the last lap to take the second spot at the finish.
Danny Smith of Chillicothe, OH also snuck by Bridges on the last lap to claim the third spot. Bridges had to settle for fourth and Lance Moss of Cherryville, NC was fifth. Jeff Willingham of Ripley, MS started 11th and finished sixth to earn the Wilwood Disc Brakes Hard Charger of the Race Award.
Danny Sams III of Englewood, FL took the seventh spot and eighth position went to Nick Roberts of Washington Court House, OH. Joe Larkin of Suwanee, GA finished ninth and Jake McLain of Indian Trail, NC rounded out the top ten.
In preliminary action, Bridges won the six-lap Hoosier Tire Speed Dash. The winners in the two eight-lap Heat Races were Turpen in the Engler Machine and Tool first heat and Nicholson in the Brown and Miller Racing Solutions second heat.
K&N Filters Pole Award Winner Bridges took the lead at the start of the race followed by Smith, Anthony Nicholson of Millington, TN, Moss and Turpen. On lap two, Turpen drove under Moss for the fourth spot, and Gray moved up to challenge Moss for fifth. Gray and Moss tangled in turn four on five, spinning to bring out the caution flag.
When the green flag came back out, Bridges led Nicholson, who passed Smith on lap four just before the caution flag came out, Smith in third, with Turpen fourth and Sams in fifth. Turpen made an inside move on Smith on lap eight to take over the third spot. In the meantime, Gray was on a mission, as he came from 14th on the lap five restart to fifth by lap 11.
Nicholson was trying to reel in Bridges to battle for the lead, when he jumped the cushion in turn one on lap 13, hit the wall, and then executed several flips before landing in turn two. Nicholson walked away from the crash, which occurred for the second straight year at the same spot at Tri-County Speedway.
During the open red flag period, Nicholson and his crew made repairs to his race car, he climbed back in and restarted the race. Bridges now led Turpen, Gray, Smith and Moss down for the restart. Bridges climbed back into his high groove, while Turpen planted her machine on the bottom of the race track.
This led to a side-by-side battle for the lead that continued until lap 22 when Turpen took the lead. While the leaders worked lapped traffic, Gray burrowed his way underneath Bridges during the last five laps of the race to battle for second in heavy lapped traffic. Gray was able to make the pass on the last lap.
The 20th Anniversary 2016 United Sprint Car Series Outlaw Thunder Tour Presented by K&N Filters will make its next two stops in the Sunshine State. Bubba Raceway Park in Ocala, FL will host the USCS cars and stars on Friday night, September 16 and Saturday night, September 17.
For rules and updated schedule information about the United Sprint Car Series Outlaw Thunder Tour, please visit www.uscsracing.com or call the series office at 770-460-7223 or 770-865-6097. You can also like the United Sprint Car Series Facebook page at USCS Racing.
FEATURE RACE – 30 LAPS:
POS STRT CAR # DRIVER HOMETOWN
1. 5 10m Morgan Turpen Cordova, TN
2. 6 10 Terry Gray Bartlett, TN
3. 2 4 Danny Smith Chillicothe, OH
4. 1 07 Johnny Bridges Cherryville, NC
5. 3 23 Lance Moss Cherryville, NC
6. 11 28 Jeff Willingham Ripley, MS
7. 8 24d Danny Sams III Englewood, FL
8. 10 12 Nick Roberts Washington Court House, OH
9. 9 33 Joe Larkin Suwanee, GA
10. 7 67 Jake McLain Indian Trail, NC
11. 4 16 Anthony Nicholson Millington, TN
12. 14 25 Ray Bugg Iuka, MS
13. 13 22 Kevin Roberts Washington Court House, OH
14. 12 6T Brad Wickham Rutherfordton, NC
USCS SPRINT CAR SERIES RACE AWARDS:
Hoosier Tire Speed Dash: Bridges
Engler Machine and Tool First Heat: Turpen
Brown and Miller Racing Solutions Second Heat: Nicholson
K&N Filters Pole Award: Bridges
JE Pistons Top Guns Award: (3rd place) Bridges
K&N Filters Podium (3rd place) Award: Bridges
Wilwood Disc Brakes Hard Charger Award: Willingham (started 11th and finished 6th)
Keizer Aluminum Wheels Top Five Award: Moss
Saldana Racing Products Super Sixth Award: Willingham
Pyrotect Racing Cells Lucky Seven Award: Sams
DHR Suspension 8th-Place Award: N. Roberts
DMI/Bulldog Rear Ends Top Ten Award: McLain
USCS SPRINT CAR SERIES PRESENTED BY K&N FILTERS PRELIMINARY RACE RESULTS:
USCS Hoosier Speed Dash – (6 Laps): 1. Bridges; 2. Gray; 3. N. Roberts; 4. Nicholson; 5. J. McLain; 6. Willingham.
Engler Machine & Tool Heat 1 – (8 Laps): 1. Turpen; 2. Gray; 3. Sams; 4. Bridges; 5. N. Roberts; 6. Willingham; 7. K. Roberts DNS.
Brown and Miller Racing Solutions Heat 2- (8 Laps): 1. Nicholson; 2. Moss; 3. Smith; 4. McLain; 5. Larkin; 6. Wickham; 7. Bugg DNS.