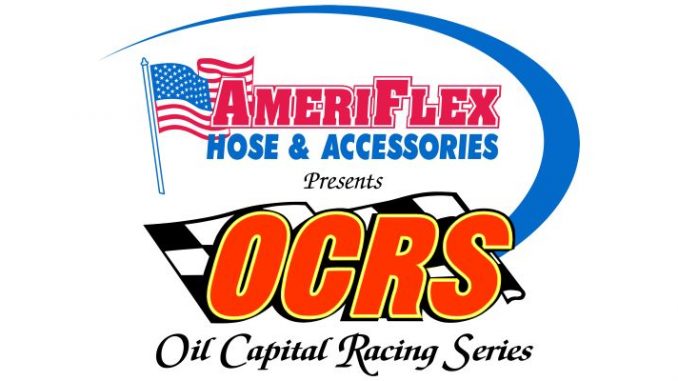 John Lemon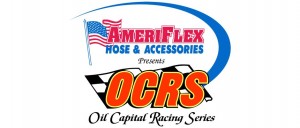 Tulsa Okla. (September 14, 2016) – It all comes down to this. The Ameri-Flex Hose & Accessories / Oil Capital Racing Series 2016 racing season is set to close out the year with a doubleheader weekend while three drivers go into the final two events with aspirations of taking the Harold Leep Championship Trophy and all the glory and honor that a championship brings.
The Friday night venue pays $1500 to win at the Southern Oklahoma Speedway in Ardmore Oklahoma. The SSO sprint series and the WoW sprints are also the program. Brill's Motor Speedway in Meeker OK brings down the final curtain on Saturday night and the WoW sprints will be joining the open wheel parade once again.
Defending Ameri-Flex / OCRS champion Robert Sellers will be looking to earn back to back tiles as he enters the weekend as the current high point driver. Sellers has a 17 point lead over Whit Gastineau and a 45 point lead over Zach Chappell. The latter two drivers are looking for their first Ameri-Flex / OCRS title. It is the tightest 3-way battle going into the final weekend in series history and as we have seen this season, anything can and probably will happen. Racing action at both tracks begin at 7:30pm.
NUTZ n' BOLTZ
Respect First, Then Some Chit Chat:
Lanny Edwards was laid to rest on Tuesday the 13th after his funeral in Lawton Oklahoma. There was a tremendous turnout in a show of respect for Edwards. The list of names in the industry is a 'Who's Who' of promoters, car owners. drivers, sponsors and the like. When attendees come from several states away, that in its self is a huge sign of the respect Edwards earned during his years as a track owner / promoter. We will always miss the man that has played such a large role in auto racing. We can all show respect to Lanny from this point forward by putting out our best effort to keep dirt track racing alive and prosperous. We know its what he would tell us to do. Lets make Lanny proud.
Uncharted Waters:
The three way battle for the Ameri-Flex / OCRS championship is the first time in series history that three drivers could win the title on the final weekend of competition. Sellers, Gastineau & Chappell have each held the top spot this season at some point and now the boys find themselves in this triple tussle. With two races to go, Sheldon Barksdale is mathematically alive but major issues in a huge way would have to happen to all three front runners. Just what is Barksdale's mathematical chance? Try .0012 percent. A run of the numbers show Barksdale would in the top spot if not for the two events the team had to miss.
Another Nail Biter:
In 2014, Andrew Deal went into the final weekend with just a 42-point margin over Danny Smith. Deal would win the title by 50 markers largely due to having 2 more top 5 finishes during the year as each driver had one feature win a piece. For Smith, it was his third straight runner-up finish in the series. That makes Smith the Mark Martin of champ sprints.
Bad Luck From Casino To Racetrack:
Johnny 'Hotrod' Kent is a professional dealer for a casino. Last Saturday, Kent must have taken some negative luck that was in the air from work to the track. Kent had a tire go flat on his rig as he headed to the Oklahoma Sports Park for the 10th Annual Oklahoma State Championship. From there, Kent qualified for the night's A-Feature only to spin out while getting into formation for the start of the feature. This resulted in Kent forfeiting a third row starting spot as he had go to the end of the line. Kent worked his way through the field and a top 5 finish was there for the taking but….. Kent's car started running out of fuel on the last lap and he drifted back to a 9th place finish. If you see Kent in the casino, bypass his table and take the dealer wearing green with gold 13 earrings and a black cat on a stool. Might be a luckier table.
Muscle Flexing:
Joe Wood Jr just started hanging around the Ameri-Flex / OCRS series recently and he is making his presence felt. The OSC race last Saturday night was just his third race of the year with the series and Junior earned the $100 Action Auto Collision 'Hard Charger' for his solid second place run after starting 12th. One more spot and Jr. would have snared the $2000 top prize that was up for the taking.
Month of Money:
When September 2016 comes to a close, a total purse payout to the 'winners' will be $10,500. This amount will be the largest purse paid to winners in any given month in history. The previous high was $6,450 in October of 2009. What will 2017 have for cash withdraws? Pencils are marking up the scratch pads now.
The doubleheader final curtain call looks like this:
Friday……….
What: Ameri-Flex / OCRS Sprint Cars (with SSO sprints and WoW Sprints)
When: Friday September 16, 2016
Where: Southern Oklahoma Speedway / Ardmore, Oklahoma
Time: Gates open 5pm / Hot Laps 7pm /  Racing 7:30pm
(Ameri-Flex / OCRS drivers meeting 6:30pm)
Track Phone: (405) 816-4314
Website: www.southernoklahomaspeedway.com
Directions from Interstate 35:
Take exit 29 and proceed east approximately ½ mile to Hwy 77
Turn south onto Hwy 77. Racetrack is approx. 2 miles on right.
Saturday………
What: Ameri-Flex / OCRS Sprint Car Races  (with WoW sprints and local classes)
When: Saturday September 17, 2016
Where: Brill's Motor Speedway  / Meeker Oklahoma
Time: Main Gates open 4:30pm / Hot Laps 7:00pm / Racing starts at 7:30pm
(OCRS drivers meeting at 6:30pm)
Contact Phone: (405) 769-6927
Track website: www.brillsmotorspeedway.com
Track directions:
From the Turner Turnpike (I-44): 
Exit at Chandler, 10 miles south of highway 66 on state highway 18
From I-40:
Exit 186, North 16 miles on state highway 18
Track Address for GPS users: 343250 E. 1000 Road Meeker, OK 74855
About the Ameri-Flex / OCRS Series –
Established in 2002, the Tulsa Oklahoma based Ameri-Flex / OCRS series sanctions sprint car racing in the southern region of the central plains. Fan appeal and quality race teams combined with our solid core of supporting sponsors are the nucleus of the series. Thrilling competition providing the ultimate quality family entertainment is the essence of what the Ameri-Flex / OCRS series is all about.
Website: www.ocrsracing.com
Facebook: www.facebook.com/oil.series
About Ameri-Flex Hose & Accessories –
Located in Tulsa OK, Ameri-Flex Hose & Accessories is a family owned and operated company. From food grade hose to hoses for the petroleum industry, Ameri-Flex will strive to fill your needs. Ameri-Flex can build a hose to your specifications or we will assist you in creating what you have designed while you wait. Ameri-Flex has several hard to find items that some vendors can't get or find. Product can be shipped quickly and efficiently. If we do not have what you are looking for, we will direct you on where to find it. Give us a try, after all…………..
Ameri-Flex Has The Stuff That Keeps You Going!
Website: www.ameriflexhose.com