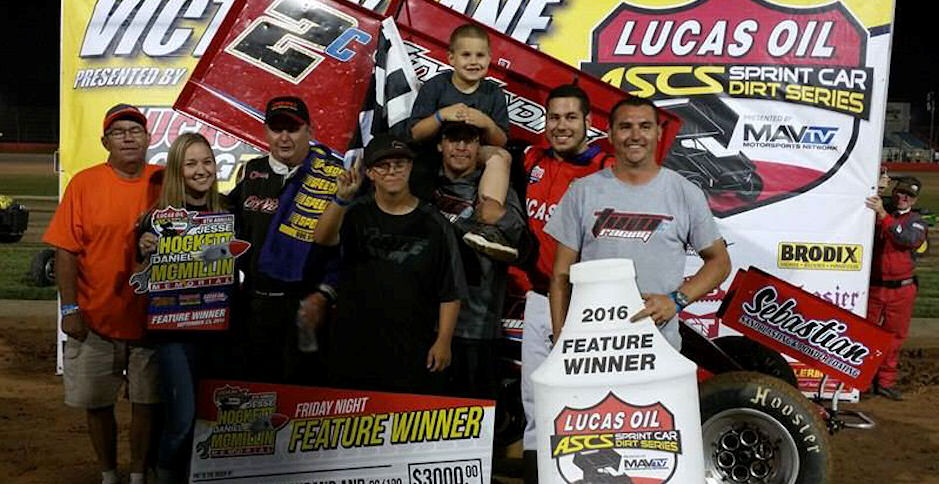 From Bryan Hulbert
WHEATLAND, Mo. (September 23, 2016) So far, it's the veterans who have been the top dogs at the sixth annual Hockett/McMillin Memorial as Wayne Johnson survived slower traffic heavier than a New York traffic jam for victory in Friday's Preliminary A-Feature event with the Lucas Oil American Sprint Car Series presented by the MAVTV Motorsports Network.
With the win, Johnson will start Saturday's $10,000 to win A-Feature from the pole as his event point total edged out Sammy Swindell by one marker for the number one spot.
"We've run this series for a long time, and Jesse Hockett was a good friend of mine and of course, Jack [Hockett] could tell all the good stories but man, hats off to my crew. Bud and Slip, they've been working their butts off on this thing. It feels like we've changed cars about 25 time this year but that Maxim sure was working good tonight," commented Wayne on his second National Tour triumph of the season.
Non-stop for 25 laps, Wayne shot from the pole to the point, setting a rapid pace around the three-eight mile Lucas Oil Speedway.
Slicing in and out of slower traffic, Johnson was able to take his City Vending No. 2c to a nearly three second advantage, but the moves would begin to slow; allowing Aaron Reutzel to close the gap in the closing laps with seventh starting, Sammy Swindell, making his presence known.
Moving in on the No. 2c in the final laps, Reutzel showed his nose one time but would not be able to complete the pass.
"I thought I screwed up there with about three to go when Aaron showed me his nose that one time," explained Wayne. "I was trapped. There were lapped cars so I thought well, if there's lapped cars there, he can't me and get by them either but it worked out."
Keeping the No. 87 at bay, Johnson crossed 0.938 seconds ahead of Aaron, who battled hard with Swindell in the closing laps.
"The track was so fast, you had to wait for guys to make mistakes or wait for traffic and luckily I got there pretty quick on the bottom," said Aaron. "Wayne was a straight-a-away ahead of us and we ran him down but he was in the right place at the right time and made the right moves. We can't hold our heads down about this one. This is way better than last night."
With the car rolling solid, Sammy raced to a third place finish.
"We didn't have the problems on the car tonight like we did last night. We had a couple issues, but we got those resolved and we had a good night. It was just the track was a bit faster and narrower so to come from the back of a Heat and with the way the points deal works out, we had to come from a way back again but all in all, in the end,
we were running those guys down."
Tony Bruce, Jr. brought the Smith Racing No. 86 home fourth with Jack Dover coming from tenth to complete the top-five. Matt Covington from 11th came home sixth with Jonathan Cornell seventh. Transferring from the B-Feature, Sam Hafertepe, Jr. came from 17th to eighth with Brandon Hanks ninth. Following Hafertepe through the B-Main, Johnny Herrera charged from 20th to complete the top-ten.
With Johnson and Swindell on the front row, the second row will see Tony Bruce, Jr. and Jonathan Cornell going side-by-side. John Carney II and Sam Hafertepe, Jr. will start from the third row with Brian Brown and Logan Forler completing the Top 8 lock-ins into Saturday's championship event.
For continued updates on the Lucas Oil American Sprint Car Series presented by the MAVTV Motorsports Network, log onto
http://www.ascsracing.com
.
ASCS National / ASCS Warrior Region
Lucas Oil Speedway – Wheatland, Mo.
6th annual Hockett/McMillin Memorial – Night 2
Friday, September 23, 2016
Car Count: 63
Event Count: 66
ButlerBuilt Heat Races (Top 30 in Passing Points advance to Qualifiers)
Heat 1 (8 Laps): 1. 7M-Chance Morton[2]; 2. 53-Jack Dover[4]; 3. 5J-Jamie Ball[1]; 4. 21-Brian Brown[5]; 5. 82-Thomas Kennedy[8]; 6. 17-Josh Baughman[6]; 7. 26M-Fred Mattox[7]; 8. 20G-Jake Greider[3]
Heat 2 (8 Laps): 1. 38-Cody Baker[2]; 2. 95-Matt Covington[6]; 3. 23B-Brian Bell[1]; 4. 81A-Chris Morgan[8]; 5. 23-Seth Bergman[3]; 6. 8M-Kade Morton[5]; 7. 20K-Kevin Ulmer[7]; 8. (DNF) 75E-Broc Elliott[4]
Heat 3 (8 Laps): 1. 5D-Zach Daum[2]; 2. 10C-Jeremy Campbell[1]; 3. 15H-Sam Hafertepe Jr[3]; 4. 87F-Sean McClelland[4]; 5. 45X-Johnny Herrera[5]; 6. 14K-Kyle Bellm[8]; 7. 48-Miles Paulus[6]; 8. 3Z-Zach Davis[7]
Heat 4 (8 Laps): 1. 2L-Logan Forler[1]; 2. 11X-John Carney II[3]; 3. 3S-Sammy Swindell[7]; 4. 72-Ray Seeman[4]; 5. 17W-Harli White[6]; 6. 05-Brad Loyet[5]; 7. 42-Andy McElhannon[8]; 8. (DNF) 44X-Jared Sewell[2]
Heat 5 (8 Laps): 1. 14-Randy Martin[2]; 2. 52-Blake Hahn[1]; 3. 84-Brandon Hanks[6]; 4. 81W-Danny Wood[3]; 5. 33-Austin Alumbaugh[4]; 6. 8Z-Zach Pringle[8]; 7. 3-Nate VanHaaften[5]; 8. 49B-Ben Brown[7]
Heat 6 (8 Laps): 1. 34-Corey Nelson[2]; 2. 2C-Wayne Johnson[6]; 3. 11M-Jason McDougal[5]; 4. 77X-Alex Hill[4]; 5. 75-Tyler Blank[8]; 6. 7H-Brian Gramm[3]; (DQ) 15S-Scott Comstock[1]; (DQ) 50Z-Zach Chappell[7]
Heat 7 (8 Laps): 1. 85-Forrest Sutherland[2]; 2. 44-Chris Martin[3]; 3. 76-Jay Russell[4]; 4. 9JR-Derek Hagar[5]; 5. 24C-Lanny Carpenter[1]; 6. 71C-Stacey Alexander[7]; 7. 27-Danny Thoman[6]
Heat 8 (8 Laps): 1. 87-Aaron Reutzel[2]; 2. 86-Tony Bruce Jr[4]; 3. 28-Jonathan Cornell[7]; 4. 101-Chuck McGillivray[1]; 5. 93-Taylor Walton[3]; 6. 21B-Brandon Hinkle[5]; 7. 92J-J.R. Topper[6]
Hoosier Tire Qualifiers (Top 16 in combined passing points advance to the A-Feature)
Qualifier 1 (8 Laps): 1. 86-Tony Bruce Jr[2]; 2. 87-Aaron Reutzel[3]; 3. 2C-Wayne Johnson[6]; 4. 11X-John Carney II[1]; 5. 7M-Chance Morton[5]; 6. 15H-Sam Hafertepe Jr[9]; 7. 81A-Chris Morgan[8]; 8. 5J-Jamie Ball[10]; 9. 14-Randy Martin[4]; 10. 10C-Jeremy Campbell[7]
Qualifier 2 (8 Laps): 1. 84-Brandon Hanks[2]; 2. 44-Chris Martin[1]; 3. 53-Jack Dover[3]; 4. 3S-Sammy Swindell[6]; 5. 34-Corey Nelson[4]; 6. 52-Blake Hahn[7]; 7. 82-Thomas Kennedy[8]; 8. 21-Brian Brown[9]; 9. 38-Cody Baker[5]; 10. 23B-Brian Bell[10]
Qualifier 3 (8 Laps): 1. 11M-Jason McDougal[1]; 2. 2L-Logan Forler[2]; 3. 28-Jonathan Cornell[6]; 4. 95-Matt Covington[3]; 5. 5D-Zach Daum[5]; 6. 85-Forrest Sutherland[4]; 7. 76-Jay Russell[7]; 8. 9JR-Derek Hagar[9]; 9. 87F-Sean McClelland[10]; 10. 75-Tyler Blank[8]
BMRS B-Features (Top 2 finishers transfer to the tail of the A-Feature)
B Feature 1 (12 Laps): 1. 15H-Sam Hafertepe Jr[1]; 2. 45X-Johnny Herrera[8]; 3. 82-Thomas Kennedy[4]; 4. 81A-Chris Morgan[2]; 5. 17-Josh Baughman[10]; 6. 77X-Alex Hill[6]; 7. 38-Cody Baker[3]; 8. 23-Seth Bergman[9]; 9. 75-Tyler Blank[5]; 10. 14K-Kyle Bellm[7]; 11. 27-Danny Thoman[13]; 12. 3Z-Zach Davis[14]; 13. 15S-Scott Comstock[15]; 14. (DNF) 26M-Fred Mattox[12]; 15. (DNF) 21B-Brandon Hinkle[11]; (DNS) 44X-Jared Sewell
B Feature 2 (12 Laps): 1. 52-Blake Hahn[1]; 2. 76-Jay Russell[2]; 3. 23B-Brian Bell[5]; 4. 87F-Sean McClelland[4]; 5. 81W-Danny Wood[6]; 6. 33-Austin Alumbaugh[7]; 7. 8M-Kade Morton[9]; 8. 42-Andy McElhannon[10]; 9. 20K-Kevin Ulmer[11]; 10. 14-Randy Martin[3]; 11. 93-Taylor Walton[8]; 12. 49B-Ben Brown[13]; 13. (DNF) 92J-J.R. Topper[12]; 14. (DNF) 75E-Broc Elliott[14]; (DNS) 8Z-Zach Pringle
B Feature 3 (12 Laps): 1. 21-Brian Brown[1]; 2. 9JR-Derek Hagar[3]; 3. 17W-Harli White[6]; 4. 10C-Jeremy Campbell[4]; 5. 05-Brad Loyet[10]; 6. 5J-Jamie Ball[2]; 7. 50Z-Zach Chappell[14]; 8. 101-Chuck McGillivray[7]; 9. 72-Ray Seeman[5]; 10. 71C-Stacey Alexander[8]; 11. 3-Nate VanHaaften[13]; 12. 20G-Jake Greider[15]; 13. 7H-Brian Gramm[11]; 14. 24C-Lanny Carpenter[9]; 15. 48-Miles Paulus[12]
Protect the Harvest A-Feature
A Feature (25 Laps): 1. 2C-Wayne Johnson[1]; 2. 87-Aaron Reutzel[5]; 3. 3S-Sammy Swindell[7]; 4. 86-Tony Bruce Jr[2]; 5. 53-Jack Dover[10]; 6. 95-Matt Covington[11]; 7. 28-Jonathan Cornell[3]; 8. 15H-Sam Hafertepe Jr[17]; 9. 84-Brandon Hanks[4]; 10. 45X-Johnny Herrera[20]; 11. 21-Brian Brown[19]; 12. 11M-Jason McDougal[6]; 13. 2L-Logan Forler[8]; 14. 52-Blake Hahn[18]; 15. 5D-Zach Daum[13]; 16. 9JR-Derek Hagar[22]; 17. 44-Chris Martin[9]; 18. 11X-John Carney II[15]; 19. 85-Forrest Sutherland[16]; 20. 14K-Kyle Bellm[24]; 21. 34-Corey Nelson[14]; 22. 76-Jay Russell[21]; 23. (DNF) 7M-Chance Morton[12]; 24. (DNF) 27-Danny Thoman[25]; 25. (DNF) 23-Seth Bergman[23]
Lap Leader(s): Wayne Johnson 1-25;
FSR High Point Driver: Wayne Johnson
Hard Charger: Johnny Herrera +10
Provisional(s): Seth Bergman; Kyle Bellm; Danny Thoman (Regional)