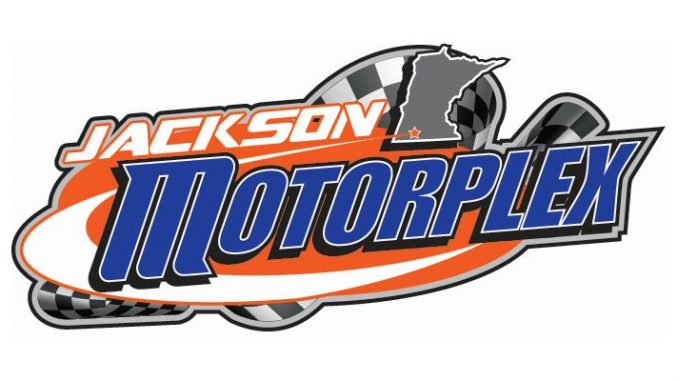 Inside Line Promotions

JACKSON, Minn. (Sept. 27, 2016) – Jackson Motorplex underwent a massive renovation throughout the offseason prior to the 2016 campaign.
It was molded into a top-tier facility and the action on the track showed. Whether it was a weekly sprint car show on a Friday night, an IMCA race on a Saturday evening or a special event, the racing was thrilling as Jackson Motorplex had a breakout year.
"I want to thank all of our partners, fans and race teams for their support," Jackson Motorplex General Manager Doug Johnson said. "We had a great year and look forward to building on this momentum. I also want to congratulate all of our track champions for their success."
The 2016 track champions were Jason Andrews (Bohl's Small Engine & Marine IMCA Sport Mods), Gregg Bakker (Last-Deck® 360 Sprint Cars), Nate Coopman (Boji Bay Water Park IMCA Sport Compacts), Don Gerritsen Jr. (Wilmont Oil IMCA A-Mods), Justin Luinenburg (Minnesota West – Jackson Campus IMCA Hobby Stocks), Ian Madsen (Spirit Lake Silver & Gold NSL 410 Sprint Cars), Luke Sathoff (After Hours Graphics & Tees IMCA Stock Cars) and Mike Stien (Liquid Nitro IMCA 305 Sprint Cars).
Six of the eight regular classes at Jackson Motorplex had at least 40 different drivers compete during at least one points race at the half-mile oval. A total of 51 different drivers reached Victory Lane this season.
Next up is the end of the season banquet set for Saturday, Dec. 3. Additional information will be released in the near future.
Also, the 2017 Jackson Motorplex schedule will be announced soon.
MEDIA LINKS –
Website: http://www.JacksonMotorplex.com
Twitter: http://www.Twitter.com/JacksonMotorplx
Facebook: https://www.facebook.com/JacksonSpeedway/?fref=ts
JACKSON MOTORPLEX –
Jackson Motorplex is a recently renovated half-mile dirt oval located in Jackson, Minn. It hosts weekly races on most Fridays and Saturdays from May through September with 410ci winged sprint cars, 360ci winged sprint cars, IMCA a mods, IMCA stock cars, IMCA sport mods, IMCA hobby stocks and IMCA sport compacts among the featured classes. For more information, visit http://www.JacksonMotorplex.com.
INSIDE LINE PROMOTIONS –
Inside Line Promotions specializes in affordable public relations and media management for motor sports drivers, teams, sponsors, tracks, series, events, organizations and manufacturers. ILP Founder Shawn Miller leverages professional journalism with new media technologies and social networking to improve your exposure and the return on investment for your sponsors.
To meet the media relations needs of your program by joining Team ILP, contact Shawn at 541-510-3663 or Shawn@InsideLinePromotions.com. For more information on Inside Line Promotions, visit http://www.InsideLinePromotions.com.
*PHOTO BY SHANNON DYCE PHOTOGRAPHY*