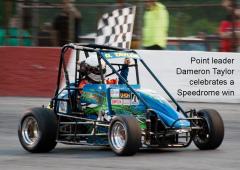 By Eric Bunn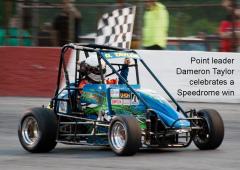 (Lebanon, IN) The 2016 UAW American Made Mel Kenyon Midget Series 2016 driving title is on the line when the USSA midget series takes to the high banks of Anderson Speedway Saturday night.   The 30-lap feature event will decide the championship following a six month title fight.
Point leader Dameron Taylor controls his fate by carrying a 123 point cushion into the season finale.  Taylor's path to the title is clear, qualify better than point runner up Chase Jones, finish his heat race better than Jones and then start the feature.  Taylor can't afford to falter however.  If he has car trouble and is unable to start his heat, for example, Jones would be within striking distance to take the title if Taylor falters in the feature.
Jones is tied up in a point race of his own with Logan Huggler and Trey Osborne nipping at his heals.  A scant 69 markers separates the three drivers entering Saturday's contest.  The USSA point structure can see a 69 point advantage erased in a heartbeat.
Jones leads the field to the gate on Saturday with 5ive wins on the season, followed by Nick Hamilton with four and Taylor with 3.  Pavement ace Hamilton is a threat to steal points from the full time drivers every time he runs on a pavement track.  On July 2, Hamilton set an all time lap record at the Sportsdrome Speedway to pu an exclamation point on his win in Kentuckiana.
Anderson Speedway qualifying is schedule for 5:30 with racing at 7:00.  In addition to the UAW American Made Mel Kenyon Midget Series 30-lap feature race, the Tony Elliott Classic, a 50-lap feature for non-wing sprint cars is on tap.