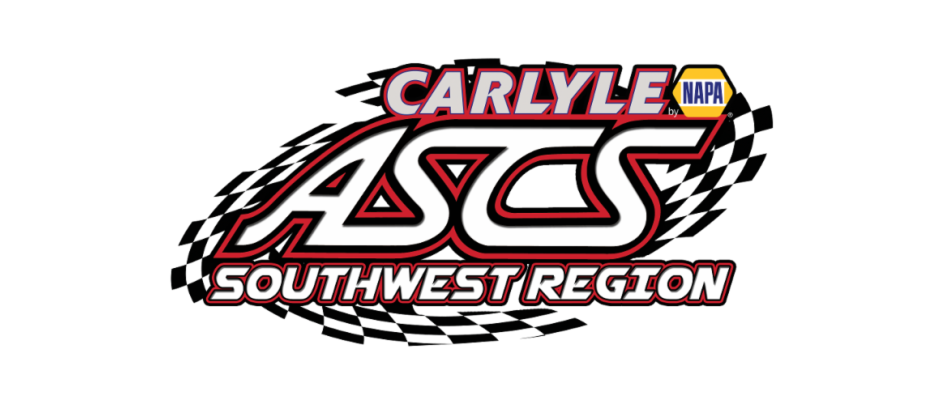 From Bryan Hulbert
QUEEN CREEK, Ariz. (October 8, 2016) — For the second time in 2016, Arizona's Colton Hardy ended his night in the best way possible; atop the podium at the Arizona Speedway in Queen Creek with the Carlyle Tools ASCS Southwest Region.
The eighth time the driver of the Bandit Racing No. 74 has appeared on the podium in 2016, Colton spent over half the race giving chase as Jeff Slinkard won the drag race of the front row for the point, but was not able to hold off the charge of Colton Hardy who snuck by on the 18th round.
Jeff Slinkard held on for second with Bob Ream, Jr. advancing four spots to take the bronze position. Matt Rossi from ninth was fourth with Montana's Jeremy McCune making up the top-five. Casey Buckman was sixth followed by Josh Shipley. Hard Charging from 15th, Billy Chester III was eighth with James Mosher and J.T. Imperial completing the top-ten.
Tightening up the race for the championship even further, Hardy now sits only 17 points removed from the lead which is still held by New Mexico's Rick Ziehl whose night ended with a 12th place performance. Trailing closely in third is Bob Ream, Jr.
The next outing for the Carlyle Tools ASCS Southwest Region will be Friday, November 11 and Saturday, November 12 with the Lucas Oil ASCS presented by the MAVTV Motorsports Network at the Cocopah Speedway in Somerton, Ariz. For continued updates on the Carlyle Tools ASCS Southwest Region, log onto http://www.ascsracing.com.
Race Results:
ASCS Southwest Region
Arizona Speedway – Queen Creek, Ariz.
Saturday, October 8, 2016
Car Count: 19
Heat 1 (8 Laps): 1. 75X-J.T. Imperial; 2. 74-Colton Hardy; 3. 8X-Shane Hinsley; 4. 14-Cody Sickles; 5. 20Z-Rick Ziehl; 6. 5C-Billy Chester III; 7. 90-Lance Norick
Heat 2 (8 Laps): 1. 8-Bob Ream Jr; 2. 91-Casey Buckman; 3. 12-James Mosher; 4.
14USA-Jeff Slinkard; 5. 29-Darrell Sickles; 6. 18-Lorne Wofford
Heat 3 (8 Laps): 1. 0J-Jeremy McCune; 2. 4U-James Aragon; 3. 01JR-Josh Shipley; 4. 02-Matt Rossi; 5. 22X-Jesse Baker; 6. 37-Brad Weiss
A Feature (25 Laps): 1. 74-Colton Hardy[1]; 2. 14USA-Jeff Slinkard[2]; 3. 8-Bob Ream Jr[7]; 4. 02-Matt Rossi[9]; 5. 0J-Jeremy McCune[4]; 6. 91-Casey Buckman[6]; 7. 01JR-Josh Shipley[5]; 8. 5C-Billy Chester III[15]; 9. 12-James Mosher[11]; 10. 75X-J.T. Imperial[8]; 11. 4U-James Aragon[3]; 12. 20Z-Rick Ziehl[13]; 13. 22X-Jesse Baker[14]; 14. 29-Darrell Sickles[12]; 15. 14-Cody Sickles[10]; 16. 8X-Shane Hinsley[18]; 17. 18-Lorne Wofford[16]; 18. 90-Lance Norick[17]; 19. 37-Brad Weiss[19]