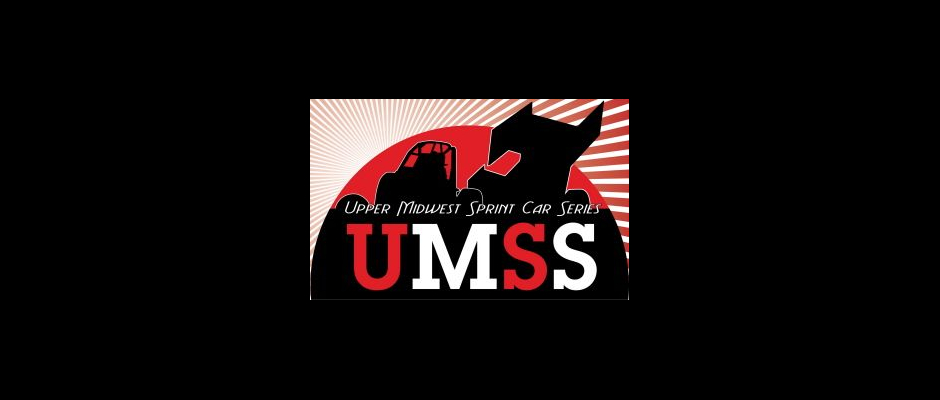 From UMSS
OGILVIE, Minn. (October 22, 2016) — The final race of season, which was a non-point show, saw the Traditional Sprint Car Series race at the Topless Nationals at the Ogilvie Raceway for the second time at this popular late season-ending event. A good field of fifteen (15) wingless sprints signed into the pits on a fantastic fall day. When the final checkers flew, it was young James "Nitro" Giossi of New Richmond, Wisconsin parking his Traditional sprint car in Rock Auto Victory Lane for the sixth time this season. The race ran 25 laps nonstop with pole sitter Johnny Parsons III leading the first 20 laps before Giossi made the winning pass in turn 2 on lap 21 to lead the final five circuits.
Giossi commented after the race about the 25 lap feature. "Once I got into second early on, I paced myself and made sure I took care of my car and tires. Johnny was setting a really fast pace up front, and I wanted to stay in touch with him. Once I saw the halfway signal, I picked up the pace a bit myself. I was pretty much running the same line as Parsons and only gaining a little bit on him, so I decided to move up higher on the track. That was a good decision." Indeed it was, as Giossi ran down Parsons in about 2-3 laps and quickly shot past him into the lead and eventual feature race win which paid $500 thanks to some help from GRP Motorsports. GRP also sponsored the Traditional sprint car portion of the program, contributing about 50% of their purse. Giossi ended up winning the 2016 GRP Motorsports High Five Bonus for his performance throughout the season which included six wins, eighteen top five finishes, and twenty top ten finishes in the 21 races he ran. Giossi won five of the final six races during the season (2 were non-point shows) and ended up winning both races held at Ogilvie in 2016.
The Traditional sprints tried a little different format to determine the line-up for each of their heat races. The cars time trialed, as a heat race group prior to each heat. Then the top five fastest cars were inverted in each ten lap heat race. Parsons set quick time for the first heat race group while Giossi was quickest for the second heat race group. Heat race wins went to Jon Lewerer, his first win of the season, and Mike Mueller in what turned out to be a very good race with Giossi for the lead during the latter part of the race. A hard crash in the first heat between Tony Kaus and Brad Peterson sent both cars to the pits with damage. Peterson was done for the night while Kaus returned to start the feature but only made four laps before pulling to the infield with no fuel pressure. As usual, passing and finishing points were awarded in each heat race with the top four cars from the heats (Giossi, Mueller, Parsons & Lewerer) earning the right to draw for starting positions in the first two rows for the feature. Parsons drew the pole with Mueller outside. Lewerer and Giossi would go from row two.
Finishing behind the potent #11 Traditional sprint car of Giossi, Parsons equaled his best finish of the season with his second straight runner-up finish. Jeremy Kerzman, who was running the CT525 crate engine owned by Jeff Pellersels with a 2-barrel carb and restrictor plate in his own #3K sprinter, put together a strong run in the feature to finish third. It was basically an experimental night in some respects to see IF the CT525 engine might be an option going forward for this division. Turning in his best finish of the season, Jon Lewerer rode home with a solid fourth place run and picked up the special $100 GRP "Dean Reller" Bonus which was in effect for the second time this season amongst Lewerer, Scott Brandt and Bryan Roach. Rookie competitor and relatively new to the world of sprint cars but certainly not to the sport of auto racing, former late model racer Caley Emerson completed the top five finishers in the car he had purchased from Rob Caho, Jr. back in July. Rounding out the top ten was Bryan Roach, Scott Brandt, Jori Hughes, Blake Anderson and 2016 GRP Motorsports Traditional Sprint Car Rookie of the Year Ty Sampair.
The UMSS would like to thank the drivers, race teams, fans, sponsors and tracks for their support during the 2016 racing season. Although seven shows were lost to weather, the popular wingless series was able to complete 23 events (4 were non-point shows). 2016 Traditional Sprint Car Series Champion Rick Kobs led the way with seven wins followed by Giossi with six, Jimmy Kouba with four, Jeremy Kerzman with three and Jake Kouba, Mike Mueller and Todd Lehr with one each. Stay tuned for announcements regarding the banquet and other news during the off-season by checking out the Traditional Sprint Car Series website at www.umsprints.com (click on the blue logo) or following the UMSS on Facebook (where news is often times posted first). See you at the banquet or at a racing event in 2017!
UMSS – Traditional Sprint Car Series
Ogilvie Raceway
Ogilvie, MN
GRP Motorsports A Feature (25 Laps): 1. 11-James Giossi[4]; 2. 12-Johnny Parsons III[1]; 3. 3K-Jeremy Kerzman[9]; 4. 69S-Jon Lewerer[3]; 5. 15E-Caley Emerson[6]; 6. 99-Bryan Roach[10]; 7. 7B-Scott Brandt[5]; 8. 21J-Jori Hughes[8]; 9. 12X-Blake Anderson[14]; 10. N1-Ty Sampair[11]; 11. 90-Tony Klose[12]; 12. (DNF) 87-Mike Mueller[2]; 13. (DNF) 3-Tony Kaus[13]; 14. (DNF) 6L-Joe Lallier[7]; (DNS) 93-Brad Peterson
Lap Leaders: Parsons 1-20, Giossi 21-25.
Track Rat Photos Heat 1 (10 Laps): 1. 69S-Jon Lewerer, 18.302[1]; 2. 12-Johnny Parsons III, 17.913[4]; 3. 15E-Caley Emerson, 18.172[2]; 4. 6L-Joe Lallier, 18.387[5]; 5. (DNF) 3K-Jeremy Kerzman, 18.050[3]; 6. (DNF) 93-Brad Peterson, 18.157[7]; 7. (DNF) 3-Tony Kaus, 18.502[6]; 8. (DNF) 12X-Blake Anderson, 18.146[8]
Hoosier Racing Tire Heat 2 (10 Laps): 1. 87-Mike Mueller, 18.962[2]; 2. 11-James Giossi, 18.522[5]; 3. 7B-Scott Brandt, 18.574[4]; 4. 21J-Jori Hughes, 19.228[1]; 5. 99-Bryan Roach, 18.779[3]; 6. N1-Ty Sampair, 19.471[6]; 7. 90-Tony Klose, 19.882[7]