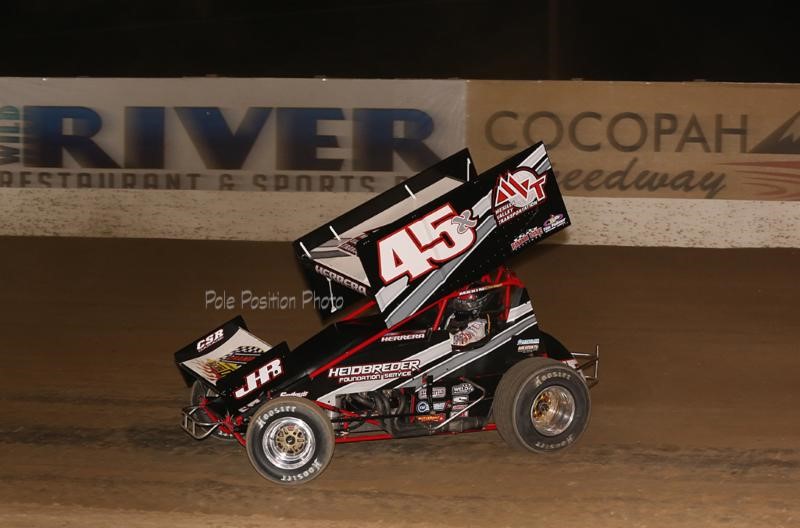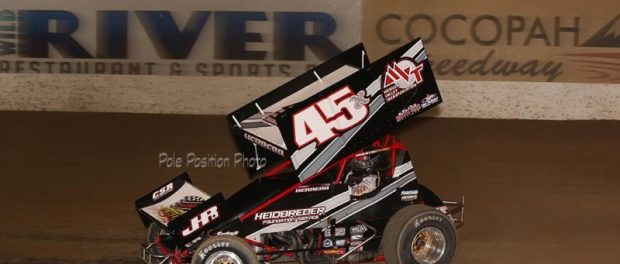 From Inside Line Promotions
SOMERTON, Ariz. (November 15, 2016) – Johnny Herrera closed the 2016 campaign with a strong outing during the Lucas Oil ASCS National Tour's season finale last weekend at Cocopah Speedway.
"Overall it was ok," he said. "Of course we wanted to get another win or two, but you can't win every night. We always try to finish with podiums or top fives when we don't win."
Herrera opened the two-day show on Friday by winning a heat race from third before he advanced from sixth to fourth place in a qualifier. That ranked him fourth in overall points and lined him up on the outside of the second row for the main event.
"We were really good the first night early, but we weren't good late," he said. "We got to second at one point in the race. I was rolling really good. Usually we ride the first 10 laps and start rolling better toward the end. It was the opposite for us. We tried something a little different setup-wise. We were good the first 10 or 12 laps. As the track slowed down and was slicker we got too tight and faded toward the end. The last five laps we were holding on."
Herrera ran inside one of the four lock-in positions to Saturday's main event until the closing laps when he dropped to a sixth-place result.
The team returned to the 3/8-mile oval on Saturday for the final race of the year. Herrera powered from sixth to second place during both a heat race and a qualifier to be the top point earner. That started him fifth – behind the four locked-in drivers – in the main event.
"We were good out of the box," he said. "We made some changes on a bar combination. I think every time we hit the track we had the fastest lap time in the heats and qualifiers. The changes that we made made a big difference.
"In the feature Aaron (Reutzel) and Sam (Hafertepe Jr.) were a little better than the rest of us. (Jason) Solwold and myself and (Seth) Bergman were all about the same speed right there."
Herrera duked it out for the final spot on the podium before he recorded a fourth-place finish, which was his 30th top five of the season. He finished the season ranked second in the ASCS National Tour championship standings.