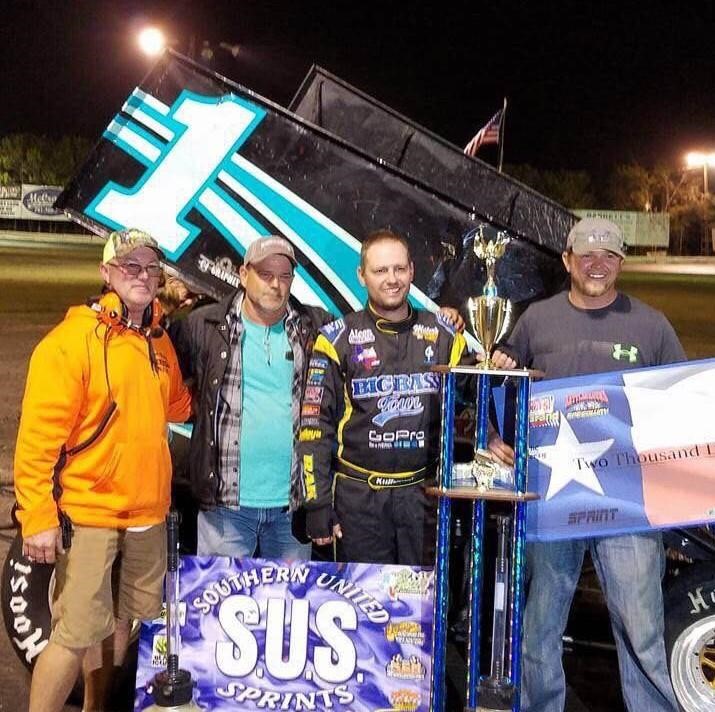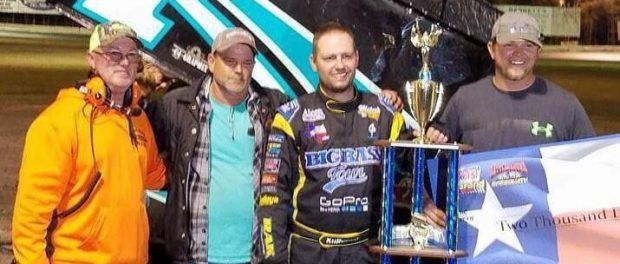 From Inside Line Promotions
HIGHLANDS, Texas (Nov. 14, 2016) – Ray Allen Kulhanek produced a storybook ending to the 2016 season when he returned early from a vicious fire to score a victory during the season finale last weekend.
Kulhanek, who was severely burned during a sprint car race in late September, drove Randy Allen's 305ci winged sprint car to Victory Lane on Saturday during the Texas Grand event at Battleground Speedway.
"The original prediction for everything was not until March," he said of when doctors originally thought he'd be able to race again. "After I went to my first appointment after I got back from Missouri they told me to start getting out, moving around and doing things. My first question was, 'When can I go back to racing?' I went above and beyond expectations of what the doctors predicted so I was cleared."
Kulhanek, who will have to wear compression sleeves for the next six months, put in hard work during the last month and a half to gain clearance from his doctor to climb back into a race car.
"Every day that goes by I'm getting a little better," he said. "I can squat all the way down like a catcher does. It's still a little bit tight. The biggest issue is I'm really weak. I lost a lot of strength by sitting stagnant for a month a half. I have a little muscle pain in my knees.
"I decided last weekend I was wanting to get back in because all I think about and all anybody talks to me about is what happened. I didn't want to be sitting the rest of the winter with that being the last memory. Sitting in the staging lane I'd feel a little weird, but sure enough they'd shove me off, throw the green flag and I'd get on the gas and everything would fade away."
Kulhanek kicked off the event on Friday by advancing from fourth to second place in a heat race. That locked him into the dash, in which he finished second after starting on the pole.
"(Channin) Tankersley put a pretty good whooping on me Friday night," he said. "We set there a good hour and a half talking about what should have been done and what needed to be done. When Saturday rolled around the game plan changed throughout the night because of how much the track had changed."
Kulhanek started Saturday's feature on the outside of the front row.
"I got a good start," he said. "I wanted to make sure I stayed with him on the start. I knew my only shot to win was to be the first one to turn one and we got a good start and got there with just an edge. The good thing then was to be on the outside so I could keep the car a little straighter and take the air off his nose getting in. Pretty much after that it was don't make mistakes and try not to burn the tires off."
Kulhanek led the distance to score his fourth win of the season and earn his second straight Texas Grand title.
"As the weekend progressed I was more comfortable and got back to normal," he said. "I wasn't really expecting everything to go as good as it did, but after the first night was over I knew that if we got the car right and I got the start we needed we would have a shot at winning.
"I can't thank Randy Allen enough for the opportunity. He wanted to win so bad so I was thrilled we could get it done in our first race back. Also, thanks to Bruce Griffith for his continuing support and to my family and fans for helping so much throughout this comeback."