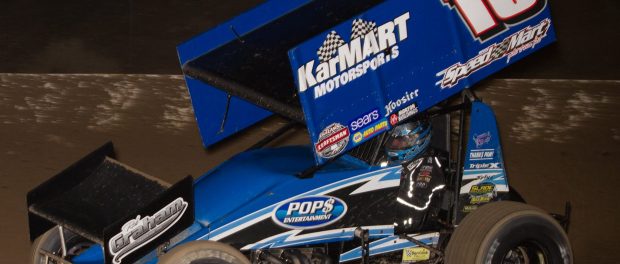 From Peterson Media
Opting to take on the ASCS National Series during their final weekend of action, Jason Solwold and the Shaylen Raye Motorsports team made the trip to Arizona and picked up a second and third place finish.
"It was a really good weekend for this team," Jason Solwold said. "I thought we ran well against those guys, and it was great to end up on the podium both nights."
Taking to the Cocopah Speedway near Yuma, AZ, Solwold would open the weekend up by charging from eighth to third during his heat race before picking up another third place finish during his qualifier.
Solidifying a spot in the feature event, Solwold would have some luck on his side, as the one pill would place him on the pole for the feature event. Getting off to a great start, Solwold looked very strong out front as Seth Bergman, Johnny Herrera, and Sam Hafertepe gave chase.
Quickly getting into lapped traffic, Solwold would see his healthy lead quickly evaporate as he navigated through slower cars. On the 12th lap, Seth Bergman was able to get by to take over the race lead, but Solwold was to get it back on the 15th lap.
With the battle not yet finished, Bergman would made the winning pass on lap 18, as Solwold then found himself in a battle for the second spot. Able to fend off Hafertepe in the closing laps, Solwold was able to finish second and lock into the Saturday night feature event.
Lining up on the front row of the Saturday night feature event, Solwold would slip back to the third spot when the action came to life as Aaron Reutzel and Sam Hafertepe would jump into first and second and waste no time getting away from the field.
As the lead duo got away, Sowold was able to hold down the third spot as he tried to track down the leaders down. Continuing to run in the final podium position, Solwold would unable to get close to the two as they gapped the field by over five seconds.
"It is great to end the year with some good runs in the 360 and last week in the 410," Solwold said. "I have to thank this team and our sponsors for making it possible. We got to do some traveling this year and that makes it fun too."
Solwold and the Shaylen Raye Motorsports team would like to thank Scottie's Plumbing, NW Team Excavating, KarMart Motorsports, Doyle Guffie's Rayle Auto Sales, Pops Entertainment, Vic's 66, Speedmart, After Hours Painting, Triple X Race Co., Al Parker Race Engines, Wings Unlimited, Slade Shocks, Rob Graham Trucking, Wings Unlimited, Meyer Sings, Vahlco Wheels, Fuel Safe, and Pro Signs for their continued support.