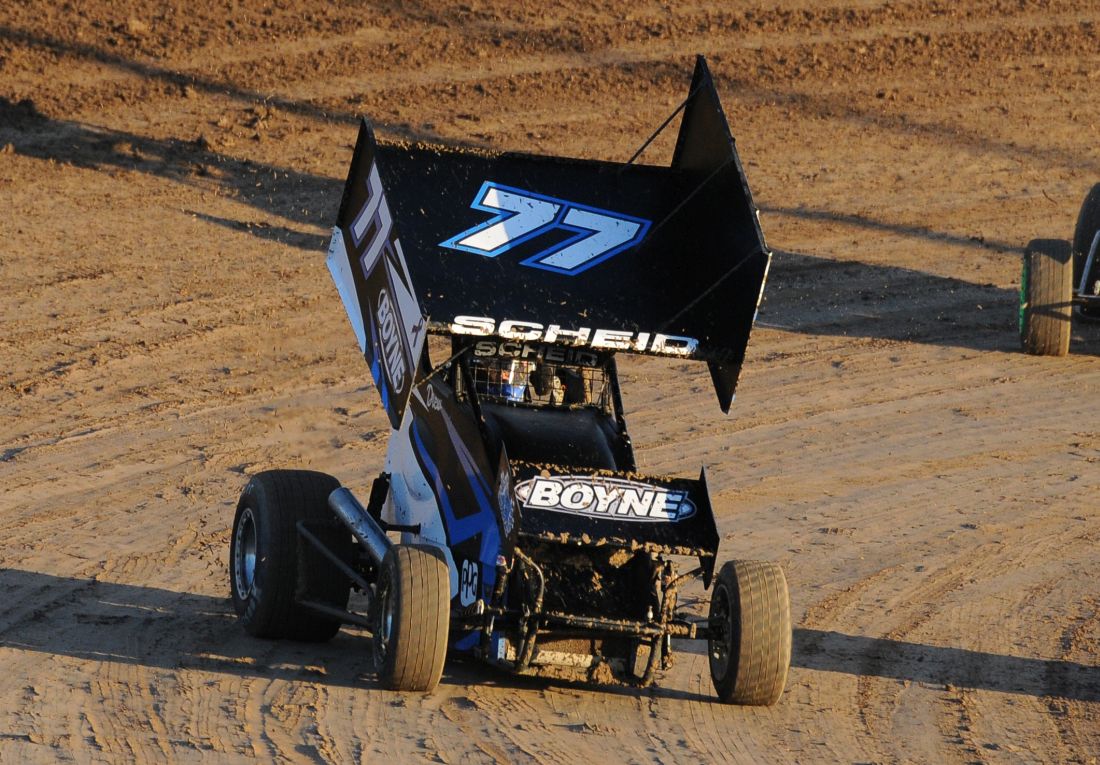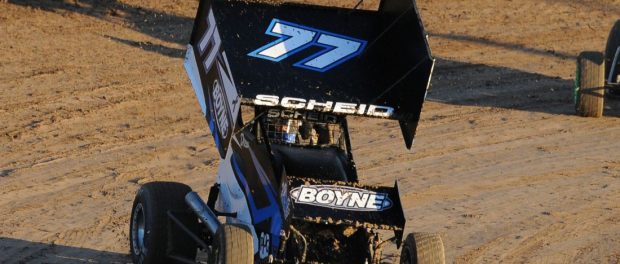 By T.J. Buffenbarger
Monday's announcement of Andrew Scheid going 410 sprint car racing with a focus on the Sprints on Dirt for 2017 was an eye opener. While having teenagers make this jump is no longer an anomaly, for this area Scheid's foray into the division is going to be different that other drivers.
Having teenagers not old enough to have a driver's license driving sprint cars has become more commonplace every year. Just last season on the west coast Buddy Kofoid was one of the new sprint car drivers in California last year. Talking to officials on the west coast drivers were extremely accepting of Kofoid because they had raced with him or seen him race in the karting divisions and new what kind of talent and maturity the kid processed.
Locally we've had drivers like Chase Ridenour, Trey Smith, and Noah Dunlap make their debuts as young teenagers, but they were relegated to Butler Motor Speedway early in their career. All three were lower profile entrants into the sprint car world. Other drivers have done this as well under the guise of being 16 for several years for decade with little or no attention.
Scheid's move into the division is going to be different. Scheid will be touring around the state, and possibly outside of it, with SOD this season. In addition he could possibly be one of the best funded young drivers in the Great Lakes area with backing from Boyne Machine. This will be Boyne's first venture with a sprint car team after years of being involved in the super late model scene at a very high level and Merritt Speedway. There is a good chance this could be the most well-funded sprint car team we've seen for someone this young in the state.
Talking with various competitors that have raced with Scheid in the lightening sprints and drivers that will compete against him with SOD next year seem excited. With kids gaining so much  racing experience at a young age even compared to 20 years ago, veteran drivers have stated they often times feel more comfortable racing the select, highly talented kids than some of the adults with lesser experience. Scheid's fellow lightening sprint competitors universally said they had doubts before racing against him, but those feelings vanished quickly when they saw the raw talent Scheid has. Sprint Car veterans in the area I quizzed shared the same sentiment. From my perspective I've seen many adults behave worse than children at the race track and make me question their maturity as well. I've seen many of these teenagers handle themselves on track and off of it with better poise than their older competitors.
I have openly said I've never been crazy about anyone getting into a sprint car before having a driver's license. I've been around the sport my entire life and have a grasp on how dangerous it really can be. Driving a Sprint Car isn't for everyone. When I see stories of various 14 and 15 year old drivers I wonder if they have a full grasp of what can potentially happen to them? Today parents, tracks, series, and insurance carriers have worked out what is considered an acceptable situation for many of these kids, as a parent myself if I would not put my kid in a sprint car before he had a driver's license. Eventually one of these kids is going to get hurt (or worse), and I often wonder how what additional consequences will we see as a sport once it happens? That is a question I hope I don't have to answer anytime soon.
On a positive note this is going to bring a lot of attention to Sprint Car racing in Michigan. Scheid is one of the first kids Michigan has had come through sprint car racing with a publicist, this kind of financial backing, and is likely the most anticipated rookie in the division since Chase Ridenour. One advantage Scheid has is the variety of tracks he will be able to run at this age compared to other rookies.
No matter what your feeling is on age and sprint car racing Scheid will be one of the leading story lines early on in the season.
Other notes…
After Hartford Motor Speedway announced they were shortening their race track to a 3/8-mile race track the leading reaction I received, positive and negatively, was "why?" even though it was clearly spelled out in their press release. While I was a fan of the big race track at Hartford as much as anyone I 100% agree with the logic the Dibble family has used in their decision.While the change might have been led to help keep their local divisions sustainable this could potentially be the greatest news for dirt sprint car racing in the area in years. Hartford's half mile was fun from a speed perspective, but was very hard on cars and engines.

Hartford has the biggest fan base for sprint car races in Michigan. Races there out draw every other track fan wise when comparing various series. If shortening the track allows for more sprint car races there because it's not as hard on equipment I fail to see very many negative things coming from this.

The biggest key to the entire situation is the track surface, layout, and how it races. It will need a top and bottom that can be maintained evenly on a consistent basis. If the Dibbles pull that off they will have the premier sprint car facility in the state.
Veteran Upper Peninsula driver Doug Possi passed away last week at the age of 69. Doug was a super modified driver from the Escanaba area. Doug's son Earl used to compete with the Midwest Sprintcar Association.
The Auto Value Bumper to Bumper Super Sprints announced they will make two appearances at South Bend Motor Speedway in 2017. AVSS will cross the Indiana border to take on the ¼-mile oval at South Bend Jun 3rd and July 15th.