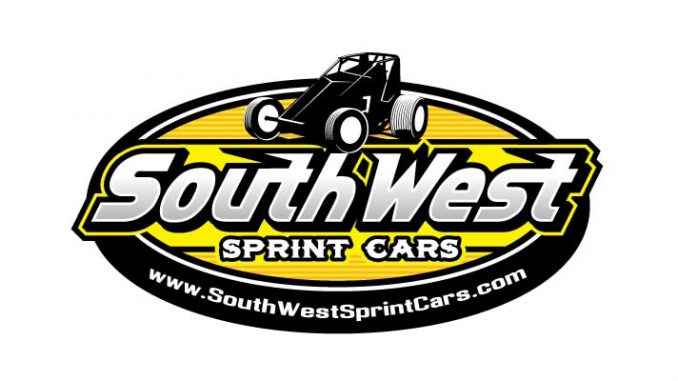 From Richie Murray
Twenty events align the Sands Chevrolet USAC Southwest Sprint Car schedule for the 2017 season with dates at traditional series venues throughout the states of Arizona, Nevada and New Mexico.
Peoria, Arizona's Canyon Speedway Park kicks off the docket with the "Steve Stroud Memorial" on Feb. 11. A month-long break follows before the series returns with a bang in back-to-back nights of rapid fire succession in conjunction with the USAC West Coast Sprint Cars for the "Outlaw Showdown" at The Dirt Track at Las Vegas Motor Speedway on March 9-10.
Seven dates apiece are slotted for Arizona Speedway and Canyon Speedway Park. Arizona greets the series in the fourth race of the season on March 18 with additional dates set for April. 29, May 20, June 10, September 9 and the season-enders at the 50th "Western World Championships" on November 3-4.
Canyon Speedway Park returns to the fold for the second of its seven dates on April 1 before returning on Memorial Day Weekend for the "Salute to Indy" on Memorial Day weekend on May 27-28. Back-to-back nights at Canyon close out the month of September for the series on Sept. 29-30 with the final trip taking place on Oct. 21.
In addition, the Southwest Sprint Car make the trek to Casa Grande's Central Arizona Speedway on two occasions, once early-on and again as the season winds down on April 15 and Oct. 28, respectively.
The annual "Border Tour" pits the best of the Southwest Sprint Cars against the New Mexico Motor Racing Association stars at Southern New Mexico Speedway in Las Cruces on Sept. 2-3.
2017 SANDS CHEVROLET
USAC SOUTHWEST SPRINT CAR SCHEDULE
Feb 11: Canyon Speedway Park (Peoria, AZ)
Mar 9: (W) The Dirt Track at Las Vegas Motor Speedway (Las Vegas, NV)
Mar 10: (W) The Dirt Track at Las Vegas Motor Speedway (Las Vegas, NV)
Mar 18: Arizona Speedway (San Tan Valley, AZ)
Apr 1: Canyon Speedway Park (Peoria, AZ)
Apr 15: Central Arizona Speedway (Casa Grande, AZ)
Apr 29: Arizona Speedway (San Tan Valley, AZ)
May 20: Arizona Speedway (San Tan Valley, AZ)
May 27: Canyon Speedway Park (Peoria, AZ)
May 28: Canyon Speedway Park (Peoria, AZ)
Jun 10: Arizona Speedway (San Tan Valley, AZ)
Sep 2: (N) Southern New Mexico Speedway (Las Cruces, NM)
Sep 3: (N) Southern New Mexico
Sep 9: Arizona Speedway (San Tan Valley, AZ)
Sep 29: Canyon Speedway Park (Peoria, AZ)
Sep 30: Canyon Speedway Park (Peoria, AZ)
Oct 21: Canyon Speedway Park (Peoria, AZ)
Oct 28: Central Arizona Speedway (Casa Grande, AZ)
Nov 3: Arizona Speedway (San Tan Valley, AZ)
Nov 4: Arizona Speedway (San Tan Valley, AZ)
——————————–
(W) = A race with the USAC West Coast Sprint Cars