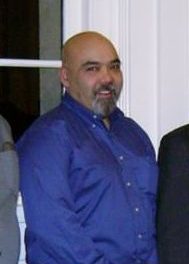 By T.J. Buffenabarger
When Thomas Meseraull rolls out with his own race team in 2017 one of his biggest supporters will be from the Great Lakes State. Don Whitney has been involved in sprint car racing his entire life and worked in a variety of different roles officiating and with race teams. This year Whitney will be helping with one of the most popular drivers in non-wing sprint car racing.
Whitney met Meseraull during the Jack Hewitt Classic at Waynesfield Raceway Park in 2009. The two would talk occasionally at the race track. Last season Meseraull posted on Facebook for some support the trip to Badlands Motor Speedway with the USAC National Sprint Car Series. One of the first people that came to answer the call was Whitney.
"Last year before he went out to Badlands he was driving for (Mike) Dutcher at the time. It was just a temporary couple of race deal and he was trying to put together some funding to go out there to Badlands, he needed some tires and what not. He put a post on Facebook and I messaged him to say I'd like to help him out with some tires and whatever else he needed" said Whitney.
Meseraull vividly remembers taking the call.
"Don calls up and I told him need tires and whatever. I already had a couple of people buy me two,  he bought me five anyway. It's amazing what the power of social media will do, getting in touch with people that might want to help you out."
Whitney's help got Meseraull to Badlands and out to the final weekend of racing with the tour during the Oval Nationals at Perris Auto Speedway. Those trips along with Meseraull bouncing around with different race teams last year helped spawn the idea of Meseraull having his own race team.
"We were talking and I told him you really need to be in a car full time so you can concentrate on your driving rather than worry about when your next race is and what you are going to drive," said Whitney.
"He's always been real in with Stan Courtard and he said he could drive one of his cars. He still talks to Amati, and I said well we can just put together our own car and you can just race that when you don't have anything else to race. That's what we decided to do and worked out a deal with Hawk Chassis and just bought some parts here and there and we're going to do it."
Whitney's offer came at the perfect time for Meseraull who didn't have anything solid lined up for 2017.
"I'm just a blue collar dude with some talent, finally getting some rides," said Meseraull. "It takes guys like Don to help guys like me get to the next step. I wouldn't have tried to do this without him."
As of now the team will either debut in Florida or once racing gets started in Indiana.
"We're not sure for Florida, we don't want to rush it," said Meseraull. "Especially with Florida only being three nights. Don's good people and excited to do some more this year."
For Whitney, backing Meseraull came with little to no hesitation based on what he has witnessed over the years and what they might be able to accomplish in 2017.
"I have no doubt in my mind his capability as a driver. We're not trying to get our hopes up and going to be realistic about it. We're way underfunded in comparison to other USAC teams, but it's been done with less."
Notes:
Thank you to Sean Buckley and his Jackslash.com podcast for directing me towards this story. I was relaxing one night listening to Buckley's podcast (you should as well) and heard Meseraull drop Whitney's name. The timing could not have been better as I was deciding what the topic of the Great Lakes Edition column should be.
Even though Whitney is helping Meseraull, he will be around Michigan quite a bit next season assisting his cousin's husband, Mike Galajda, defend his Michigan Traditional Sprints championship
Sprint car super fan Derrek Bean has put together a fund raiser for Ryan Ruhl's racing team. This is a common practice I've seen over the years, primarily out east, and is a much better alternative than crowdfunding options. The event takes place March 11th from 2-5:00 P.M. at the American Legion in Quincy, MI.
The first draft of the Lane Automotive MTS schedule is posted. New for 2017 are two events at I-96 Speedway and one race at the new Baer Field Speedway dirt track in Fort Wayne, Indiana.