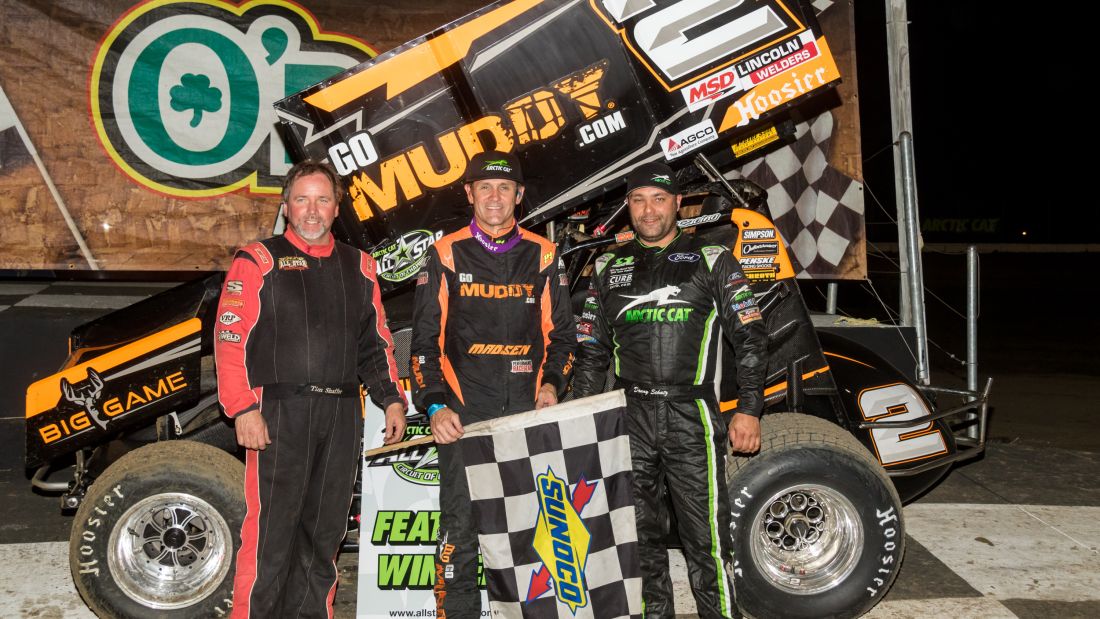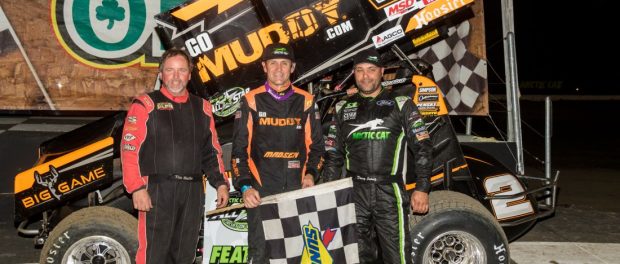 From Tyler Altmeyer
OCALA, Fl. (February 11, 2017) — In front of a near-standing room only turnout, "The Madman" Kerry Madsen ended all possibility for a "Schatz Sweep" during the Sixth Annual Winter Nationals at Bubba Raceway Park; driving around the Fargo, North Dakota, native with just six laps remaining to solidify his place on top of the feature podium. The Arctic Cat All Star Circuit of Champions victory, his first podium finish of the Winter Nationals triple-header at Bubba Raceway Park, was the seventh of Madsen's career, earning $5,000 in the process.
"This thing has been a rocket ship right from the drop of the gate," Kerry Madsen explained, pilot of the GoMuddy.com/Big Game Treestands/No. 2M. "My guys, Guy and Nate, did a great job all winter prepping these race cars and getting everything set for Florida. It feels awesome to be this fast right from the start. We were so close on Thursday, so this definitely makes up for that. I can't thank Todd and Luke enough for this opportunity. Hopefully they were tuned-in back in Minnesota and got to see this."
Madsen never raced outside of the top-three the entire 30-lap distance, starting third initially and racing in that same position until just beyond the halfway signal. The St. Mary's, New South Wales, Australia, native worked around the CJB Motorsports entry of David Gravel for second on lap 16, resetting his sights on back-to-back Arctic Cat All Star Circuit of Champions main event winner Donny Schatz.
By lap 20, traffic started to intensify, allowing Madsen to cut away at Schatz's one second advantage at the front of the field. The pair raced nearly nose-to-tail until Madsen made the winning move at the entrance of turn one on lap 24, taking command for the first time during the main event. Madsen would race ahead untouched the remaining distance, holding off a late charge by Donny Schatz and Tim Shaffer at the final checkers, each celebrating a third consecutive podium finish.
"We ended up cutting a tire somewhere around four or five laps to go in that race" Donny Schatz explained, pilot of the Tony Stewart Racing/Arctic Cat/No. 15. "My late model experience actually helped me get through those last five laps. I was able to keep the car straight and hang on to that position. It is a tough deal, but we'll move on and try again at Volusia."
The Arctic Cat All Star Circuit of Champions will enjoy three days in the Florida sun before returning to competition on Wednesday evening, February 15, at the Volusia Speedway Park near Barberville, Florida. "America's Series" will take center stage at the Florida speed plant for two consecutive nights of competition; two of five total sprint car appearances during the 2017 DIRTcar Nationals schedule. The back-to-back Volusia Speedway Park appearances will each award $5,000 top prizes.
Those seeking additional news and information regarding the DIRTcar Nationals at Volusia Speedway Park should visit the official online home of the DIRTcar Nationals: www.dirtcarnationals.com.
Arctic Cat All Star Circuit of Champions
Bubba Raceway Park
Ocala, FL
Saturday February 11, 2017
Feature (30 Laps): 1. 2M-Kerry Madsen[3]; 2. 15-Donny Schatz[1]; 3. 49X-Tim Shaffer[4]; 4. 5-David Gravel[2]; 5. 27-Greg Hodnett[10]; 6. 87-Aaron Reutzel[6]; 7. 7C-Caleb Armstrong[8]; 8. M1-Mark Smith[5]; 9. 18-Ian Madsen[16]; 10. 59-Ryan Smith[7]; 11. 4P-Paul McMahan[14]; 12. 10H-Chad Kemenah[12]; 13. 21-Carson Short[19]; 14. 14T-Tyler Clem[13]; 15. 11K-Kraig Kinser[9]; 16. 13D-Danny Dietrich[20]; 17. 4-Danny Smith[11]; 18. 2-Parker Price-Miller[17]; 19. 17-Caleb Helms[24]; 20. 8M-T.J. Michael[15]; 21. 7J-Joe Swanson[23]; 22. 22-Cole Duncan[22]; 23. 17B-Steve Buckwalter[21]; 24. 24-Rico Abreu[18]
B-Main (12 Laps): 1. 17B-Steve Buckwalter[2]; 2. 22-Cole Duncan[1]; 3. 5M-Max Stambaugh[4]; 4. 17-Caleb Helms[11]; 5. 7J-Joe Swanson[7]; 6. 40-Mark Imler[8]; 7. O7-Jacob Wilson[9]; 8. 51-John Garvin[14]; 9. 13-Brandon Matus[13]; 10. 7W-Tasker Phillips[16]; 11. 76-David Jones[15]; 12. 33-Brent Matus[10]; 13. 45-Trevor Baker[3]; 14. 13F-Todd Fayard[5]; 15. 9-Ryan Linder[6]; 16. 49H-Bradley Howard[12]
Dash #1 (4 Laps): 1. 15-Donny Schatz[3]; 2. 2M-Kerry Madsen[4]; 3. M1-Mark Smith[2]; 4. 59-Ryan Smith[1]; 5. 11K-Kraig Kinser[5]
Dash #2 (4 Laps): 1. 5-David Gravel[2]; 2. 49X-Tim Shaffer[1]; 3. 87-Aaron Reutzel[3]; 4. 7C-Caleb Armstrong[5]; 5. 27-Greg Hodnett[4]
Heat Race #1 (8 Laps): 1. 15-Donny Schatz[1]; 2. 11K-Kraig Kinser[2]; 3. 4P-Paul McMahan[3]; 4. 18-Ian Madsen[6]; 5. 24-Rico Abreu[4]; 6. 17-Caleb Helms[7]; 7. O7-Jacob Wilson[5]; 8. 51-John Garvin[8]; 9. 76-David Jones[9]
Heat Race #2 (8 Laps): 1. 7C-Caleb Armstrong[2]; 2. 27-Greg Hodnett[4]; 3. 10H-Chad Kemenah[1]; 4. 49X-Tim Shaffer[3]; 5. 21-Carson Short[5]; 6. 9-Ryan Linder[6]; 7. 7J-Joe Swanson[7]; 8. 7W-Tasker Phillips[9]; 9. 49H-Bradley Howard[8]
Heat Race #3 (8 Laps): 1. 59-Ryan Smith[1]; 2. M1-Mark Smith[2]; 3. 14T-Tyler Clem[4]; 4. 8M-T.J. Michael[3]; 5. 13D-Danny Dietrich[7]; 6. 13-Brandon Matus[9]; 7. 5M-Max Stambaugh[5]; 8. 13F-Todd Fayard[6]; 9. 40-Mark Imler[8]
Heat Race #4 (8 Laps): 1. 87-Aaron Reutzel[2]; 2. 2M-Kerry Madsen[4]; 3. 4-Danny Smith[1]; 4. 5-David Gravel[3]; 5. 2-Parker Price-Miller[5]; 6. 17B-Steve Buckwalter[7]; 7. 22-Cole Duncan[6]; 8. 33-Brent Matus[9]; 9. 45-Trevor Baker[8]
Qualifying (2 Laps): 1. 2M-Kerry Madsen, 12.179[32]; 2. 5-David Gravel, 12.554[36]; 3. 87-Aaron Reutzel, 12.652[31]; 4. 27-Greg Hodnett, 12.656[14]; 5. 49X-Tim Shaffer, 12.667[18]; 6. 7C-Caleb Armstrong, 12.685[16]; 7. 4-Danny Smith, 12.715[34]; 8. 10H-Chad Kemenah, 12.784[11]; 9. 14T-Tyler Clem, 12.828[25]; 10. 2-Parker Price-Miller, 12.869[33]; 11. 22-Cole Duncan, 12.876[30]; 12. 24-Rico Abreu, 12.888[3]; 13. 17B-Steve Buckwalter, 12.981[29]; 14. 8M-T.J. Michael, 12.984[20]; 15. M1-Mark Smith, 12.996[23]; 16. 59-Ryan Smith, 13.069[27]; 17. 45-Trevor Baker, 13.074[28]; 18. 4P-Paul McMahan, 13.113[4]; 19. 5M-Max Stambaugh, 13.202[22]; 20. 21-Carson Short, 13.216[13]; 21. 11K-Kraig Kinser, 13.318[5]; 22. 13F-Todd Fayard, 13.335[19]; 23. 15-Donny Schatz, 13.388[9]; 24. 9-Ryan Linder, 13.436[10]; 25. 13D-Danny Dietrich, 13.464[21]; 26. 7J-Joe Swanson, 13.482[15]; 27. 40-Mark Imler, 13.496[26]; 28. O7-Jacob Wilson, 13.501[8]; 29. 18-Ian Madsen, 13.557[2]; 30. 33-Brent Matus, 13.567[35]; 31. 17-Caleb Helms, 13.635[7]; 32. 49H-Bradley Howard, 13.725[17]; 33. 13-Brandon Matus, 13.744[24]; 34. 51-John Garvin, 14.067[1]; 35. 76-David Jones, 14.567[6]; 36. 7W-Tasker Phillips, 14.691[12]