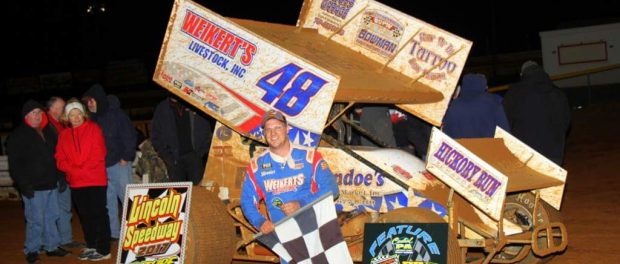 From Fully Injected Motorsports:
GETTYSBURG, Penn. (February 26, 2017) – "Double-D" Danny Dietrich not only outlasted the competition during Lincoln Speedway's season opener, but he also outlasted Mother Nature; capturing the $4,000-to-win, Icebreaker 30 main event on Saturday, February 25, despite a major weather interruption.
The win, the 32nd of Dietrich's career at the "Fabulous" Lincoln Speedway in Abbottstown, Pennsylvania, took shape nearly five hours after his qualifying heat race. The 2:00pm program, halted at 2:20pm, was delayed due to severe-level wind, rain and hail that all started at the beginning of heat race three. Eventually, the severe weather would pass and the show would continue.
"I want to thank Lincoln Speedway for holding out and getting that program in, but I want to especially thank the fans for staying strong and sticking things out," Danny Dietrich explained. "The fans are the most important part of our sport. We have an amazing fanbase out here in Central Pennsylvania. After what we went through on Saturday, I'm pretty sure they would sit and wait through anything."
Dietrich, pilot of the Gary Kauffman Racing/Weikert's Livestock/ Sandoe's Fruit Market/ Pace Performance/ Gsell's Whitetails/ Hickory Run Orchards/ Carlisle Auto Salvage/ CATS Used Truck Parts/ Drop Of Ink Tattoo/ Bowman Block & Head Repair/ Sweeney Cars/ Self Made/ No. 48, qualified for the 30-lap main event after finishing fourth during heat race competition. As a result of the feature redraw, the Gettysburg native started sixth on the main event grid, taking command officially on lap 20. A motor issue plagued the No. 48 during the closing circuits, but it did not create a distraction.
"Something was definitely going sour with our motor," Dietrich said. "That wasn't going to stop me from trying to stay out front."
The 2012 Lincoln Speedway track champion will return to the Pigeon Hills on Saturday, March 4, for another 2:00pm program. The 410ci sprint cars will be the only division on the afternoon card.
Keep up with Danny Dietrich and Gary Kauffman Racing during their entire campaign right here at the official online home of Fully Injected Motorsports – www.FullyInjected.com. Be sure to also follow Danny Dietrich online at www.dannydietrich.com, as well as on all of the available social media networks including Twitter: https://twitter.com/dannydietrich and Facebook: https://www.facebook.com/GKRracing/