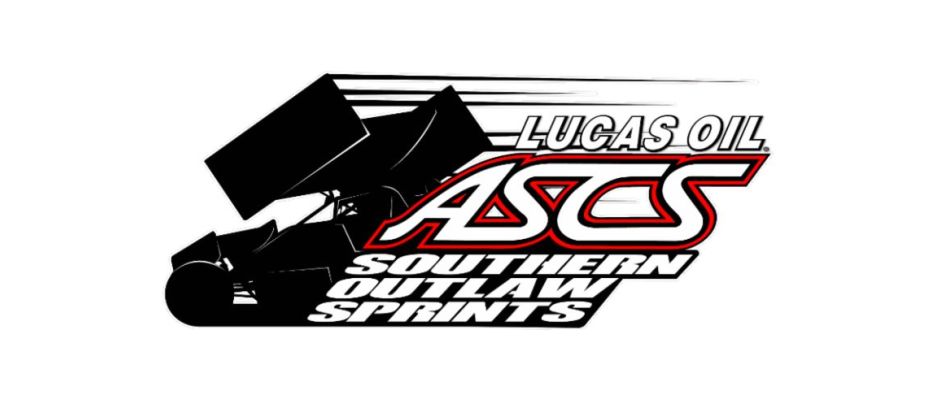 From Bryan Hulbert
LOXLEY, Ala. (March 11, 2017) – The Lucas Oil ASCS Southern Outlaw Sprints headlined events at the Deep South Speedway in Loxley, Ala. on Saturday night with Mississippi's Andy McElhannon being elevated from his original runner-up finish to event winner when all was said and done.
Chasing Joey Schmidt to the line, the No. 1s failed post-race tech inspection due to the use of a wicker bill on a dished top-wing. Had the wing been flat, a maximum two-inch tall wicker bill would have been acceptable per ASCS rules.
Rolling from the 12th starting spot, the hard charging No. 42 earned $2,000 for his work and was followed to the line by early race leader, Lane Whittington with defending series champion, Michael Miller, from 11th, to earn the bronze podium step. Terry Gray and teammate, Morgan Turpen, made up the top-five. Timmy Thrash crossed sixth with Kyle Amerson, Ryan Moore, Jake Knight, and Nick Snyder rounding out the top-ten.
The Lucas Oil ASCS Southern Outlaw Sprints are back in action with Round 1 of the East/West Showdown against the Griffith Truck and Equipment ASCS Gulf South Region on Friday, April 7 and Saturday, April at the Jackson Motor Speedway in Byram, Miss.
For continued updates on the Lucas Oil ASCS Southern Outlaw Sprints, log onto http://www.ascsracing.com.
Race Results:
ASCS Southern Outlaw Sprints
Deep South Speedway – Loxley, Ala.
Saturday, March 11, 2017
Car Count: 16
Heat 1 (8 Laps): 1. 93-Jake Knight[1]; 2. 1S-Joey Schmidt[4]; 3. 116-Nick Snyder[2]; 4. 38-Ryan Moore[6]; 5. 00-Tristan Lee[5]; 6. 52-Cody Karl[3]
Heat 2 (8 Laps): 1. 09-Timmy Thrash[1]; 2. 9-Lane Whittington[2]; 3. 10-Terry Gray[4]; 4. 4M-Michael Miller[5]; 5. 88-Brandon Blenden[3]
Heat 3 (8 Laps): 1. 13-Todd Fayard[1]; 2. 10M-Morgan Turpen[2]; 3. 29-Kyle Amerson[5]; 4. 42-Andy McElhannon[3]; 5. 1-Freddie McCall[4]
A Feature (25 Laps): 1. 42-Andy McElhannon[12]; 2. 9-Lane Whittington[2]; 3. 4M-Michael Miller[11]; 4. 10-Terry Gray[1]; 5. 10M-Morgan Turpen[5]; 6. 09-Timmy Thrash[6]; 7. 29-Kyle Amerson[7]; 8. 38-Ryan Moore[9]; 9. 93-Jake Knight[8]; 10. 116-Nick Snyder[10]; 11. 1-Freddie McCall[13]; 12. 00-Tristan Lee[14]; 13. 52-Cody Karl[16]; 14. 13-Todd Fayard[4]; 15. 88-Brandon Blenden[15]; (DQ) 1S-Joey Schmidt[3]