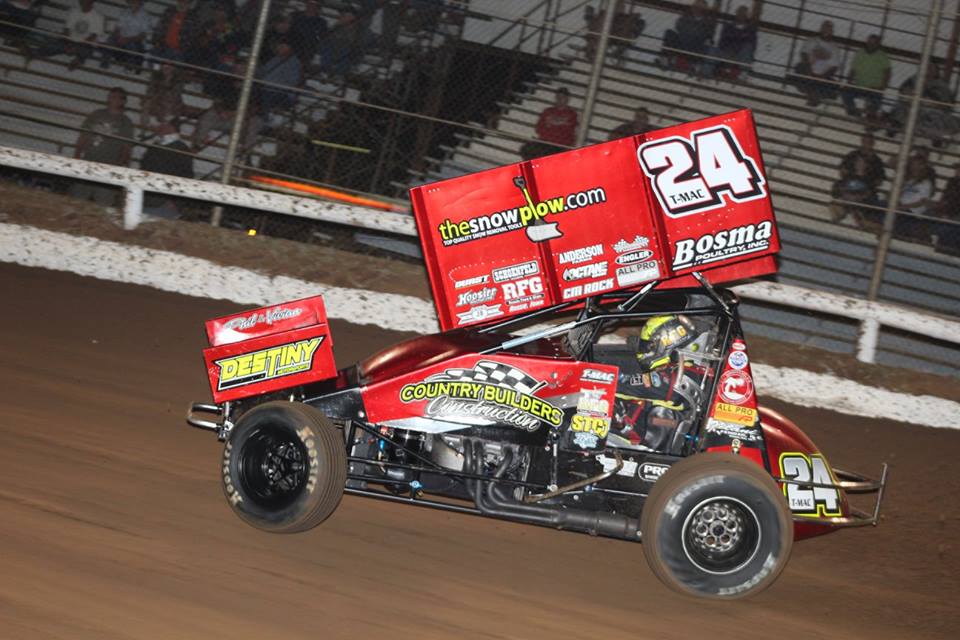 From Bill Wright
March 14, 2017 – Terry McCarl and the TMAC Motorsports #24 team rolled into The Dirt Track at Las Vegas last weekend hoping to grab another World of Outlaws win there. The Altoona, Iowa driver got a nice surprise when Badlands Motor Speedway's Chuck Brennan put up some bonus money for the highest finishing driver from his track, and he took advantage to the tune of $10,000. TMAC looks forward at competing at another track he has a WoO win on, Thunderbowl Raceway in Tulare, California this weekend.
TMAC qualified 11th and 16th quick in his groups on Thursday and Friday, respectively. "We're just off a bit qualifying," he says. "With the new Outlaw format that they started last year, that makes it tough. Car count and competition are always good at these shows and you need to be on your game."
The bonus from Badlands was a surprise. "I got a call from Chuck Brennan on the way out," says TMAC. "He asked who from Badlands would be out there racing. I told him Mark Dobmeier would be one. He hung up. When we pulled into the track, he called back and said he'd pay $5,000 to the highest finisher between Mark and us for both nights. That was cool. It created a race within a race for Mark and I."
After finishing sixth in his heat on Thursday, TMAC headed for the B. "It was really a rough racetrack on Thursday," he says. "It was like 'Old School' Vegas used to be. It's such a fast place when it's rough like that. We had our work cut out for us. We made it through the B. Mark started three rows in front of us, but he had a tough start and bicycled. Then, unfortunately, he got upside down. We were glad to see him come out o.k."
That handed him the $5,000 for Thursday. "That took the pressure off," says TMAC. "We were running 21st or something at the time. To make any more money, we had to get up to 15th. The car did feel good, and if I wasn't the owner and someone else was, I probably would have continued. But as it was, I made the business decision to pull off. The $5,000 bonus was nice."
Friday was a tougher road, but the car ran well after time trials. "We felt great, but we went out late in our set and didn't qualify well (16th)," says TMAC. "There was serious pressure on me then competing with Mark. If I didn't make it through the heat, we would be in the C. We were starting eighth in the heat, and we were able to get up through there to fifth."
That locked TMAC into the feature. He again had his eyes on Dobmeier. "Mark had to run the B and ran well," he says. "The way he was going, I figured he win it from sixth, and he was going to until a flat tire. As it was, he got through. We started 19th and he started behind us."
TMAC would move forward from 19th. "We were able to get up to 14th," he says. "As the race went on, I got tighter and tighter. The track was getting a little rough in both corners. I felt with Mark behind us, we didn't need any mistakes. He had gotten lapped, and I felt good on a restart. Sure enough, I hooked a rut and almost flipped it. I just kept thinking that Lori was going to kill me if I flipped."
TMAC had the benefit of some partners at Vegas. "Simplot Growing Solutions really helped us out at Vegas, and they're possibly going to be our primary sponsor a few more times this year," he says. "Kilani Fenders was with us as well this weekend, and it was great to have their help in the pits."
He would checker 16th, and pick up another $5,000 bonus. This Friday and Saturday, he's looking to tame the Tulare bullring. "We've done well at Tulare over the years," says TMAC. "Our record is right up there behind Tim Kaeding and Joey's (Saldana) there. One of our last runs there, we led a lot of the way. It races a little like Huset's. You can get up on the fence. As a driver, it's fun, and as a fan, it's tremendous action to watch."
McCarl Family Websites!
Driverwebsites.com develops the websites for the McCarl boys. Check out www.TerryMcCarl.com, as well as www.AustinMcCarl.com and www.CarsonMcCarl.com!