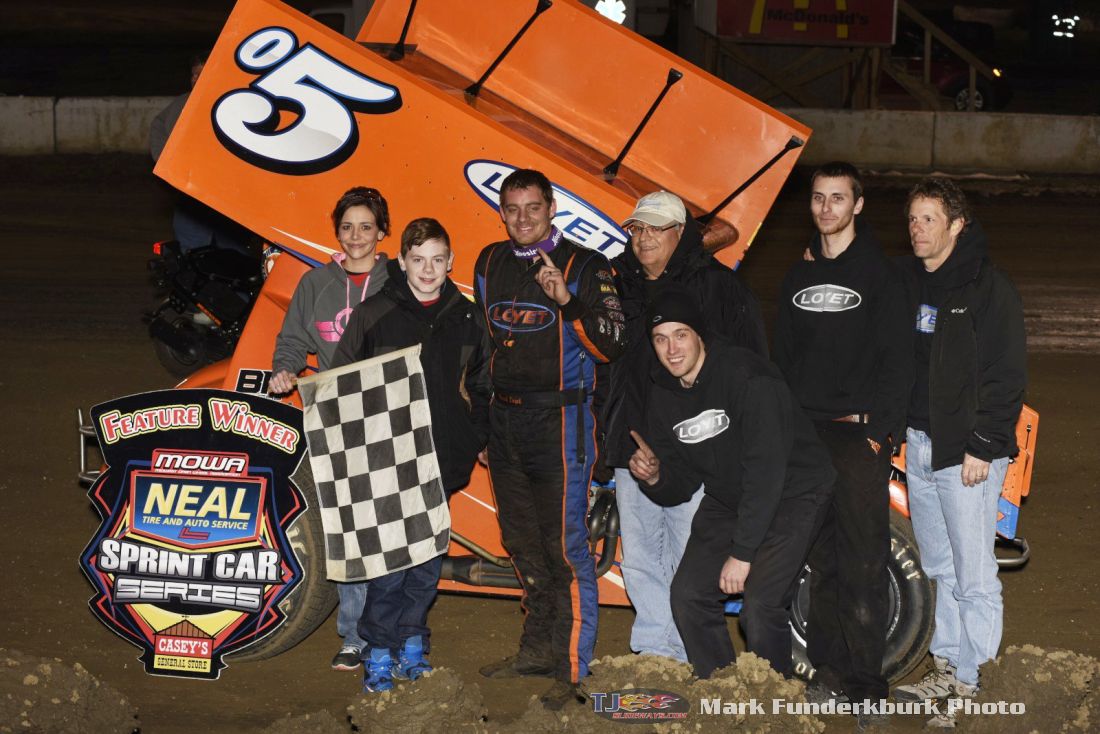 By Bill W
April 10, 2017 – Brad Loyet and the Vacuworx Global #o5 team kicked off their year in winning fashion in Friday's opener for the MOWA series at Jacksonville Speedway in Illinois. The Sunset Hills, Missouri driver backed it up with a top five run with the IRA at 34 Raceway in West Burlington, Iowa on Saturday. This Friday night, the team will make the short trip to Tri-City Speedway in Granite City, Illinois for another MOWA clash.
Brad timed in second quick Friday on the Jacksonville bullring. "It was a good start to the night," he says. "With their format, they invert six in the heats and you had to finish in the top four. The top eight in time that made it through drew for an invert in the feature. We stayed out of trouble and ended up second after starting sixth."
The invert was drawn, and luckily it was "0", putting Brad outside row one for the feature. "Jacksonville can be tight, narrow and tough to get around," he says. "Actually, (Spencer) Bayston got a little better start. I drove it a little deeper into turn one, and was able to get the lead coming off turn two."
From there, he tried to set sail. "To run Jacksonville, you have to run the cushion and stay out of the fence," says Brad. "You can't take yourself out of contention. We stayed in kind of a seventy-five percent cruise control speed and remained calm. I saw Bayston peek his nose a couple times early on. But we were able to get through lapped traffic really well. There was a yellow late when we had a big lead. We didn't need that, but it ended up working out. We held on to get the win. It was good to get the win in our first race of the year."
Brad would come out dead last for time trials Saturday at 34 Raceway, but was still eighth quick.
"I felt like we laid down a pretty good lap," he says. "(Austin) McCarl was a lot quicker than everybody, but he came out early. I thought our lap was good, and within a tenth of most guys."
The new IRA format calls for heat winners and the next seven (with three heats) quickest qualifiers who finish in the top five in their heat to redraw. "I knew when Jim Moughan won his heat, we just needed to finish in the top five to make the redraw," says Brad, who started outside row one of the heat. "(Paul) Nienhiser got the jump. I thought I'd only get one chance at him. I drove low in three and four, and spotted him about a half a straightaway. It took the whole race to catch him again, but a lapped car was in the groove we needed. Either way, we were going to make the redraw."
The draw for the feature was unlucky for Brad when he drew the nine pill, putting him in the fifth row. "With the way the track was, you wanted to draw up front," he says. "We drew a nine. I thought the track would blow off and we'd be fine, but it didn't. We still had a really good car. Everyone was rolling the bottom and trying to keep their car from pushing across the racetrack. I moved up a car length in the corners and we were able to go around some guys. Towards the end, we were up battling with Lynton Jeffrey for third. I had a run on him and he definitely didn't see me coming. He made a lane change because of a lapped car and that ripped my left front shock off."
That made the car a handful to control. "I just held on at that point for three laps," says Brad.
"We fell back to fifth at the end, but I felt we had a good enough car to be up front. Nienhiser was going to be tough from where he started, but I feel we could have at least run second."
Overall, Brad says the weekend was a success. "We didn't have any first weekend gremlins, so we felt really good about that," he says. "Getting a win and a top five is a really good start to the year, and we're looking forward to the rest of the year."
Brad's Website
Visit Brad on the web at www.LoyetMotorsports.com!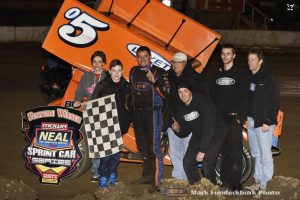 Brad's Weekly Releases
If you'd like to be added to Brad's e-mail list for weekly releases, e-mail sprntcar@hotmail.com with "Loyet" in the Subject Line.
Brad and the Loyet Motorsports team would like to thank primary sponsors: Vacuworx Global and Loyet Landscape Maintenance. Associate sponsors: Maxim Race Cars, J and D Performance Racing Engines, Butlerbuilt Professional Seat Systems, Meramec Heights Collision Center, KSE Racing, Weld Wheels, Penske Shocks, Wilwood Disc Brakes, Hepfner Racing Products, DMI, Saldana Racing Products, Rod End Supply, Bell Helmets, TI 64, Conroy Control, The Engine Heater, Ealey Transportation, and Speedway Motors.