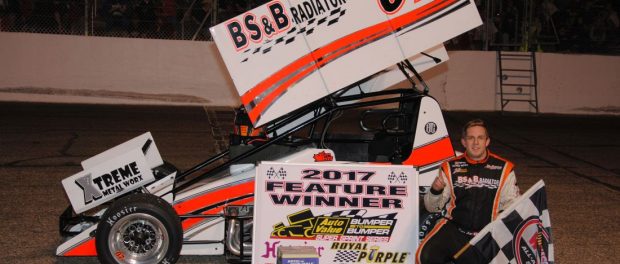 By T.J. Buffenbarger
KALAMAZOO, Mi. (June 2, 2017) – Ryan Litt parlayed an aggressive start into victory with the Auto Value Bumper to Bumper Super Sprints presented by Royal Purple Friday night at Kalamazoo Speedway. The London, Ontario resident dove into turn one three wide to take the lead at the start and held off a late race surge by Aaron Pierce over the final five laps for the victory.
The win was first of the season for Litt, who admittedly was pleasantly surprised by his team's strong start in 2017.
"Usually we start slow, so this is a really good way to start the season," said Litt following the victory. "We ran really strong a Berlin as well. Probably should have won that one, but we had to start at the tail of the field and ended up getting third. This is a heck of a start for us."
Jeff Bloom and Geoff Kaiser started on the front row for the 30-lap main event. Going into turn one Litt dove to the inside of Bloom and Kaiser to lead the feature by the time the field came off turn two. By the second lap Pierce and Bobby Santos III had worked themselves into second and third positions and started to pursue Litt for the lead.
"(Jeff) Bloom had a bit of a slow start, and I knew I had to get up in front to get in clean air and take off," said Litt about his move at the start. "Luckily the car was working good, got a good run, and I got the lead early."
After a caution on lap seven Litt pulled away after the restart. By the halfway point Litt started overtaking slower traffic and allowed Pierce to close in. Litt cleared the slower cars by lap 22 to pull away, but Pierce quickly erased that advantage closing in with five laps to go.
Pierce was within a car length of Litt on the final lap, but that proved to be all the advantage Litt needed to secure the victory. Pierce, Santos, Ryan Gillenwater, and Jason Blonde rounded out the top five.
"I figured (Pierce) would be pretty close," said Litt. "I was just trying to save my right rear tire because I knew from past experiences you can get pretty loose at the end here. I wasn't pushing too hard. If I saw a wheel I was going to be pushing a little harder, but I was just trying to save my stuff."
Pierce put pressure on Litt at the end of the feature, but one mistake late in the race was too much for him to overcome.
"I had a good run on him about five to go and got up him, tried to get underneath him, but got too sideways," said Pierce. "I had to work my butt off to get the track position I gained back and there with one to go I thought we might have a chance to get next to him, but he didn't beat us by much."
After detonating an engine at Berlin, Santos was able to pick up his second podium finish in a row in the sprint car division.
"We actually were at our best at the very end. Not saying we would have had something for them, but I probably would have liked another yellow at that point," said Santos. "It may have helped us, but overall it was a good night. It's tough having to pass, but that's part of the deal."
Auto Value Bumper to Bumper Super Sprints presented by Royal Purple
Kalamazoo Speedway
Kalamazoo, MI
Friday June 2, 2017
Qualifying:
1. 22A – Bobby Santos, 10.457
2. 26 – Aaron Pierce, 10.579
3. 45 – Ryan Gillenwater, 10.582
4. 07L – Ryan Litt, 10.905
5. 99 – Geoff Kaiser, 10.906
6. 26 – Jeff Bloom, 10.922
7. 42 – Jason Blonde, 11.033
8. 27 – Nick Landon, 11.044
9. 44 – Teddy Alberts, 11.331
10. 0 – Doug Dietsch, 11.571
11. 11G – Tom Geren, 11.704
12. 25 – Doug Stepke, 11.972
13. 64 – Tyler Roahrig, 35.803
Heat Race #1:
1. 42 – Jason Blonde
2. 45 – Ryan Gillenwater
3. 44 – Teddy Alberts
4. 22A – Bobby Santos
5. 99 – Geoff Kaiser
6. 11G – Tom Geren
Heat Race #2:
1. 07L – Ryan Litt
2. 64 – Tyler Roahrig
3. 26 – Aaron Pierce
4. 0 – Doug Dietsch
5. 25 – Doug Stepke
6. 27 – Nick Landon
7. 26 – Jeff Bloom
Feature:
1. 07L – Ryan Litt
2. 26 – Aaron Pierce
3. 22A – Bobby Santos
4. 45 – Ryan Gillenwater
5. 42 – Jason Blonde
6. 99 – Geoff Kaiser
7. 26 – Jeff Bloom
8. 27 – Nick Landon
9. 44 – Teddy Alberts
10. 0 – Doug Dietsch
11. 11G – Tom Green
12. 25 – Doug Stepke