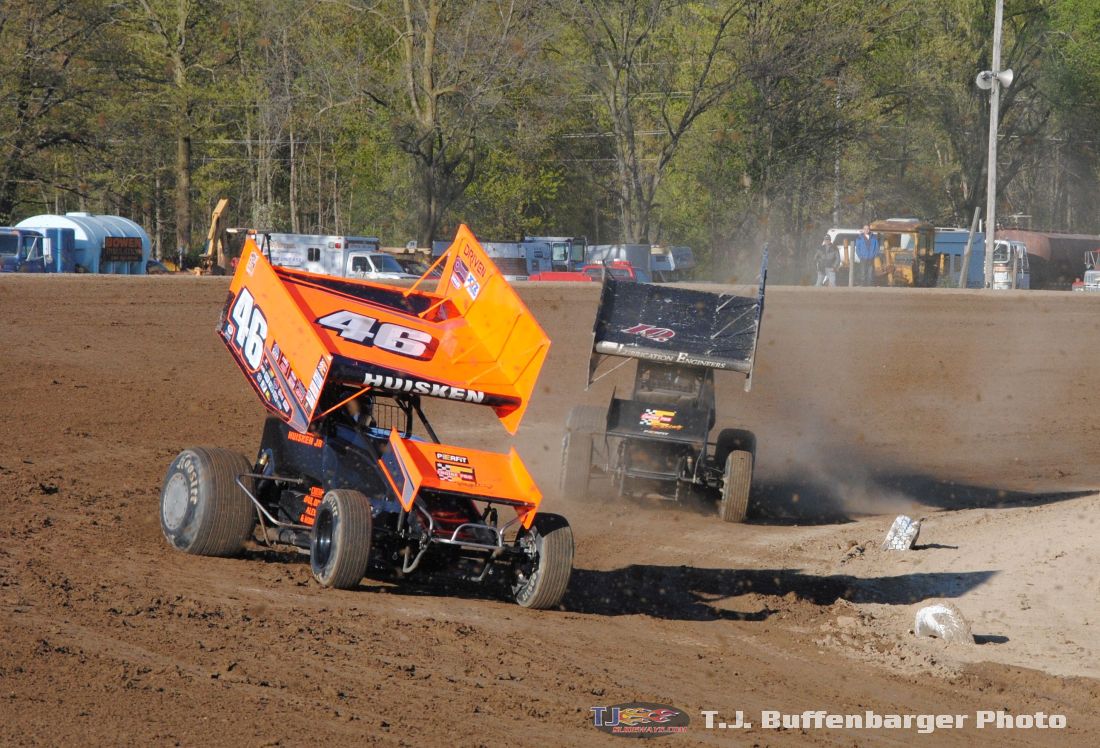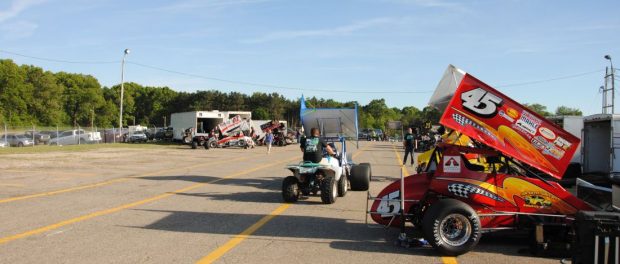 By T.J. Buffenbarger
It should be a hot weekend of weather and racing this week as sprint cars are in action on dirt and pavement around the state. Here are some of the story lines going into the weekend.
A rounder, shorter track at Hartford
Hartford Motor Speedway will host their first sprint car race on their round 3/8-mile layout hosting the Engine Pro Sprints on Dirt presented by ARP. After debating the change for two years Hartford Motor Speedway owners Tim and Leah Dibble decided to make major changes, shortening the massive ½-mile layout constructing new corners in turns three and four to create a smaller, round layout.
When Tim and Leah's son Timmy became ill last fall the Hartford racing community rallied around them to make sure the project was completed. Puhrman's excavating and Mark Stringer did a massive amount of work to make sure the new layout would be race ready. This will be the second race on Hartford's layout and the first since May 14th because of inclement weather.
While the layout is shorter, the round shape should produce very fast lap times.
"It will still be fast," said former SOD and MTS champion Steve Irwin after taking part in one of the practice days at Hartford this sprint. "Overall the track has the same 'flow' as the old layout."
Southwest Michigan resident and sprint car driver Trey Smith also participated in the test and feels the key to the new layout is getting through the west end of the race track.
"Turns three and four are really different. That end has less banking than turns one and two and is deceivingly wide. Whoever figures that end of the track out will win the race."
The continuing rise of Thunderbird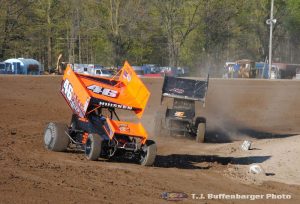 After rising from the ashes last season Thunderbird Raceway will host SOD on Saturday. After building up Winston Motor Speedway in Rothbury, Michigan track owner Tom Sprauge has now taken on the task of building up his home track. After sitting dormant and having a negative reputation with the township Sprauge convinced the township to reopen Thunderbird based on his performance in running Winston.
'
Coming from being overgrown with weeds the Thunderbird facility I witnessed in 2016 was nothing short of remarkable considering where it came from. Second year improvements you can expect to see when visiting Thunderbird include new clay added to the racing surface, improved concessions, and several improvements made to the pit area. Fans can also pick up the announcer on FM frequency 104.9.
GLSS squares off against the NRA on their turf
The Great Lakes Super Sprints and K&L Ready Mix National Racing Alliance will square off Friday and Saturday at the Tri-City Motor Speedway and Crystal Motor Speedway. Not being tied every week to Limaland Motorsports Park's weekly program freed the NRA up to travel more in 2017. It will be interesting to see how many Ohio invaders take on the two-day trip to Michigan.
So far Michigan drivers are 0 for 5 with Jared Horstman winning four races and Randy Hannagan winning the most recent event Waynesfield Raceway Park. Dustin Daggett will lead the Great Lakes faithful in trying to defend their home turf for two consecutive nights.
Auto Value Bumper to Bumper Super Sprint drivers have tire options
The Auto Value Bumper to Bumper Super Sprints competitors for the first time will have the option of competing on American Racer or Hoosier Tires Saturday night at Auto City Speedway. In addition AVSS officials have offered any driver that uses American Racer tires in qualifying and feature a $200 bonus. If a driver wins the feature on American Racer Tires an additional bonus of $500 is up for grabs.
* NOTE: Edit to correct the bonus situation made on 6/9. -TJ
Variety of drivers in victory lane at Butler
Butler Motor Speedway has seen a remarkable amount of parity during the 2017 season. Four different winners have visited victory lane at Butler during the four weeks of sprint car racing contested this season. Adam Cruea, Chad Blonde, Doug Zimmerman, and Ken Mackey have all picked up feature wins this year. With SOD and GLSS in action as well on Saturday it will be interesting to see if a fifth name is added to the list on Saturday.