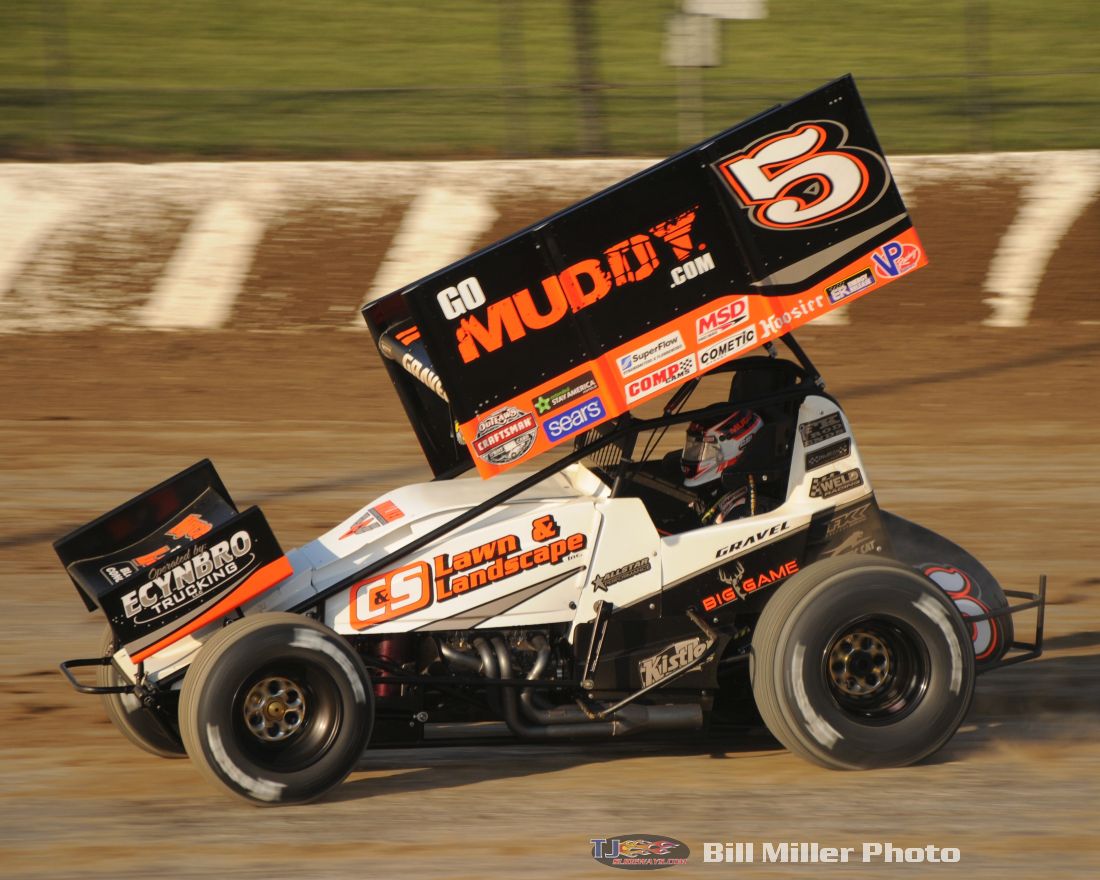 From CJB Motorsports
CARLISLE, PA. – June 19, 2017 –  As the temperatures rise in the month of June, so does the intensity of David Gravel and his CJB Motorsports team.
Halfway through the sixth month of the calendar, the team paid a visit to Eagle (Neb.) Raceway. Gravel timed in 12th, started and finished 3rd in his heat and started the feature in 12th.
"It was my first time at Eagle," said Gravel, driver of the GoMUDDY.com, J.R.C. Transportation Inc., C&S Lawn & Landscape #5. "We had a good run and made up ground in the feature and that was big for us. It was a really exciting place to go to."
Up next was a trip north to Grand Forks, North Dakota and the River Cities Speedway on Friday, June 16th. Car #5 timed in fourth in the second group of qualifiers before finishing second in his heat and the Craftsman Club dash. With a front row starting spot, Gravel was in prime position to pick up another win after a three hour delay due to rain.
"It's a bummer it rained," said Gravel. "Typically, the track is three-grooves top-to-bottom. It was pretty narrow, you just had to try not to make any mistakes. I drifted up and let Kerry [Madsen] get by me, but we were lucky enough to get right back by him."
The scheduled event at Red River Valley Speedway in West Fargo, N.D. was postponed due to rain. The event will be made up on Saturday, August 19th.
The team begins its quest for a tenth Outlaw win in 2017 with a stop at Granite City Speedway near Sauk Rapids, Minn. on Tuesday, June 20th. From there, stops at West Liberty (Iowa) Raceway on Friday, June 23rd and Beaver Dam (Wis.) Raceway on Saturday, June 24th.
"It'll be an exciting three-race stretch for sure," explained the Watertown, Conn. native. "Granite City has been a good place for us. West Liberty will be new and Beaver Dam is as about as fun of a place as you'll find."
BOX SCORE:
| | | | | | | | | | |
| --- | --- | --- | --- | --- | --- | --- | --- | --- | --- |
| Date | Track | Time Trial | Heat start | Heat finish | Dash start | Dash finish | "A" start | "A" finish | Laps Led |
| 6/13/2017 | Eagle Raceway | 12 | 3 | 3 | | | 12 | 7 | 0 |
| 6/16/2017 | River Cities Speedway | 4 | 2 | 2 | 1 | 2 | 2 | 1 | 35 |
2017 STATS:
Events: 40
Quick Times: 6
Wins: 10
Top-5's: 24
Top-10's: 36
Heat Race Wins: 11
Dash Wins: 6
Average Time Trial: 7.8
Average A-main finish: 5.5
Total Laps Led: 248
STAY CONNECTED WITH CJB MOTORSPORTS:
For up to the minute race updates and behind the scenes content from CJB Motorsports, please follow the team on
Facebook
,
Twitter
and
Instagram
.  Fans can also listen to all of the racing action live at
www.DirtVision.com
.
JOIN THE CRAFTSMAN CLUB:
CJB Motorsports gets the job done in the pits with
Craftsman
tools. Craftsman, one of the most enduring names in the tool industry, is a proud partner of the World of Outlaws Sprint Car Series. You can experience the benefits of this legendary brand by joining the Craftsman Club
here
. CJB Motorsports would like to express their gratitude to Craftsman for supplying the team with dependable tools for their use, night in and night out.
ABOUT CJB MOTORSPORTS:
CJB Motorsports is a winged, 410 sprint car team that competes across the country with driver David Gravel. Founded in 2005, the Chad and Jenn Clemens owned organization has worked to establish a standard of excellence in short track racing through fielding competitive entries and providing exceptional exposure for marketing partners. The team is based out of Carlisle, Pennsylvania.
CJB Motorsports would like to thank all of our loyal sponsors and product manufacturers for their support and great products. Click on the name of the partner below to be taken to their website for more information.
Partners:
Mainstream Holdings
,
Big Game Treestands
,
Muddy
,
J.R.C.Transportation Inc.
,
Bairs Tree Service
,
Nyce, Crete & Landis Block and Concrete
,
All Star Performance
,
Henry Dunn Insurance
, C&S Lawn and Landscape, Ecynbro Trucking