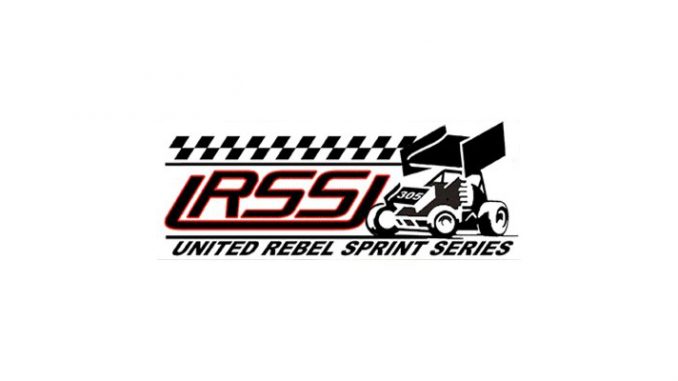 From URSS
Oklahoma's Ty Williams capped off Summer Sizzler Week with the United Rebel Sprint Series as he topped a 24 car A feature Sunday night at Lexington Raceway in LexingtonNE.
With the track promoter agreeing to start all 24 cars that checked through the gate on the last night of the 4 race week, it was outside front row starter Jake Martens who would jump into the lead over pole sitter Nic Nichols from Colorado. At the end of lap one it would be Martens, Nichols, Oklahoma's Kaden Taylor, Wichita's JD Johnson and Plainville's Jed Werner rounding out the top five.
Ty Williams began his run to the front as he drove around Werner on lap seven and start to pressure Taylor moving past him on lap 7. Liberal's Steven Richardson who lined up 10th moved into the number 6 spot on lap nine as Martens night came to an end one lap later as his mount lost power with Mag problems and coasted to a stop on the front straight bringing out the yellow.
Nichols inherited the lead on the restart and started putting distance between himself and Johnson with 9th starting Stu Snyder getting by Taylor for 5th on lap 12. A rim riding Nichols made a mistake one lap later and fell off the edge of turn two allowing Johnson and Williams by and relegating him to third. One lap later Johnson also fell off of turn two and tipped over bringing out the only red.
On the restart it was Williams, Nichols, Richardson, Snyder and Taylor bringing the field to the green. Nichols started putting pressure on Williams as Zach Blurton wrestled his way by Taylor by lap 16 and Snyder moved by Richardson one lap later. Nichols made a last lap charge and got to Williams bumper coming off turn four but settled for runner up and his best finish of his short career as Snyder, Richardson and Blurton completed the top five. 24th starter and previous night feature winner, Darren Berry finished 6th , claiming the Keizer Aluminum Wheels Hard Charger award. Colby feature winner Terry Richards 8th, Dodge City's Keefe Hemel 9th and 23rd starter, Colorado's Patrick Bourke rounding out the top 10.
With his 8th place finish Nebraska's Terry Richards claimed the $1000 winner's share of the four races in seven days Summer Sizzler Tour with Ty Williams collecting $700 for 2nd, Richardson $500 for 3rd, Darren Berry $300 for 4th with Blurton grabbing $200 for 5th.
Richardson also pocketed and additional $200 for the overall Hard Charger Bonus passing 27 cars for the 4 race event and an additional $100 with a mystery draw of all cars competing all four nights. Ty Williams also picked up an additional $100 for longest tow.
We would like to thank ALL the drivers who participated during the event and all the sponsors who contributed to the bonus money. Also would like to thank John Webster for all he did.
United Rebel Sprint Series
Lexington Raceway
Lexington, NE
Feature:
1. Ty Williams
2. Nick Nichols
3. Stuart Snyder
4. Steven Richardson
5. Zach Blurton
6. Darren Berry
7. Kaden Taylor
8. Terry Richards
9. Keefe Hemel
10. Patrick Bourke
11. Jed Werner
12. Scott Cochran
13. Mike Taylor
14. Nate Berry
15. Tracy Hill
16. Shane Sundquist
17. Howard Van Dyke
18. Aaron Ploussard
19. Craig Jecha DNF
20. JD Johnson DNF
21. Jake Martens DNF
22. Brian Herbert DNF
23. Bob Schaeffer DNF
24. Mark Walinder DNF
Heat Race Winners – Martens, Nichols, Werner