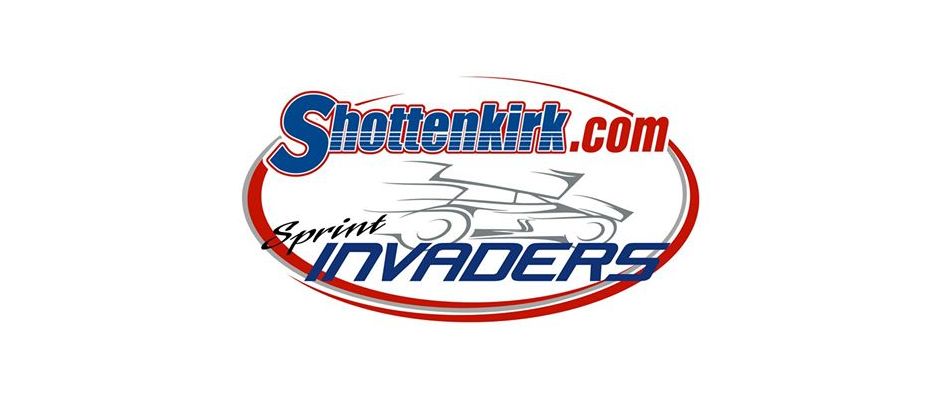 From Bill Wright
TIPTON, Ia. (July 13, 2017) — A thrilling night at the Cedar County Raceway in Tipton, Iowa ended in a last corner pass that gave Ben Wagoner a "nightmare". The "North Pole Nightmare" Bill Balog shot around Wagoner on the final lap to win with the Shottenkirk.com Sprint Invaders Thursday night. The win was all the more impressive in that it came aboard the Scott Bonar #50 machine that was making its debut. It was the first Sprint Invaders win for the seven-time IRA champion from Hartland, Wisconsin, and paid him $1,500.
Jon Agan shot out from the pole to lead early in the 25-lapper. Jamie Ball was on the move from row three, and grabbed second on the third lap. The leaders were in lapped traffic by lap seven on the quarter-mile oval. With rubber beginning to appear on the race surface, lapped traffic would be key.
Ball snatched the lead momentarily on lap nine, but Agan would cruise back to the point in turn two a lap later. Balog shot under Wagoner for third on lap 12. Ball slipped over the turn three cushion and off the track, bringing a caution with 13 laps down. The restart would see Agan leading Balog, Wagoner, Josh Schneiderman and Cody Wehrle back to green flag racing.
Before a lap could be completed, however, the leader got sideways and spun, facing traffic. Schneiderman and Wehrle couldn't avoid him and both tagged the #4 on both sides. Those two careened over the turn four berm and upside down. Neither was injured.
The last caution saw Balog inherit the lead ahead of Wagoner, Harold Pohren, Justin Buchholz and Chris Martin. When the green fell, Wagoner made what appeared to be the move of the race, sneaking under Balog for the lead. He would pull away, running the middle to low groove.
The stage was set for an epic finish. Wagoner took the white flag with a five car length lead. He maintained it down the backstretch, but two lapped cars emerged in three and four. Balog went for broke on the high side, while Wagoner was slowed a bit. Putting two wheels off the track coming for the checkers on the gas, Balog would nip Wagoner for a win that had the large crowd on their feet.
Wagoner was second, ahead of Pohren, Martin and hard-charger Tanner Gebhart. Buchholz, John Schulz, Jarrod Schneiderman, Brayden Gaylord and John Greenwood rounded out the top ten. Wagoner, Josh Schneiderman and Balog won heats, and Balog also won the Shake-up Dash, giving him a sweep of the night.
"It was interesting," said Balog of his first visit to Tipton. "It actually laid rubber about five laps in. It was good racing though, with guys sliding around. It was a great night for Scott and his team on their first night out. Ben Wagoner got me on the last restart, and he was actually getting away a little. Then the car started to come back, and the driver started to come back. We ended up nipping him at the line. It was a good race, and he did a good job."
"The rubber started laying down coming into the corners about halfway through," said Wagoner. "Bill had the top working pretty good, and my only shot was to get below him. Luckily, that worked and right at the end there, I thought I had it. Lapped cars kind of gave me some heck there at the end and he got me right at the line. We couldn't ask for a better night though. We've worked our butts off on this car, and it's been a lot of hard work."
"It was rubber-down racing, but the track got wider and got racy," said Pohren. "When the 4, 49 and 40c got together, I figured I'm here (third). Now how do I stay here? Lapped traffic got Billy back out front, and it was fun. It was fun to watch. I was right up there watching, but we weren't pushing any issues to get involved with it. We needed a good finish like this. We've been running a little bit in Missouri, and trying to get the setup better for this 360."
The next action for the Shottenkirk.com Sprint Invaders will be Tuesday, July 25 at the Dubuque Speedway in Dubuque, Iowa. For more information on the Shottenkirk.com Sprint Invaders, visit www.SprintInvaders.com or follow us on Facebook and Twitter!
Shottenkirk.com A main (started), 25 laps: 1. 50, Bill Balog, Hartland, WI (5) 2. 78, Ben Wagoner, Emden, IL (2) 3. 50P, Harold Pohren, Lowell, IA (6) 4. 44, Chris Martin, Ankeny, IA (13) 5. 81, Tanner Gebhart, Burlington, IA (18) 6. 69, Justin Buchholz, Davenport, IA (10) 7. 99, John Schulz, West Burlington, IA (17) 8. 3G, Jarrod Schneiderman, West Burlington, IA (9) 9. 13, Brayden Gaylord, Wever, IA (11) 10. 1st, John Greenwood, Woodward, IA (8) 11. 5J, Jamie Ball, Knoxville, IA (4) 12. 19, Rob Weuve, Oakland Acres, IA (7) 13. 68, CJ Houseman, Des Moines, IA (15) 14. 83, Dave Getchell, Sperry, IA (21) 15. 98, JC Bland, Springfield, IL (19) 16. 1, Damian Getchell, Sperry, IA (14) 17. 4, Jon Agan, Knoxville, IA (1) 18. 49, Josh Schneiderman, West Burlington, IA (3) 19. 40c, Cody Wehrle, Burlington, IA (12) 20. 9, Daniel Bergquist, Burlington, IA (16) 21. 10T, Tim Moore, Rock Island, IL (20) DNS – 51J, Ryan Jamison, Mediapolis, IA, 9L, Hunter Lane, Milo, IA.. Lap Leaders: Agan 1-8, Ball 9, Agan 10-13, Wagoner 14-24, Balog 25. KSE Hard-charger: Gebhart.
Randall's Performance Heat one (started), Top two to Dash, 8 laps: 1. Ben Wagoner (3) 2. Tim Moore (8) 3. Rob Weuve (6) 4. John Greenwood (7) 5. Chris Martin (1) 6. Ryan Jamison (2) 7. JC Bland (4) 8. Hunter Lane (5)
CenPeCo Lubricants Heat two (started), Top two to Dash, 8 laps: 1. Josh Schneiderman (1) 2. Jon Agan (3) 3. Harold Pohren (2) 4. Brayden Gaylord (5) 5. Cody Wehrle (6) 6. John Schulz (8) 7. Daniel Bergquist (4) 8. Tanner Gebhart (7)
Mohrfeld Electric Heat three (started), Top two to Dash, 8 laps: 1. Bill Balog (3) 2. Jamie Ball (6) 3. Jarrod Schneiderman (7) 4. Justin Buchholz (2) 5. CJ Houseman (1) 6. Damian Getchell (5) 7. Dave Getchell (4)
Budweiser King of Beers – Golden Eagle Distributors Shake-up Dash (started), 6 laps: 1. Bill Balog (4) 2. Jamie Ball (1) 3. Jon Agan (6) 4. Ben Wagoner (2) 5. Josh Schneiderman (3) 6. Tim Moore (5)
Contingencies
Pyrotec – Damian Getchell
Saldana Racing Products – Daniel Bergquist
Kreitz Oval Track Products – Rob Weuve