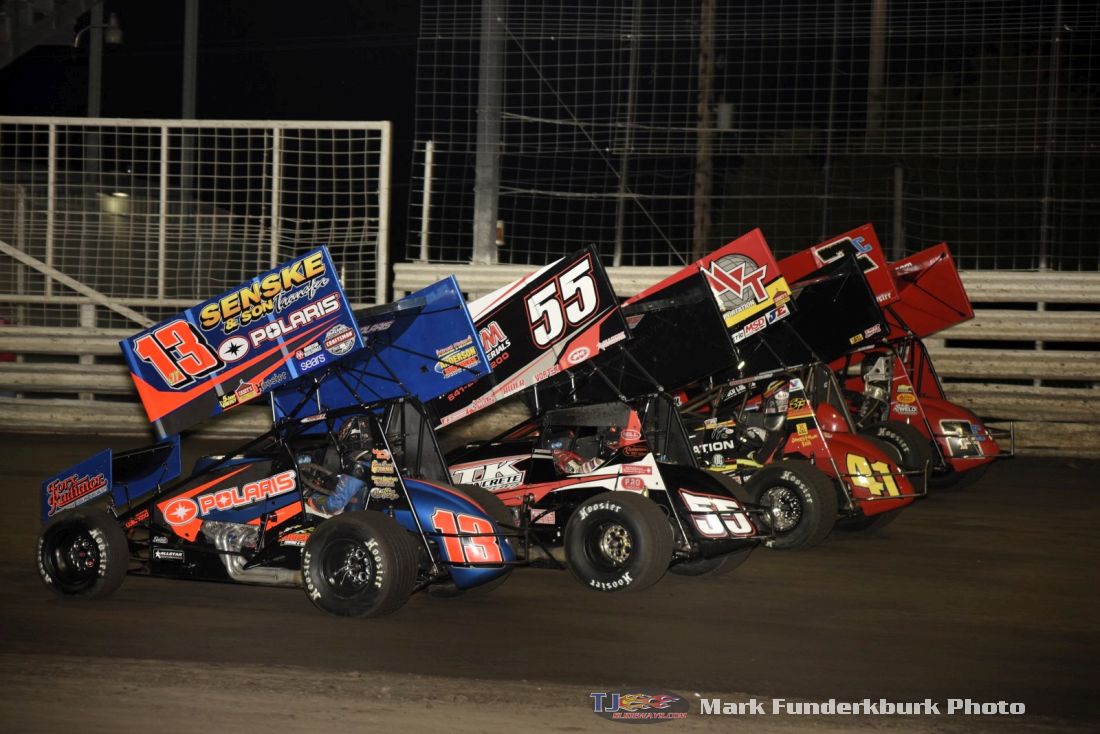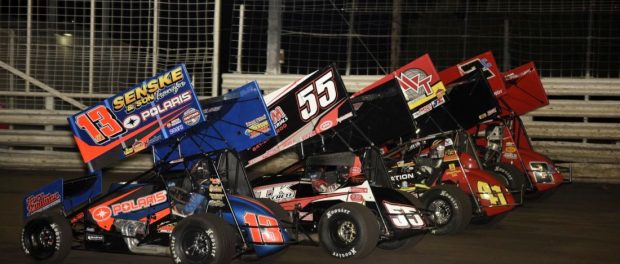 By T.J. Buffenbarger
With two preliminary nights in the books at the 57th Annual 5-Hour ENERGY Knoxville Nationals presented by Casey's General Stores history was made and the storylines continue to evolve as we move towards the "Hard Knox" program on Friday. Here are a few notes from Thursday's program.
More on Gravel's perfect night…
David Gravel becoming the first driver to obtain a perfect score of 500 points during his Knoxville Nationals preliminary night since 1992 was nostalgic because of the way he won the first heat race on Thursday. During Gravel's heat race he drove the CJB Motorsports car with all four wheels over the cushion to the lead. Gravel credited being in an early heat race to be able to run that line
"Running the curb down was an advantage running in the first heat race," said Gravel. "They knocked it way down and it was like running on a brand-new race track with a bunch of grip. So, I just ran it wide open four above it and it was awesome. The third, fourth, fifth heats were not able to do that because the curb built up and it got real rough up there. I was fortunate to be in the first heat race."
From there Gravel and the CJB team used some mechanical knowledge they gained from running a dash during a World of Outlaws event at Knoxville last season that has helped them not only at Knoxville, but other race tracks when starting further back in the field.
"When you have the car way too tight it's impossible to get around now days with these tires. We found something last year here in the dash here last year that got us rolling good. We've been using it when the circumstances come starting three, four, five rows back behind guys. Just able to get the first lap good and it's so important to get off two on all these starts to not get eaten up. We were able to do that all night and it paid off."
Post-race it was still a bit early for Gravel to fully absorb his preliminary night achievement that was last accomplished the same year Gravel was born.
"It's surreal right now honestly," said Gravel. "It's just awesome to win and get up here again. I won in my own car a couple of years ago and just happy to win another race at Knoxville. Starting up front there will be a lot pressure on Saturday, but nobody has done this for a while so hopefully I can enjoy this tonight and hopefully I can have a solid run on Saturday."
Gamesmanship during the start of Thursday's feature…
Mark Dobmeier and Wayne Johnson had some tense moments on track during the multiple attempts to start Thursday's preliminary feature. Dobmeier elaborated on the situation in the post-race press conference.
"Pole sitter sets the pace is the way it's supposed to be. Wayne Johnson, I'll be honest here, he was pulling up a car length ahead of me and trying to get his right front in front of my right front and I stayed contestant where I was at. He was just trying to make it so he could pinch me on the start and I wasn't letting it happen."
For Dobmeier leading early on Thursday's feature eventually turned into a disadvantage that Gravel was able to capitalize on while running in traffic.
"Sometimes running second is the better place to be. I got up front and I knew I had a good car in clean air. It was rockin' and rollin' and as I caught those lapped cars I was a little bit hesitant. I didn't know how close they were and the car was rolling around there pretty good. I should have peeled off, I saw the moisture in one and two. That's obviously where David got me and he found that fast line. I saw it, but I was a little bit hesitant. I didn't feel I was close enough to that lapped car to run across the bottom and come up in front of him. At the end of the day I hesitated a bit and that's what he capitalized on."
Brian Brown's adventure to second position…
Brian Brown's night that eventually ended up in the runner up spot on Thursday was wild enough that it deserved its own story you can read by clicking here.
Other notes:
Australian stand out Jamie Veal has focused his family effort on Knoxville Raceway. That preparation went by the wayside on Thursday though when Veal had engine issues in hot laps. Veal ended up scratching from the event.
Rico Abreu ran into problems before the race event began when the team discovered a broken rear end on the car before hot laps. Abreu's team was able to swap out the rear end and driveline and join a later hot lap session.
Josh Baughman also ran into problems in qualifying with a fuel pump and had to go out at the end of qualifying with only one qualifying lap.
Jeff Swindell was a late entry to the Knoxville Nationals and continued that trend by arriving after the drivers meeting shortly before hot laps. Swindell ended up not firing the car and will try to qualify through Friday's program.
Brent Marks ended up being disqualified due to a nose wing violation after qualifying. After the DQ Marks opted to packed up and will race on Friday.
New Jersey resident and Nationals rookie Kyle Reinhardt made the trip worthwhile making the preliminary feature on Thursday. Taking advantage of a wealth of local knowledge teaming with the VanderEcken race team for Nationals, Reinhardt held off Sammy Swindell for the final transfer spot in his heat race.
One of the wildest moments of the night occurred when Tim Kaeding had a right rear tire let go on the final lap coming off turn four while leading his heat race. Kaeding somehow managed to keep the car out of the fence and held on for second position to transfer to the feature.