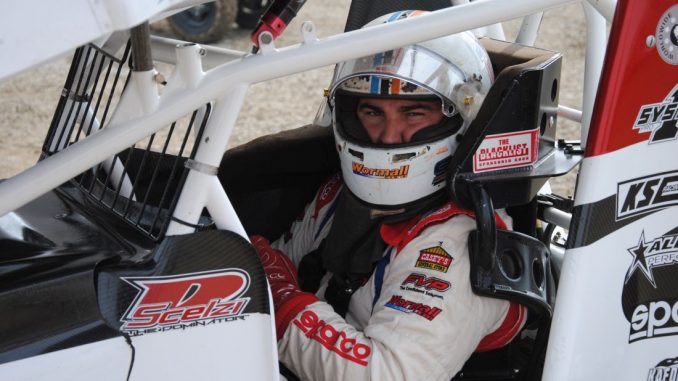 From Inside Line Promotions
KNOXVILLE, Iowa (Aug. 15, 2017) – Dominic Scelzi is all smiles following his first-ever appearance at the 57th annual 5-Hour Energy Knoxville Nationals presented by Casey's General Store.
Scelzi captured the coveted Rookie of the Year Award and he posted his first career top-five result last weekend at Knoxville Raceway during the Speed Sport Challenge event, which featured some of the top drivers from the United States, Canada and Australia.
"I'm really happy with the speed we had," he said. "You can only win that award one time. To be able to do it means the world to me. This was one of those moments that will stick with me for a long time. This is the best year I've had yet and this was another thing to add to it. I'm very thankful for all the people who have supported me throughout the entire year."
The Nationals began for Scelzi and his family owned, Roth Motorsports supported team last Thursday during preliminary competition. Scelzi qualified 22nd quickest out of approximately 50 drivers before he advanced from fourth to second place in a heat race to lock into the 10 th starting position for the A Main.
"We qualified pretty good and we ran good in our heat race," he said. "We were really good in the main event, but we got caught up with Jason Johnson in an early crash. We had a good first corner and got to eighth. I rolled the bottom in turns three and four and saw a car turning down the race track. Before I knew it we were together. It was unfortunate because it took us out of such a good starting position. We restarted in 24 th. It's so hard to pass cars as it is, but we had good restarts and a lot of speed. Had we been able to miss that wreck I think we had a shot at running in the top five."
Scelzi rebounded from the early crash to charge from the back to a 14 th-place result. Once preliminary night points were calculated Scelzi ranked 26th out of more than 100 drivers, which earned him the final lock-in position to Saturday's B Main.
It also made Friday an easier night when he only needed to concentrate on the Speed Sport Challenge, which he started on the outside of the third row.
"We got a really good start and right up to third," he said. "The track was slick and wide. I was running on the bumper of (James) McFadden and Johnson. We ran third the entire race until coming to the white flag when Brad Sweet got us. It was really neat to run that strong at such a prestigious event."
Scelzi's fourth-place result added momentum to the team as it entered the Knoxville Nationals finale on Saturday. Scelzi started the B Main on the outside of the fifth row.
"We gained some positions right away, but I had to check up for another car and got over the cushion," he said. "I fell back a few spots. As the race went we started slowing down. We had some sort of mechanical issue. I went into save mode and was trying to stay out of everyone's way."
Scelzi closed the night with a 16th-place result in the B Main, which was the best finish out of the talented crop of rookies who tackled the event.
Scelzi will take the momentum to North Dakota this weekend as he tackles a World of Outlaws Craftsman Sprint Car Series tripleheader on Friday at River Cities Speedway in Grand Forks; on Saturday at Red River Valley Speedway in West Fargo; and on Sunday at Nodak Speedway in Minot.