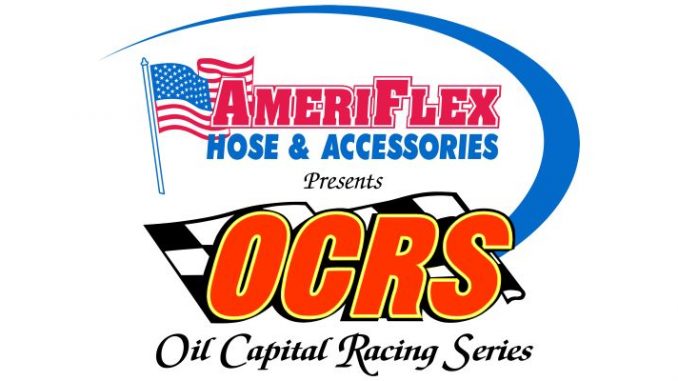 John Lemon
Tulsa Okla. (September 12, 2017) –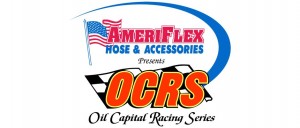 The event has always been held a its birthplace, the Oklahoma Sports Park in Ada Oklahoma. This Saturday night will be the 11th running of this event where star drivers such as points leader Zach Chappell, Sheldon Barksdale, Shane Sellers, Shayla Waddell and Johnny Kent are but just a few that will be looking for their first ever OSC title.
Those drivers will find that earning their first trophy at this event will be cumbersome as they have some formidable competition who have notched a victory in this race as well as others. Former OSC winners that are expected to be looking for another win on Saturday are:
3-time winner Whit Gastineau (2015, 2010 & 2012), last years winner Robert Sellers and the 2011 winner, Gary Owens. Other drivers that have graced victory lane include the initial victor, Mike Goodman (2007), Danny Smith (2008), Andy Shouse (2009), Danny Jennings (2013) and Fred Mattox in 2014.
Chappell, who is looking for his first Ameri-Flex / OCRS championship, comes into this weekend's race as the series points leader. Shane Sellers, the early season leader, sits just 67 points back with Barksdale a mere 58 markers behind Sellers. With five events still on the docket for the 2017 racing season, there is no time to play 'not to lose' as the driver with the best performance of these events coming up could well be the 2017 series champion.
NUTZ n' BOLTZ
Lap Bux Part Deux
Lap sponsors are currently being sought for the October 7th event at the Enid Speedway. The first 24 laps are going for $100 each with the 25th and final lap set at $250. At press time, one-third of the laps have been spoken for. If you would like to participate in this event by being a lap sponsor for the series return to the Enid Speedway, contact John Lemon at (918) 850.5341 or Sam Seager at (580) 541.2559 for details.
First Year Pilots Impress
There have been a few younger drivers make their presence known this season that have looked impressive. There is Noah Gass, the youngest of the group. Gass has ran with the series for the better part of the season making all but 2 shows. He started the year with a motor that wasn't the strongest on power, but was good enough to learn with. He did well for what he had to work with and he now has a stronger hammer to pound away with. Keep an eye on the youngster.
Bailey and Jaiden Hughes have only made a couple of shows each with the series but have ran several races at the Creek County Speedway. They have garnered attention of many with their hustling style of racing often running wheel to wheel with those that possess several more laps under their belts and they are only getting better. These gals aren't just there to fill fields, they smash the loud pedal.
The newest of the lot is Noah Harris who like the others, has moved up from the micro ranks. Harris has only made 4 starts in a sprint car as the team just purchased a car that was formerly driven by Brandon James. Harris went from 14th to 7th in his very first start and showed some flashes of skilled driving at the recently completed non-wing show at Creek County. The series is looking forward to his debut in the potential near future. Young man looks like he will succeed quite well.
Red Dirt Salute Looming
Cody and Ken Brewer will host the Ameri-Flex / OCRS series at their Red Dirt Raceway on Sunday October 8th. The event will be a special one as the track will salute the former Oklahoma City State Fair Speedway that closed after the 2009 season. Plans are in the works to have open wheel cars on display and drivers from the glory years on hand prior to the 4pm start time for an autograph session for the fans. More details will be announced as they become available so stay tuned.
305's vs. Champ Sprints
The Enid / Red Dirt doubleheader is also an invitation for the 305 sprint car teams to race with the Ameri-Flex / OCRS sprints. There have been inquiries during the year from some 305 teams to race in the series. After some thought, the series has decided to offer the invitation to the 305 teams for this doubleheader weekend only. The 305 sprints must don the 3×5 wing to compete. The 305's can run either their Racesaver tire or the series approved Hoosier tires. The 305 sprints may also lower their weight to 1500 pounds if they wish. Motors must run legal according to their rule packages.
Here is your itinerary for this weeks event for the 11th Annual Oklahoma State Championship:
What: Ameri-Flex / OCRS Sprint Cars (11th Annual Oklahoma State Championship)
Where: Oklahoma Sports Park / Ada Oklahoma
When: Saturday September 16, 2017
Time: Main Gates Open 5pm / Hot laps 7pm / Racing 7:30pm (Ameri-Flex / OCRS drivers meeting at 6:30pm)
Tickets: Adults: $15 / Seniors & Kids 11-15: $13 / 10yrs & Under Free / Pit Pass: $30
Oklahoma Sports Park is home to a 4/10-mile clay oval track and is located just 10 miles northwest of Ada, Oklahoma on state highway 3W.
Track Phone: 580-332-5535 / Promoters Phone: 580-332-5383
Track website: www.oklahomasportspark.com