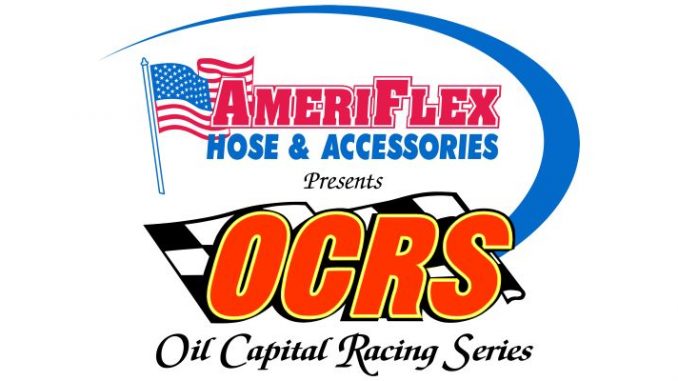 From OCRS
TULSA, Ok. (January 21, 2018) – The AMERI-FLEX / OCRS sprint car series is pleased to announce that the purse for the 4th Annual Harold Leep Classic presented by Carter-Maxwell has been increased since the 2018 racing schedule was released last month. The total available payout for this special race has now reached an all time high of $14,700 for an event that honors a well respected Hall of Fame racer. The 2-day event will be held on June 22-23 at the historic 1/2-mile oval of the Thunderbird Speedway in Muskogee Oklahoma.
The winner will pocket $2,000 while the runner-up will rake in $1,000 of their own. The main event will also pay a minimum of $400 to start the race. To raise the bar even higher, the first 10 drivers that do not qualify for the main event from the last chance races will collect DOUBLE the normal pay for such a finish. Drivers must compete both nights to qualify for this special pay scale. Any driver competing on day two only will earn the standard single event pay scale.
The sprint cars will conduct "Time Trials" on Friday night with each driver getting 2 laps on the clock. The best lap of the two will be their official qualifying time. Drivers will earn points for their time trial results. They will then compete in heat races and a set of "qualifiers". As with the time trials, points will be awarded for the heat races and the qualifier races. A set number of drivers will be locked into the Saturday night feature race while the balance of the field will contest in the Last Chance races to make the main event. The number of locked-in cars will be determined by the number of cars that sign in for the event.
The race format for the AMERI-FLEX / OCRS sprint cars will be as follows:
Friday June 22: Time Trials, Heat Races and Qualifiers
Saturday June 23: Last Chance Races and the A-Feature finale.
The speedway will also run A-Mods, B-Mods, Super Stocks and Pure Stocks on the program. As with the sprint cars, those classes will run their qualifying races on Friday with the Last Chance races and their A-Features on Saturday night as well.
The series wishes to express our sincere gratitude to David Grace and the staff at Carter-Maxwell for their support in making the Harold Leep Classic presented by Carter-Maxwell the special event it has become. We also wish to thank Shane Carson for his assistance in putting this package together and to the staff of the Thunderbird Speedway for hosting this race in the town that Harold resided in as well as once having been the promoter of the speedway in years past with his wife Geri.