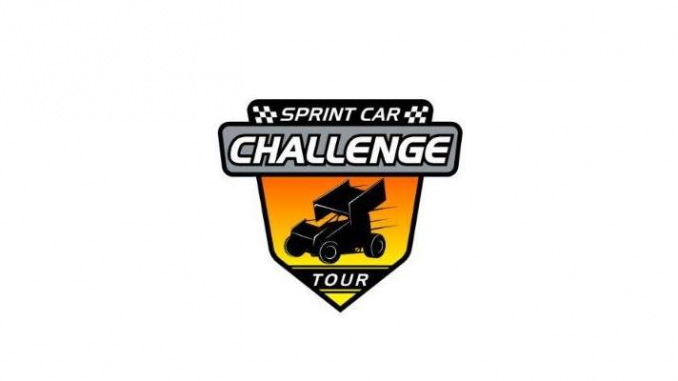 From Gary Thomas
PLACERVILLE, Ca. (March 20, 2018) – Debuting with rave reviews last season the Sprint Car Challenge Tour is happy to bring back the popular Kids Dash for Cash in 2018. Last year over $6,000 was raised for the Kids Dash and the hope is to match or even exceed that number this season.
Numerous sponsors have already lent their support for various events, but we are still searching to add onto each night. If you are interested in becoming a sponsor of the Kids Dash for Cash, contact Gary Thomas or Janet Larson or simply find them at the track. Sponsors for next weekend's opener at Placerville Speedway include Dennis Partlow Jr., Mancamp Motorsports and CLT Logging. A total of $300 will be given out to the young ones on March 31.
"This is definitely a fun part of the evening for all the families that attend our Sprint Car Challenge Tour events," commented Scott Russell of Russell Motorsports Inc. "It's no secret that the fan base continues to age, so getting these kids excited about sprint car racing early on is an important thing. We have a great group of the racers in Northern California and building that fan interaction is something we're going to continue focusing on."
The Sprint Car Challenge Tour Kids Dash for Cash works as follows: Each night a limited number of kids, ages four to ten, will have the opportunity to grab some coin during the event! At a specified time during the night a minimum of 4000 nickels will be dropped and the youngsters will have a chance to pick up and keep as many coins as they can.
SCCT team members will have wrist bands available at a pre-designated area early in the night and the kids that acquire them will be allowed to participate. The hope is to have a different set of children at each race, allowing everyone an opportunity to participate throughout the year.
Monster Energy NASCAR Cup Series driver and sprint car enthusiast Kyle Larson spoke about the Kids Dash for Cash and the opportunity it presents. "I definitely feel that the best thing short track racing can do is find ways to get kids more involved. We need to continue building the next generation of fans and the best way to do that is to incorporate the young ones into the show as much as possible. My mom Janet heard of this nickel toss while at I-55 Raceway in Pevely, Missouri and thought it may be cool to try in California."
The SCCT Kids Dash for Cash is made possible thanks to several individuals and companies that have come on board once again to support it. Each child participating will also receive a custom water bottle courtesy of Light up the World Beverages. Light up the World Beverages bottles are great for birthday parties, gender reveal parties and any type of special event or celebration. To learn more about the unique company that is rapidly gaining steam visit them at https://www.lutwb.com/