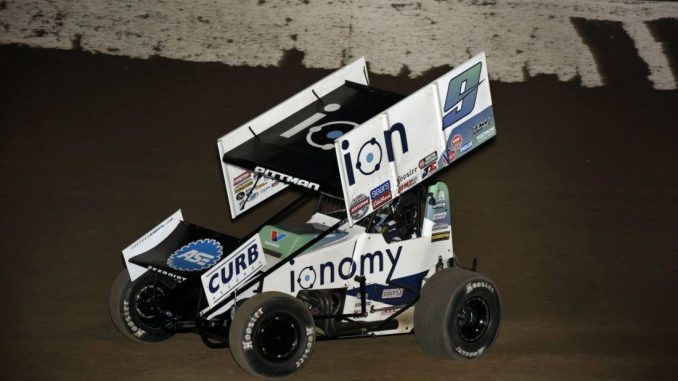 MESQUITE, Texas (April 27, 2018) — After failing to have a top five finish during the 2018 season Daryn Pittman has now won three of the last four World of Outlaws Craftsman Sprint Car Series features.
Pittman's victory Friday at Devil's Bowl Speedway came from efficiently managing slower traffic and a timely caution.
"This car is a lot of fun to drive right now. What a corner we've turned with this team and the season is long. Just excited for the progress this Ionomy team has made," said Pittman. "From the way we stated to really just the last two weeks we've gone from the lowest of lows and struggling to see if I can still drive these things to being a pleasure to get behind the wheel the past couple of nights and compete for the wins."
Pittman led the first half of the main event. As slower traffic came into play Pittman found himself under pressure from Jason Johnson for the lead. Johnson had caught and passed Pittman for the lead until a caution at the halfway point put Pittman back to the lead and showed where the fast line was on the top of the track.
For Pittman the caution was extremely timely.
Jason (Johnson) is really good here. He's raced here than probably more everyone," said Pittman. "I knew the track was going to go to the top. I figured that's where it was going to be won, but I didn't think it would be lap two that we had to be up there. The first lap I just did what we did in the dash and it didn't feel that great. Then went through one and two on the second lap he not only passed us, but he put 20 cars lenths on us down the backstretch. I think the race is over at that point the yellow didn't come out."
Over the second half of the feature Pittman was content to drive the cushion and make someone pass him on the inside, which did not happen as he cruised to the win. Logan Schuchart held off Johnson for the second spot. Donny Schatz and Brad Sweet rounded out the top five.
World of Outlaws Craftsman Sprint Car Series
Devil's Bowl Speedway
Mesquite, TX
Friday April 27, 2018
Feature: 1. 9 – Daryn Pittman, 2. 1S – Logan Schuchart, 3. 41 – Jason Johnson, 4. 15 – Donny Schatz, 5. 49 – Brad Sweet, 6. 4K – Kasey Kahne, 7. 18 – Ian Madsen, 8. 5 – David Gravel, 9. 17 – Sheldon Haudenschild, 10. 2 – Shane Stewart, 11. 19 – Brent Marks, 12. 83 – Cory Eliason, 13. 45 – Paul McMahan, 14. 11K – Kraig Kinser, 15. W20 – Greg Wilson, 16. 7S – Jason Sides, 17. 1A – Jacob Allen, 18. 13 – Clyde Knipp, 19. 67K – Tucker Klaasmeyer, 20. 67 – Ryan Robinson, 21. 17G – Channin Tankersley, 22. 00 – Dane Lorenc, 23. 12W – Dale Wester.