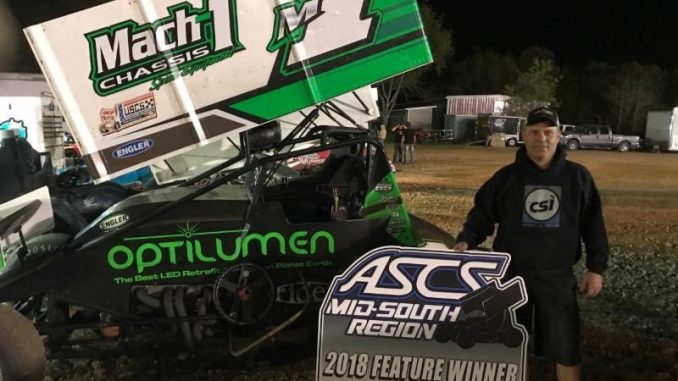 From Bryan Hulbert
HOHENWALD, Tenn. (April 28, 2018) – On the road to shake down his car before the Lucas Oil American Sprint Car Series presented by Sawblade.com heads for Pennsylvania, Mark Smith picked up a cool $2,000 at Tennessee National Raceway with the ASCS Mid-South Region on Saturday night.
The debut of the ASCS Mid-South Region at the Tennessee National Raceway, Smith worked through a Heat and Qualifier format to position the Optilumen LED Lighting No. M1 on the pole of the night's 25-lap feature event. Chased by Blake Hahn, the Griffith Truck and Equipment No. 52 grabbed the lead for a moment in the early laps, but would be shuffled back to second as the caution flew.
Unchallenged from there, Smith clicked off the 25th lap a half straightaway ahead of the field.
Blake Hahn would hold onto to finish second with Johnny Herrera moving to the final podium step after starting sixth. Moving up from 10th, Cody Gardner claimed fourth with Brian Bell scoring the Stealth Recovery Hard Charger of the Night with a run from 15th to fifth.
Harli White crossed sixth with Ernie Ainsworth seventh. Howard Moore, Justin Webb, and Curt Terrell made up the night's top-ten.
The ASCS Mid-South Region rolls again on Saturday, May 12 with the Lucas Oil American Sprint Car Series presented by Sawblade.com at I-30 Speedway in Little Rock, Ark.
For other news, notes, and information on the American Sprint Car Series, from the National Tour to any of the Regional Tours that make up the over 150 across the ASCS Nation in 2018, log onto http://www.ascsracing.com, follow on Facebook, on Instagram, and on Twitter (@LucasOilASCS).
Race Results:
ASCS Mid-South Region
Tennessee National Raceway – Hohenwald, Tenn.
Saturday, April 28, 2018
Car Count: 17
Heat 1 (8 Laps): 1. M1-Mark Smith, [1]; 2. 40-Howard Moore, [4]; 3. 88R-Cody Gardner, [3]; 4. 21B-Brandon Hinkle, [2]; 5. 17W-Harli White, [7]; 6. (DNF) 15J-Jeremy Middleton, [6]; 7. (DNF) 23B-Brian Bell, [5]; 8. (DNF) 21K-Kevin Hinkle, [8]; 9. (DNF) 14B-Bo Barber, [9]
Heat 2 (8 Laps): 1. 52-Blake Hahn, [2]; 2. 84-Brandon Hanks, [3]; 3. 2H-Wally Henson, [1]; 4. 8Z-Zach Pringle, [6]; 5. 45X-Johnny Herrera, [5]; 6. 91A-Ernie Ainsworth, [4]; 7. 31W-Justin Webb, [7]; 8. 27-Curt Terrell, [8]
Qualifier 1 (8 Laps): 1. 15J-Jeremy Middleton, [1]; 2. M1-Mark Smith, [5]; 3. 52-Blake Hahn, [6]; 4. 8Z-Zach Pringle, [4]; 5. 21B-Brandon Hinkle, [2]; 6. 31W-Justin Webb, [7]; 7. 2H-Wally Henson, [3]; (DNS) 21K-Kevin Hinkle, ; (DNS) 14B-Bo Barber,
Qualifier 2 (8 Laps): 1. 17W-Harli White, [3]; 2. 45X-Johnny Herrera, [2]; 3. 91A-Ernie Ainsworth, [1]; 4. 40-Howard Moore, [6]; 5. 27-Curt Terrell, [8]; 6. 84-Brandon Hanks, [5]; 7. 88R-Cody Gardner, [4]; 8. (DNF) 23B-Brian Bell, [7]
A Feature (25 Laps): 1. M1-Mark Smith, [1]; 2. 52-Blake Hahn, [2]; 3. 45X-Johnny Herrera, [6]; 4. 88R-Cody Gardner, [10]; 5. 23B-Brian Bell, [15]; 6. 17W-Harli White, [3]; 7. 91A-Ernie Ainsworth, [8]; 8. 40-Howard Moore, [4]; 9. 31W-Justin Webb, [13]; 10. 27-Curt Terrell, [11]; 11. 2H-Wally Henson, [12]; 12. 15J-Jeremy Middleton, [14]; 13. 14B-Bo Barber, [17]; 14. 21K-Kevin Hinkle, [16]; 15. 21B-Brandon Hinkle, [9]; 16. 84-Brandon Hanks, [7]; 17. 8Z-Zach Pringle, [5]