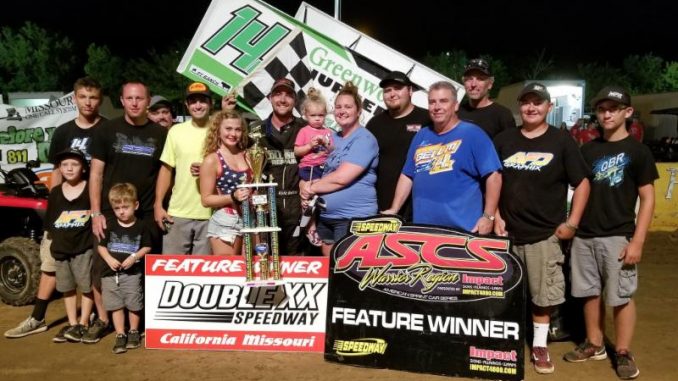 From Bryan Hulbert
CALIFORNIA, Mo. (July 1, 2018) Taking on Double X Speedway to cap off the three-night Red, White, and Blue Tour, Nixa's Kyle Bellm bested a field of 21 for a Sunday night prize of $1,776 with the Speedway Motors ASCS Warrior Region presented by Impact Signs, Awnings, and Wraps.
Bellm's second ASCS Warrior Region win at the quarter-mile oval this season, the triumph brings his overall win total with the Missouri based Sprint Car series to six.
Battling close with Tyler Blank, the Blanks Backhoe No. 75 hit the line first for 17 laps. Working through traffic on Lap 18 however, the advantage would swing to Bellm's Greenworks Nursery No. 14k with Kyle leading the remainder of the A-Feature.
Tyler Blank would have to settle for second with Tony Bruce, Jr. advancing to the final podium step with Evan Martin crossing fourth. Completing the top-five, Miles Paulus picked his second $200 pre-paid Visa Gift Card of the weekend from Valley Park Retirement Living and Chad Griggs as the night's Hard Charger.
Cody Baker sixth had Mathew Howard following with Ayrton Gennetten eighth and Ben Brown in ninth. Slowing to a stop while working Lap 8, Jonathan Cornell came back from the tail to complete the top-ten.
For other news, notes, and information on the American Sprint Car Series, from the National Tour to any of the Regional Tours that make up the nearly 150 races across the ASCS Nation in 2018, log onto http://www.ascsracing.com, follow on Facebook, on Instagram, and on Twitter (@LucasOilASCS).
Race Results:
ASCS Warrior Region
Double X Speedway – California, Mo.
Sunday, July 1, 2018
Heat 1 (8 Laps): 1. 3V-Tyler Utz, [1]; 2. 49B-Ben Brown, [2]; 3. 14K-Kyle Bellm, [3]; 4. 21-Miles Paulus, [4]; 5. 98-J.C. Bland, [5]; 6. 22-Nathan Benson, [7]; 7. (DNF) 75E-Broc Elliott, [6]
Heat 2 (8 Laps): 1. 37H-Matthew Howard, [2]; 2. 4-Evan Martin, [1]; 3. 38-Cody Baker, [3]; 4. 27-Danny Thoman, [4]; 5. 3-Ayrton Gennetten, [6]; 6. 99-Bailey Elliott, [5]; 7. (DNF) 82-Christie Thomason, [7]
Heat 3 (8 Laps): 1. 43-Frank Brown, [4]; 2. 75-Tyler Blank, [6]; 3. 28-Jonathan Cornell, [3]; 4. 86-Tony Bruce, [7]; 5. 6A-Aidan Roosevans, [5]; 6. 8-Jeff Wingate, [1]; 7. 37-Brian Beebe, [2]
A Feature (25 Laps): 1. 14K-Kyle Bellm, [1]; 2. 75-Tyler Blank, [2]; 3. 86-Tony Bruce, [4]; 4. 4-Evan Martin, [5]; 5. 21-Miles Paulus, [11]; 6. 38-Cody Baker, [9]; 7. 37H-Matthew Howard, [7]; 8. 3-Ayrton Gennetten, [13]; 9. 49B-Ben Brown, [3]; 10. 28-Jonathan Cornell, [10]; 11. 3V-Tyler Utz, [6]; 12. 27-Danny Thoman, [12]; 13. 6A-Aidan Roosevans, [15]; 14. 43-Frank Brown, [8]; 15. 98-J.C. Bland, [14]; 16. 22-Nathan Benson, [16]; 17. 8-Jeff Wingate, [20]; 18. 75E-Broc Elliott, [21]; 19. 82-Christie Thomason, [18]; 20. (DNF) 99-Bailey Elliott, [17]; 21. (DNF) 37-Brian Beebe, [19]