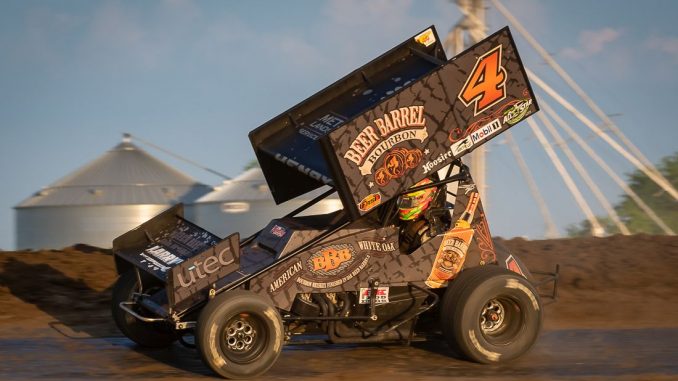 From Brian Liskai
FREMONT, Ohio – Jamie Miller made history at Fremont Speedway Saturday, Aug. 4. The Fremont, Ohio driver continued his streak in the 305 sprints, winning his fifth straight feature on Finish Line Race Fuels/Kear's Speed Shop Night. But he wasn't done. He also won his very first late model feature and wrapped up the night taking his first ever dirt truck feature win. Miller became the first driver in the 67 year history of "The Track That Action Built" to win three features on one night in three different race vehicles.
Miller run to history started in the late model A-main as he took the lead on lap five and drove away to the victory. He followed that by holding off Seth Schneider for the 305 sprint victory, his third division win in as many nights as he won Thursday at Atomic Speedway in Chillicothe, Friday at Limaland Speedway in Lima, Ohio and Saturday at Fremont. Miller now has 10 feature wins in 2018 in the 305 sprint division. Miller led all 20 laps of the dirt truck A-main for his 19th career Fremont Speedway victory.
"If someone calls me for a 410 ride I'm always game," Miller joked in the Engine Pro Victory Lane after wrapping up the dirt truck win. "Dan Roepke drug this truck out of the weeds Sunday and got all the acorns out of the headers and said it's good to go. This is unbelievable to me…it still hasn't set in that I just did this. This is a pretty difficult task and I put myself in all the right places tonight and got to start in good spots."
In the late model feature, Miller nearly captured the win the previous week but a fuel pump issue in the closing laps prevented that win.
"Steve Sabo and Joe Bradford give me a hell of a good race car. Jimmy Kear helped me the last couple of weeks getting it set up and it showed. These late models are completely different than a sprint car. Everything this late model does is completely opposite of what you want a sprint car to do," said Miller beside his Fostoria Mod Shop backed machine.
Miller could be the hottest 305 sprint driver in the nation but Seth Schneider made him earn the win Saturday.
"I was too patient in lapped traffic. I should have driven the car a little harder…I could have driven around those guys. The car is working so good. I got 13 wins one year so I have some work to do," he said of his Sonic Hauling, Fostoria Mod Shop, Phil Rister Racing, NAPA of Attica, Reedtown Tavern, Branham Builders, Crown Battery, Avon by Angie, Sparting Underground backed machine.
Republic, Ohio's Cap Henry led all 30 laps of the Fort Ball Pizza Palace 410 sprint feature for his second straight victory, the sixth of his career at Fremont Speedway. Henry came into the night third in the point standings for the All Pro Aluminum Cylinder Heads FAST 410 Championship Series Presented by Ohio Logistics. He gained little ground though on leader Craig Mintz as Mintz finished second in the feature event.
"I think we kind of figured something out here. One thing I learned driving that 82 car last year was I have to be mentally strong. I kept having to repeat that to myself with five to go. Luckily I had Guy letting me know I had a lead and I could kind of calm down. I still about spun out on the white flag lap getting into three. I can't thank this Lane family enough….they work really hard. Normally I struggle bad at this place so this is pretty cool," said Henry beside his Beer Barrel Bourbon, Metropolitan Landscaping, UTEC, Geck Electric, Wings Unlimited backed sprint car.
Kelsey Ivy and Henry brought the field to green for the 30-lap 410 A-main with Henry gaining the advantage as third starter Craig Mintz slipped into second with Ivy, Tyler Gunn, Chris Andrews and Rob Chaney giving chase. Action ground to a half with four laps in when Nate Dussel took a tumble in turn two. On the restart Mintz pressured Henry for a couple of laps with Gunn battling with Andrews and Chaney for third.
Following a caution for Duane Zablocki with 14 laps scored, the running order was Henry, Mintz, Gunn, Chaney, a charging Byron Reed, Andrews, Brubaker, Ivy and Cody Bova. When the race went back to green Henry flew to a 1.5 second lead by lap 18 over Mintz, Gunn and Reed. However, lapped traffic caused Henry's lead to evaporate with eight to go as Mintz closed quickly while Gunn and Reed were locked in a torrid battle for third. One cleared of traffic with four laps to go Henry increased lead 1.5 seconds once again and drove to the win over Mintz, Reed, Gunn and Chaney.
In the 25 lap Fremont Federal Credit Union 305 A-main Brandon Moore and Seth Schneider brought the field to green with Moore gaining the advantage over Schneider, miller, John Ivy, Alvin Roepke and Jimmy McGrath. Schneider slid into the top spot on lap two and Miller grabbed second two circuits later just as the caution flew for a Tad Peck spin. Two laps after going back to green Miller got under Schneider in turn two and grabbed the lead.
Peck brought out the caution again on lap 13 and on the restart Schneider kept pace with Miller as Roepke took third. Miller built his lead to two seconds with seven to go but heavy lapped traffic soon wiped that out as Schneider closed quickly with just five circuits left. As they raced to the white flag Schneider was taking a peak to Miller's outside. Miller was able to drive around the lapped car and drove to the win over Schneider, Roepke, Moore and John Ivy.
In the McCullough Industries Late Model A-main John Mayes grabbed the early lead from his pole starting position with third starting Miller taking second. Mayes and Miller raced side by side over the first five laps of the feature with Miller grabbing the top spot on lap five. The only caution flew with three laps to go but Miller was too strong and pulled away on the restart to take the win over Mayes, Steve Sabo, Dustin Keegan and Jay King.
Eric Devanna and Miller set the front row of the 20-lap Burmeister Trophy Dirt Truck A-main with Miller grabbing the early lead. Several cautions plagued the first seven laps of the feature. By lap seven Miller had his hands full with Keith Sorg as Devanna, Jeff Ward, Jim Holcomb and Zeth Sabo battled hard for third. Miller and Sorg literally ran side by side for seven laps before Miller began to inch away.
Miller hit his marks perfectly and took the checkers over Sorg, Ward, Holcomb and Devanna.
Fremont Speedway will not be in action next two weeks, but helps kick off the Sandusky County Fair on Tuesday, Aug. 21 with the 305 sprints in action with a special purse.
For more information go to www.fremontohspeedway.com or on Facebook at www.facebook.com/FremontSpeedway or on Twitter https://twitter.com/FremontSpeedway.
Fremont Speedway
Saturday, Aug. 4, 2018
Finish Line Race Fuels/Kear's Speed Shop Night
Starting position -[*]
410 Sprints – Fort Ball Pizza Palace
Qualifying
1.35-Stuart Brubaker, 12.574; 2.68G-Tyler Gunn, 12.733; 3.83-Rob Chaney, 12.742; 4.5-Byron Reed, 12.765; 5.23-DJ Foos, 12.814; 6.22M-Dan McCarron, 12.888; 7.09-Craig Mintz, 12.918; 8.4H-Cap Henry, 12.939; 9.20I-Kelsey Ivy, 12.961; 10.8J-Jess Stiger, 12.989; 11.9Z-Duane Zablocki, 13.017; 12.16-Chris Andrews, 13.138; 13.4T-Tracy Hines, 13.147; 14.20B-Cody Bova, 13.174; 15.3T-Tony Beaber, 13.362; 16.1-Nate Dussel, 13.363; 17.5K-Adam Kekich, 13.861; 18.96AU-Bruce White, 13.949; 19.2+-Brian Smith, 28.999;
Heat 1 (8 Laps)
1. 09-Craig Mintz[2] ; 2. 35-Stuart Brubaker[4] ; 3. 8J-Jess Stiger[1] ; 4. 5-Byron Reed[3] ; 5. 1-Nate Dussel[6] ; 6. 4T-Tracy Hines[5] ; 7. 2+-Brian Smith[7]
Heat 2 (8 Laps)
1. 4H-Cap Henry[2] ; 2. 68G-Tyler Gunn[4] ; 3. 9Z-Duane Zablocki[1] ; 4. 23-DJ Foos[3] ; 5. 20B-Cody Bova[5]
Heat 3 (8 Laps)
1. 16-Chris Andrews[1] ; 2. 83-Rob Chaney[4] ; 3. 20I-Kelsey Ivy[2] ; 4. 22M-Dan McCarron[3] ; 5. 3T-Tony Beaber[5] ; 6. 96AU-Bruce White[6]
A-Main 1 (30 Laps)
1. 4H-Cap Henry[2] ; 2. 09-Craig Mintz[3] ; 3. 5-Byron Reed[10] ; 4. 68G-Tyler Gunn[5] ; 5. 83-Rob Chaney[4] ; 6. 16-Chris Andrews[7] ; 7. 35-Stuart Brubaker[6] ; 8. 20B-Cody Bova[14] ; 9. 4T-Tracy Hines[16] ; 10. 8J-Jess Stiger[8] ; 11. 20I-Kelsey Ivy[1] ; 12. 3T-Tony Beaber[15] ; 13. 22M-Dan McCarron[12] ; 14. 2+-Brian Smith[18] ; 15. 96AU-Bruce White[17] ; 16. 9Z-Duane Zablocki[9] ; 17. 1-Nate Dussel[13] ; 18. 23-DJ Foos[11]
Hard Charger: 5-Byron Reed +7
305 Sprints – Fremont Federal Credit Union
Qualifying
1.4*-Tyler Street, 13.666; 2.77I-John Ivy, 13.698; 3.99-Alvin Roepke, 13.805; 4.46AU-Stuart Williams, 13.887; 5.26-Jamie Miller, 13.905; 6.5JR-Jimmy McGrath Jr, 13.927; 7.97-Kyle Peters, 13.929; 8.36-Seth Schneider, 13.947; 9.7M-Brandon Moore, 13.984; 10.8-Bobby Clark, 14.012; 11.25-Jason Keckler, 14.045; 12.11G-Luke Griffith, 14.094; 13.19R-Steve Rando, 14.121; 14.47-Matt Lucius, 14.157; 15.4T-Jim Taddeo, 14.275; 16.09-Justin Adams, 14.356; 17.75-Jerry Dahms, 14.456; 18.12-Kyle Capodice, 14.626; 19.X-Mike Keegan, 14.661; 20.73-Joe Armbruster, 14.814; 21.28-Tad Peck, 15.315; 22.1J-Jeremy Shambaugh, 15.923; 23.X15-Kasey Ziebold, 16.262;
Heat 1, Group A – (8 Laps)
1. 36-Seth Schneider[2] ; 2. 5JR-Jimmy McGrath Jr[3] ; 3. 25-Jason Keckler[1] ; 4. 4*-Tyler Street[4] ; 5. 11G-Luke Griffith[5] ; 6. 28-Tad Peck[7] ; 7. 1J-Jeremy Shambaugh[8] ; 8. 47-Matt Lucius[6]
Heat 2, Group B – (8 Laps)
1. 26-Jamie Miller[2] ; 2. 7M-Brandon Moore[1] ; 3. 99-Alvin Roepke[4] ; 4. 19R-Steve Rando[6] ; 5. 8-Bobby Clark[5] ; 6. 46AU-Stuart Williams[3] ; 7. 4T-Jim Taddeo[7] ; 8. X-Mike Keegan[8]
Heat 3, Group C – (8 Laps)
1. 77I-John Ivy[4] ; 2. 09-Justin Adams[2] ; 3. 75-Jerry Dahms[1] ; 4. 12-Kyle Capodice[5] ; 5. 97-Kyle Peters[3] ; 6. 73-Joe Armbruster[6] ; 7. X15-Kasey Ziebold[7]
A-Main 1 – (25 Laps)
1. 26-Jamie Miller[4] ; 2. 36-Seth Schneider[2] ; 3. 99-Alvin Roepke[5] ; 4. 7M-Brandon Moore[1] ; 5. 77I-John Ivy[6] ; 6. 4*-Tyler Street[10] ; 7. 5JR-Jimmy McGrath Jr[3] ; 8. 12-Kyle Capodice[12] ; 9. 46AU-Stuart Williams[17] ; 10. 25-Jason Keckler[8] ; 11. 97-Kyle Peters[15] ; 12. 09-Justin Adams[7] ; 13. 19R-Steve Rando[11] ; 14. 8-Bobby Clark[14] ; 15. 11G-Luke Griffith[13] ; 16. 4T-Jim Taddeo[20] ; 17. 73-Joe Armbruster[18] ; 18. 47-Matt Lucius[22] ; 19. X-Mike Keegan[23] ; 20. 1J-Jeremy Shambaugh[19] ; 21. X15-Kasey Ziebold[21] ; 22. 75-Jerry Dahms[9] ; 23. 28-Tad Peck[16]
Hard Charger: 46AU-Stuart Williams +8
Dirt Trucks – Burmeister Trophy
Heat 1 (8 Laps)
1. 5s-Brad Stuckey[1] ; 2. 1H-Zeth Sabo[2] ; 3. 32-Kevin Phillips[4] ; 4. 4s-Keith Sorg[8] ; 5. 9-Curt Inks[3] ; 6. 2-Jimmy McGrath Jr[6] ; 7. 83-Noah Wagner[7] ; 8. 99-Gene Potridge[5]
Heat 2 (8 Laps)
1. 88-Jamie Miller[1] ; 2. 36M-Cory Mccaughey[6] ; 3. 16-Jim Holcomb[4] ; 4. 37-Eric DeVanna[8] ; 5. 49X-Brad Keckler[2] ; 6. 22-Brandon Leighton[5] ; 7. 32H-Dan Hennig[3] ; 8. 26-Kyle Lagrou[7]
Heat 3 (8 Laps)
1. 33-Jeff Ward[7] ; 2. 23m-Brad Mitten[4] ; 3. 67-Ben Clapp[1] ; 4. 7f-Dana Frey[6] ; 5. 17x-Dustin Keegan[5] ; 6. P51-Paul Brown JR[3] ; 7. 11-Austin Gibson[2]
A-Main 1 (20 Laps)
1. 88-Jamie Miller[2] ; 2. 4s-Keith Sorg[5] ; 3. 33-Jeff Ward[12] ; 4. 16-Jim Holcomb[10] ; 5. 37-Eric DeVanna[1] ; 6. 1H-Zeth Sabo[3] ; 7. 23m-Brad Mitten[8] ; 8. 2-Jimmy McGrath Jr[16] ; 9. 22-Brandon Leighton[17] ; 10. 32-Kevin Phillips[9] ; 11. 17x-Dustin Keegan[15] ; 12. 99-Gene Potridge[22] ; 13. 83-Noah Wagner[19] ; 14. 32H-Dan Hennig[20] ; 15. 5s-Brad Stuckey[6] ; 16. 36M-Cory Mccaughey[11] ; 17. 9-Curt Inks[13] ; 18. 26-Kyle Lagrou[23] ; 19. 67-Ben Clapp[7] ; 20. 49X-Brad Keckler[14] ; 21. 7f-Dana Frey[4] ; 22. P51-Paul Brown JR[18] ; 23. 11-Austin Gibson[21]
Hard Charger: 99-Gene Potridge +10
Limited Late Models – McCullough Industries
Heat 1 (8 Laps)
1. 4M-Jamie Miller[4] ; 2. 69-John Mayes[2] ; 3. 12-Kyle Dukeshire[3] ; 4. 16-Steve Sabo[5] ; 5. 22J-Josh Kiser[6] ; 6. 23m-Brad Mitten[1]
Heat 2 (8 Laps)
1. 17x-Dustin Keegan[1] ; 2. 4C-Bill Clapp JR[5] ; 3. 27K-Jay King[2] ; 4. 21-Larry Kingseed JR[3] ; 5. 101-Chester Fitch[4]
A-Main 1 (20 Laps)
1. 4M-Jamie Miller[3] ; 2. 69-John Mayes[1] ; 3. 16-Steve Sabo[7] ; 4. 17x-Dustin Keegan[4] ; 5. 27K-Jay King[2] ; 6. 21-Larry Kingseed JR[8] ; 7. 4C-Bill Clapp JR[5] ; 8. 12-Kyle Dukeshire[6] ; 9. 22J-Josh Kiser[9] ; 10. 23m-Brad Mitten[11] ; 11. 101-Chester Fitch DNS