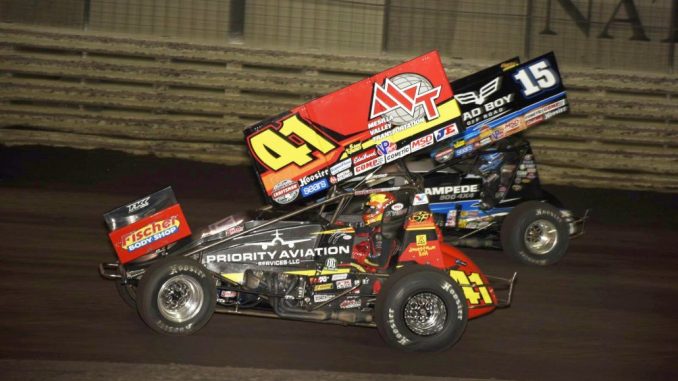 By T.J. Buffenbarger
Driving home from work last month I ended up listening to the p.a. system audio of Jason Johnson's Knoxville Nationals victory in 2016. One thought came to mind.
That was one hell of a race.
It's the same thought that has gone through my head every time I've watched the highlights of the 2016 Nationals finale. It also brought the revelation that for someone to defeat Donny Schatz for the Nationals title they will have to drive the most inspired race of their life.
Beating Schatz to win the Nationals is a daunting task. Schatz will turn 41 years of age during his trip to the Nationals. History has shown us several sprint car greats including Steve Kinser that hit their prime at this age. In addition Schatz puts in a great deal of work off the track and is arguably in better physical shape than when he joined the tour in the mid-90's.
Schatz's won 10 of the last 12 Saturday night A-Mains at Knoxville. Schatz has even won the Saturday night A-Main after having to transfer through the B-Main in 2013. In 2014 Brian Brown capitalized on a rare Schatz mistake to take the lead only to have Schatz drive by after Brown bobbled. Schatz dominated 2015's feature on Saturday.
Last year by July 20th Schatz had 14 wins. This year Schatz has 15 wins around the same time frame but has not visited victory lane since his Kings Royal victory. In the weeks leading up to the Knoxville Nationals Brad Sweet has been impressive including a dominating performance in the Capitani Classic on Sunday. Kyle Larson was impressive during the Front Challenge on Monday and that could set up another moment to see if Larson can obtain permission compete on Saturday before his day job on Sunday at Michigan International Speedway. David Gravel was up front in Saturday's A-Main before mechanical issues forced him out the race. Gravel has shown speed at Knoxville as well.
Factor in other drivers that have shown speed over the past month such as Logan Schuchart, Jacob Allen, Brian Brown, Kerry Madsen, and you start to wonder if any of the people mentioned in the paragraphs can put in that kind of inspired performance?
I believe numbers are not going to show what it will take to top Schatz in an on-track battle to win the Nationals. In 2016 Johnson drove the best race of his life to accomplish that task. Best does not mean perfect, there were several moments in Johnson's run to the Nationals title that it felt like he had pushed his car over the edge. Each time though he recovered, and it wasn't done in a manner that took him out of contention. Johnson literally drove the race of his life to win that feature. When I watched the highlights after getting home I remarked to my wife I had seen someone drive the most inspired race of their life.
That's the kind of inspired performance a driver will have to put in to top Donny Schatz at this year's Knoxville Nationals.