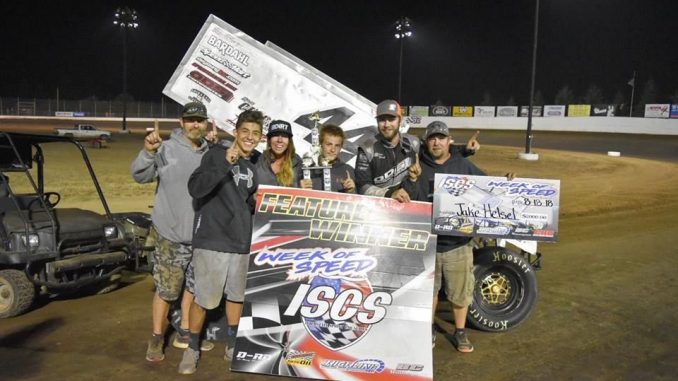 FromBen Deatherage
Elma, Washington- The sixth and final night of the inaugural Interstate Sprint Car Series Week of Speed had the tour return to Grays Harbor Raceway on Saturday, August 18th. Just like the previous evening thirty-two cars would fill the pit area representing the states of Washington and Oregon.
Mount Vernon veteran Bill Rude grabbed the initial lead at the drop of the green flag. Rude received a bit of pressure on lap eight from Jake Helsel. Helsel, of Monroe, challenged Rude for the top position and unfortunately both drivers got together fighting over the coveted spot. Rude spun, while Helsel kept going, with Helsel becoming the new leader.
Jake Helsel dominated the rest of the distance despite being briefly held up by lapped traffic. Helsel scored the win, his second of the week and the third occasion with the series, to close out the week. Harrisburg, Oregon teenager Tyler Thompson finished second over Tanner Holmes, from Jacksonville, Oregon, in third. The rest of the top five consisted of Sedro-Woolley driver Steve Parker, getting fourth, while finishing fifth was Arlington's Brett McGhie.
Qualifying was divided into four separate groups with Tanner Holmes, Bill Rude, Cottage Grove's Kinzer Cox, and Burlington native Kelsey Carpenter, in the Bill and Stephanie Rude owned entry, all setting fast time. Heat race victors were Allison Journey of Lincoln City, Oregon, A.J. Harbaugh from McKenzie Bridge, Oregon, Sedro-Woolley's Michael Bollinger, and Brett McGhie.
Devin Barnes, of Edmonds, won the consolation feature while Kent's Sean Johnson earned the Travis Rutz Hard Charger Award for passing the most cars in the main event. At the end of the night Tyler Thompson was the high point earner during the week thus capturing the ISCS Week Of Speed.
The Interstate Sprint Car Series can't thank enough all the wonderful race fans and teams that supported the first ever speedweek for the series. The final race of the campaign will occur on Saturday, September 29th at Coos Bay Speedway.
The ISCS series would like to thank their series sponsors/marketing partners BC Motorsports, Highline Performance, NWSprintCarHistory.com, Champion Racing Oil, and Hoosier Racing Tires. For the latest news and updates regarding the Interstate Sprint Car Series be sure and visit their Facebook page.
Race Results:
ISCS Week Of Speed Race #6
Interstate Sprint Car Series Race #11
Saturday, August 18th, 2018
Grays Harbor Raceway
Elma, Washington
Group One Qualifying: 1. 18T-Tanner Holmes; 2. 87-Kyler Barraza; 3. 22D-Devin Barnes; 4. 1W-Mike Wheeler; 5. 06F-John Tharpe; 6. 4J-Allison Journey; 7. 0-Ashleigh Johnson; 8. 17-Shane Forte
Group Two Qualifying: 1. 33-Bill Rude; 2. 14-Sean Johnson; 3. 7-Tyler Thompson; 4. 18H-A.J. Harbaugh; 5. 38-Eric Bowers; 6. 7K-Kevin Kirkpatrick; 7. 12-Steven Snawder; 8. 4T-Justin Tracy
Group Three Qualifying: 1. 1K-Kinzer Cox; 2. 14B-Bailey Sucich; 3. 1-Bailey Hibbard; 4. 23-Steve Parker; 5. 9J-Bert Johnson; 6. 73-Michael Bollinger; 7. 8X-Jonathan Jorgenson; 8. 3B-Ian Bandey
Group Four Qualifying: 1. 79K-Kelsey Carpenter; 2. 06-Jayme Barnes; 3. 44-Jake Helsel; 4. 21W-Jake Wheeler; 5. 66-Brett McGhie; 6. 25S-Camden Robustelli; 7. 42-Christian Osborne; 8. 32-Daysen Thomas
Heat One: 1. 4J-Allison Journey; 2. 1W-Mike Wheeler; 3. 06F-John Tharpe; 4. 22D-Devin Barnes; 5. 18T-Tanner Holmes; 6. 0-Ashleigh Johnson; 7. 17-Shane Forte; 8. 87-Kyler Barraza
Heat Two: 1. 18H-A.J. Harbaugh; 2. 7-Tyler Thompson; 3. 7K-Kevin Kirkpatrick; 4. 33-Bill Rude; 5. 12-Steven Snawder; 6. 14-Sean Johnson; 7. 38-Eric Bowers; 8. 4T-Justin Tracy
Heat Three: 1. 73-Michael Bollinger; 2. 23-Steve Parker; 3. 14B-Bailey Sucich; 4. 1-Bailey Hibbard; 5. 1K-Kinzer Cox; 6. 9J-Bert Johnson; 7. 8X-Jonathan Jorgenson; 8. 3B-Ian Bandey
Heat Four: 1. 66B-Brett McGhie; 2. 44-Jake Helsel; 3. 25S-Camden Robustelli; 4. 06-Jayme Barnes; 5. 21W-Jake Wheeler; 6. 79K-Kelsey Carpenter; 7. 42-Christian Osborne; 8. 32-Daysen Thomas
B Feature: 1. 22D-Devin Barnes; 2. 25S-Camden Robustelli; 3. 14-Sean Johnson; 4. 79K-Kelsey Carpenter; 5. 12-Steven Snawder; 6. 9J-Bert Johnson; 7. 0-Ashleigh Johnson; 8. 17-Shane Forte; 9. 21W-Jake Wheeler; 10. 87-Kyler Barraza; 11. 8X-Jonathan Jorgenson; 12. 42-Christian Osborne; 13. 4T-Justin Tracy; 14. 38-Eric Bowers; 15. 32-Daysen Thomas; 16. 3B-Ian Bandey
A Feature: 1. 44-Jake Helsel; 2. 7-Tyler Thompson; 3. 18T-Tanner Holmes; 4. 23-Steve Parker; 5. 66-Brett McGhie; 6. 06-Jayme Barnes; 7. 73-Michael Bollinger; 8. 1W-Mike Wheeler; 9. 14-Sean Johnson; 10. 1K-Kinzer Cox; 11. 22D-Devin Barnes; 12. 79K-Kelsey Carpenter; 13. 7K-Kevin Kirkpatrick; 14. 1-Bailey Hibbard; 15. 25S-Camden Robustelli; 16. 06F-John Tharpe; 17. 4J-Allison Journey; 18. 33-Bill Rude; 19. 14B-Bailey Sucich; 20. 18H-A.J. Harbaugh
Final ISCS Week Of Speed Points (Top Ten):
1. 7-Tyler Thompson 548; 2. 18T-Tanner Holmes 533; 3. 44-Jake Helsel 526; 4. 1K-Kinzer Cox; 5. 17/26F-Shane Forte 493; 6. 25S-Camden Robustelli 469; 7. 18H-A.J. Harbaugh 463; 8. 14B-Bailey Sucich 459; 9. 87-Kyler Barraza 454; 10. 66-Brett McGhie 452