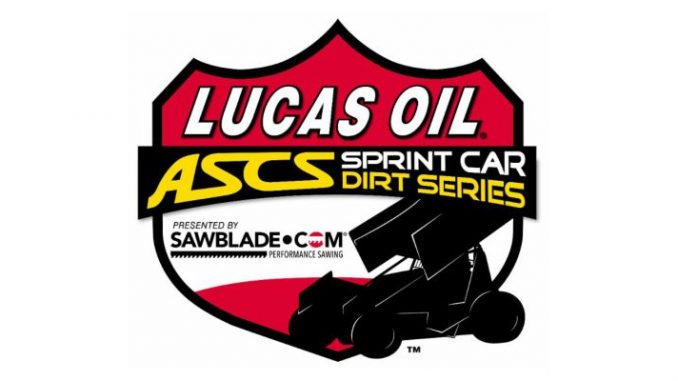 From Bryan Hulbert
TULSA, Okla. (December 5, 2018) — Getting a look at the 2019 lineup for the Lucas Oil American Sprint Car Series presented by Sawblade.com, the Series 28th year of competition is looking at a slate of 51 events. With a few nights of racing still in the works, more tracks will be finalized as series officials head into the Indoor Racing Season with the Tulsa Shootout and Chili Bowl Nationals.
"Right now, we have five events as TBA as we work out some details, but we're excited to see some tracks returning to the National Tour that has been absent for a few years, as well as continuing to add new tracks," commented ASCS Scheduling Coordinator, Terry Mattox. "We're hoping to announce a few of those TBA events between PRI and the Chili Bowl."
Kicking off the 2019 lineup with the 46th Devil's Bowl Spring Nationals on Friday, March 15 and Saturday, March 16, the Lucas Oil American Sprint Car Series presented by Sawblade.com stays in the "Lone Star State" through the following weekend as Golden Triangle Raceway Park returns after a five year absence from the tour lineup on Friday, March 22 and Saturday, March 23 thanks to Griffith Truck and Equipment.
Followed by a trio of tracks that take the term "high-banked" very seriously, Eagle Raceway in Eagle, Neb. is set for April 25 with U.S. 36 Raceway on Osborn, Mo. on April 26 and Randolph County Raceway in Moberly, Mo. on April 27.
Setting teams east, the National Tour returns for the Battle of the Groves II at Williams Grove Speedway in Mechanicsburg, Penn. on Friday, May 3 and Selinsgrove Speedway in Selinsgrove, Penn on Saturday, May 4. Sunday, May 5 is reserved as a rain date for Selinsgrove. Working on details for May 10 and 11, the series first new track of the season comes on May 17 at I-96 Speedway in Lake Odessa, Mich.
Working back to the Midwest for the Memorial Day Weekend, Lake Ozark Speedway is on board for Saturday, May 25 and Sunday, May 26. Steering west back into Texas, Route 66 Motor Speedway in Amarillo on Saturday, June 1 is followed by the Devil's Bowl Speedway Summer Nationals on Tuesday, June 4. Lawton Speedway in Lawton, Okla. follows on Wednesday, June 5 then Creek County Speedway on June 6 before the week wraps up at Salina Speedway in Salina, Kan. on Saturday, June 8.
Kicking off the march to the Northwest, Brown County Speedway in Aberdeen, S.D. is Friday, June 14 with Black Hills Speedway back on the lineup on Saturday, June 15.
A quick jog to Washington will see a $15,000 prize up for grabs once again at the 48th Annual Jim Raper Memorial Dirt Cup at Skagit Speedway in Alger, Wash. Thursday, June 20 through Saturday, June 22. On to the Fred Brownfield Classic at Grays Harbor Raceway in Elma, Wash. on June 28 and 29, the series does have a TBA to fill during the Independence Day Weekend.
Expanding the stay in Montana, the Grizzly Nationals at Gallatin Speedway in Belgrade, Mont. on Friday, July 12 and Saturday, July 13 is followed by the return to Billings, Mont. at Big Sky Speedway on Friday, July 19 and Saturday, July 20.
Getting teams back into Iowa for the 29th Knoxville 360 Nationals, the three-night, $15,000 to win affair is August 1, 2, and 3 and kicks off Southern Iowa Sprint Week. The Ultimate Challenge at Southern Iowa Speedway in Oskaloosa, Iowa takes place on Tuesday, 6 with the tour off until August 18 with things firing back up at Missouri State Fair Speedway in Sedalia, Mo. Riverside International Speedway in West Memphis, Ark. on Saturday, August 24 will lead into Labor Day Weekend with West Burlington, Iowa's 34 Raceway getting its first taste of the Lucas Oil American Sprint Car Series presented by Sawblade.com on Friday, August 30 before the return to Lake Ozark Speedway for the Lake Ozark 360 National on August 31 and September 1.
Three nights with $10,000 on the line at the 9th annual Hockett/McMillin Memorial on September 19, 20, and 21, the Creek County Speedway Fall Fling will move to the early weeks of October with the dates falling on October 11, and 12. The Devil's Bowl Winter Nationals hits the following week on October 18 and 19 with the 2019 season wrapping up during NASCAR weekend at Texas Motor Speedway as Tony Stewart presents the Vankor Texas Sprint Nationals on November 1 and November 2.
Dates and venues are subject to change and will be updated at http:/www.ascsracing.com. Any track interested in being a part of any available dates can contact Terry Mattox at (918) 838-3777. The 2019 Lucas Oil American Sprint Car Series presented by Sawblade.com will again be headed by Matt Ward as the series Competition Director. Ashleigh Ward will remain as the head of Timing and Scoring. Announcing and P.R. will continue to be handled by Bryan Hulbert.
The Lucas Oil American Sprint Car Series presented by Sawblade.com is pleased to continue its relationship with Racinboys.com as the series' official online broadcast. Several dates are in the works for broadcast on the MAVTV Motorsports Network as well as LucasOilRacing.tv. Those events will be announced in the coming weeks.
For other news, notes, and information on the American Sprint Car Series, from the National Tour to any of the Regional Tours that make up ASCS Nation, log onto http://www.ascsracing.com, follow on Facebook, on Instagram, and on Twitter (@LucasOilASCS).
2019 Lucas Oil ASCS presented by Sawblade.com Preliminary Lineup:
Date – Track (City, State)
3/15/19-Devil's Bowl Speedway (Mesquite, TX)
3/16/19-Devil's Bowl Speedway (Mesquite, TX)
3/22/19-Golden Triangle Raceway Park (Beaumont, TX)
3/23/19-Golden Triangle Raceway Park (Beaumont, TX)
4/25/19-Eagle Raceway (Eagle, NE)
4/26/19-US 36 Raceway (Osborn, MO)
4/27/19-Randolph County Raceway (Moberly, MO)
5/3/19-Williams Grove Speedway (Mechanicsburg, PA)
5/4/19-Selinsgrove Speedway (Selinsgrove, PA) – Rain Date 5/5
5/10/19-TBA
5/11/19-TBA
5/17/19-I-96 Speedway (Lake Odessa, MI)
5/18/19-TBA
5/25/19-Lake Ozark Speedway (Eldon, MO)
5/26/19-Lake Ozark Speedway (Eldon, MO)
6/1/19-Route 66 Motor Speedway (Amarillo, TX)
6/4/19-Devil's Bowl Speedway (Mesquite, TX)
6/5/19-Lawton Speedway (Lawton, OK)
6/6/19-Creek County Speedway (Sapulpa, OK)
6/8/19-Salina Speedway (Salina, KS)
6/14/19-Brown County Speedway (Aberdeen, SD)
6/15/19-Black Hills Speedway (Rapid City, SD)
6/20/19-Skagit Speedway (Alger, WA)
6/21/19-Skagit Speedway (Alger, WA)
6/22/19-Skagit Speedway (Alger, WA)
6/28/19-Grays Harbor Raceway (Elma, WA)
6/29/19-Grays Harbor Raceway (Elma, WA)
7/5/19-TBA
7/6/19-TBA
7/12/19-Gallatin Speedway (Belgrade, MT)
7/13/19-Gallatin Speedway (Belgrade, MT)
7/19/19-Big Sky Speedway (Billings, MT)
7/20/19-Big Sky Speedway (Billings, MT)
8/1/19-Knoxville Raceway (Knoxville, IA)
8/2/19-Knoxville Raceway (Knoxville, IA)
8/3/19-Knoxville Raceway (Knoxville, IA)
8/6/19-Southern Iowa Speedway (Oskaloosa, IA)
8/18/19-Missouri State Fair Speedway (Sedalia, MO)
8/24/19-Riverside Int. Speedway (West Memphis, AR)
8/30/19-34 Raceway (West Burlington, IA)
8/31/19-Lake Ozark Speedway (Eldon, MO)
9/1/19-Lake Ozark Speedway (Eldon, MO)
9/19/19-Lucas Oil Speedway (Wheatland, MO)
9/20/19-Lucas Oil Speedway (Wheatland, MO)
9/21/19-Lucas Oil Speedway (Wheatland, MO)
10/11/19-Creek County Speedway (Sapulpa, OK)
10/12/19-Creek County Speedway (Sapulpa, OK)
10/18/19-Devil's Bowl Speedway (Mesquite, TX)
10/19/19-Devil's Bowl Speedway (Mesquite, TX)
11/1/19-Texas Motor Speedway (Ft. Worth, TX)
11/2/19-Texas Motor Speedway (Ft. Worth, TX)